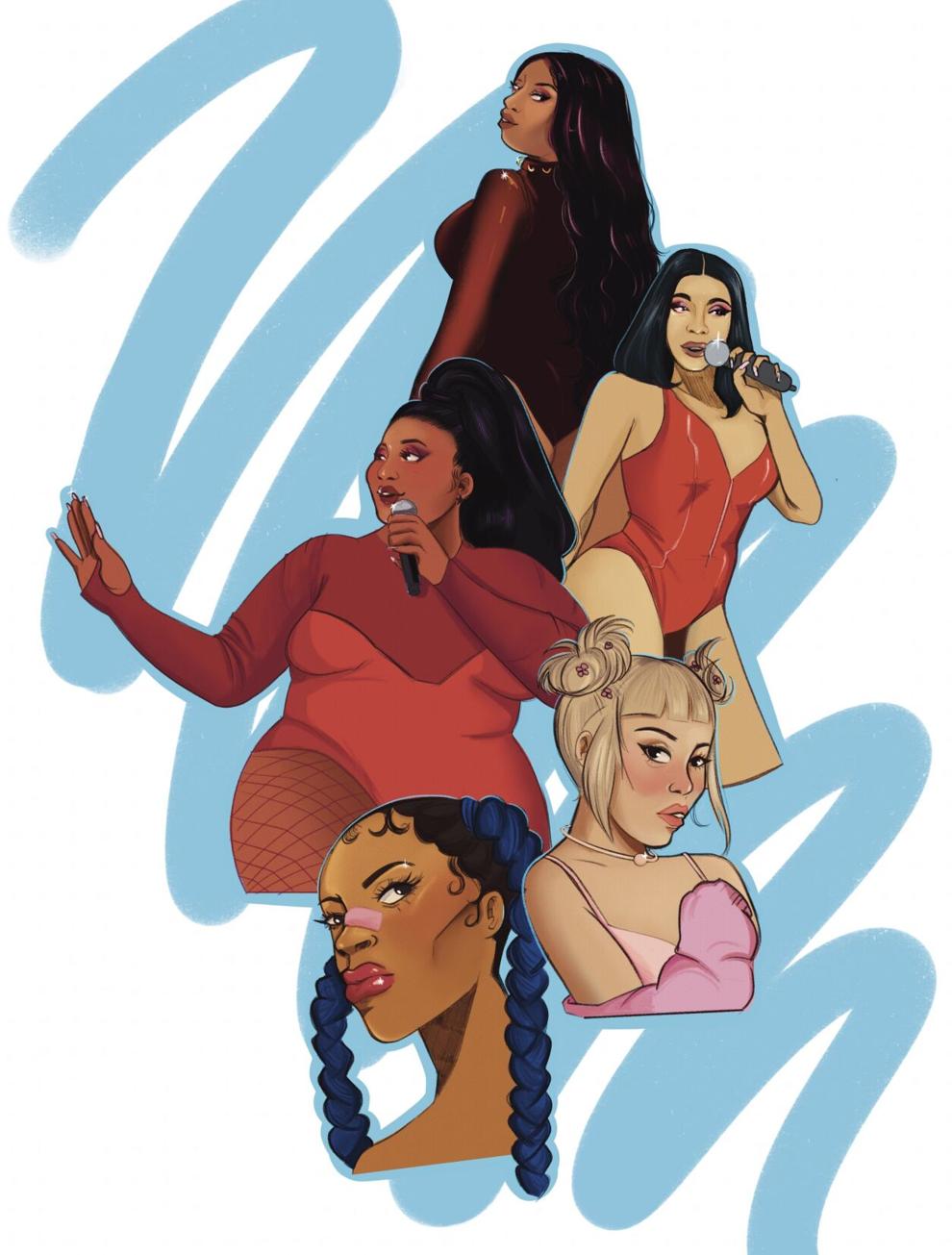 2020 was the year female rappers started to dominate the musical landscape. 
Artists like Cardi B, Doja Cat and Megan Thee Stallion became household names with bold music created in a male-driven industry. 
The women in rap today are confident, outspoken and refuse to adhere to anybody's expectations or labels, said Jasmine Langley, journalism and advertising senior. All of these traits are on full display in their music and play an integral role in their identities as women and people in general. 
For male rappers, it's more about selling a fantasy, Langley said. But to her, female rappers are more authentic and vulnerable. 
Millennials and Gen Zers especially connect with these artists because young people have become increasingly adamant about self-confidence and sexual agency, Langley said. Listening to Megan Thee Stallion every day changed her whole demeanor as a person. 
Langley likes artists that are unapologetic in who they are. Tall, Black female rappers are a rarity in the industry, and seeing someone like herself represented is appreciated, she said.
"That really means a lot to me, as a person who grew up with southern rap, who grew up having a genuine, just, love and appreciation for this," Langley said.  
Langley said it is inspiring to see a Black woman her age with a similar story succeed.
Female rapper stereotypes
Nursing sophomore Zyria Lott said although the culture is improving, the industry tends to put female rappers in certain boxes.  This categorization can affect their careers both positively and negatively. 
The most common example of a female rapper trope is the hypersexualization of people like Megan Thee Stallion or Cardi B, who use their bodies to their advantage, Lott said. 
Socially-conscious rappers like Noname or Rapsody represent a different niche, focusing on addressing world issues through their music. 
This can be beneficial, but the unspoken responsibility to use their platform for good can lead to female rappers feeling stuck, Lott said. 
When people think of women in modern rap, Langley said they often associate them with super-serious social commentary and pressure them to be leaders or role models. 
"Men who rap, you know, they can just rap about whatever," Langley said. "If it's a woman who's gonna be rapping, she has to be Lauryn Hill, she has to be like Rapsody or somebody." 
It's not necessarily a bad thing, Lott said, but these conventions leave no room for all of the nuanced perspectives that could inhabit the world of female rap. 
Artists like Rico Nasty who don't fit the mold of what a female rapper is "supposed" to look like are often overlooked and underappreciated, Lott said. 
Women rappers are often expected to adhere to a particular look: curvy body type, long hair, lighter skinned and always dressed in provocative and tight clothing.
Rico Nasty has a punk rock style of clunky platform shoes, bright colored clothes and hair, and bold makeup. She also is skinnier and less curvy than Megan Thee Stallion or Cardi B, which sets her apart from many big-name rappers.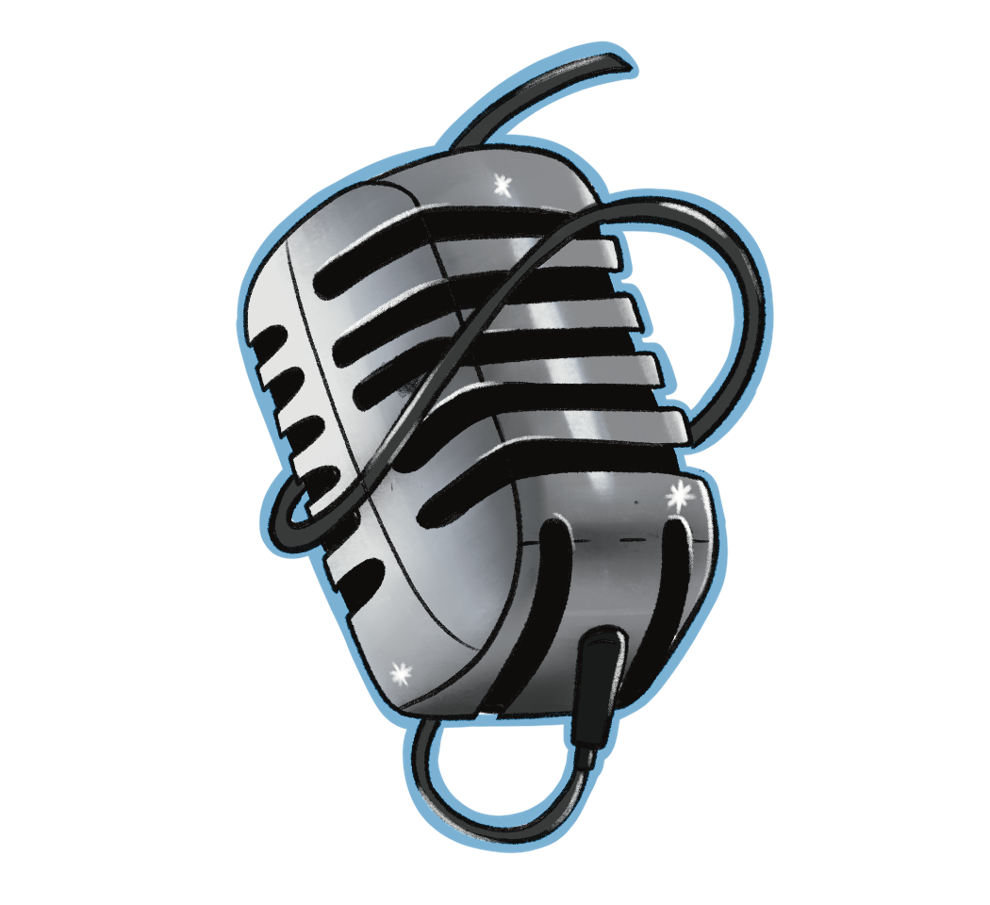 Lott said this is changing slowly but surely, however, and the internet provides greater visibility to diverse female rappers, both in look and sound.
"[Female rappers are] having a good time, and they're not pressuring themselves to meet any kind of standard, they're just doing what they enjoy. And I think women our age enjoy that because we're doing the same things," Langley said. 
Relatability
Men often have a lot of negative opinions about women in rap, but their music isn't created for men, Lott said.
Lott relates more personally to female rappers because she doesn't have to worry about hearing a lyric that degrades or insults her gender. 
"A woman is gonna know what a woman is going through," Lott said. 
Despite their ability to connect with women and make music that moves people, female rappers still battle the double standards, sexism and misogyny that undercut the value of their work.
Male rappers are allowed to be gimmicky and unoriginal, while female rappers are scrutinized and picked apart for every lyric and outfit choice and are expected to strive for perfectionism at all times, Langley said.
"I try not to be snobby or subscribe to respectability politics when it comes to music because it's really annoying. But the men who rap, they're very gimmicky and catchy, where the women who rap are actual lyricists, and I think that sets them apart as well," Langley said.  
Sexually empowering 
Male rappers are never looked at twice when they discuss gang violence, drugs and disrespecting women, but women who discuss sexual agency, dating who they want and not accepting disrespect turn heads, Langley said. 
Cardi B and Megan Thee Stallion's hit song "WAP" is all about what they want in the bedroom, and they have no shame in saying so. 
Women being able to enjoy sex out loud has historically been controversial, but many women in rap are working to normalize taking ownership of their pleasure. 
"WAP" broke the record for most streams in the first week it was released`, reaching 93 million streams according to Billboard, and the success of the song is often attributed to its sexually and verbally explicit lyrics and empowering sexual tone. 
Women taking their power back sexually resonates deeply with female fans like Langley and Lott because the messages in their music inspire women to love themselves no matter what they look like. 
Female rappers don't make her feel insecure, Lott said. They make her feel in charge and feel like it's okay to be sexy out loud, no matter what society thinks. 
The future of rap
Women will continue to rise in rap for years to come, said Jamar Jones, director of the music industry studies program. For women currently in rap, longevity in the music industry is something they're all aspiring to, following the footsteps of those like Nicki Minaj.  
The ability to adapt and keep hold of one's audience has been one of Nicki Minaj's most effective tools in maintaining her relevance, Jones said. 
"[Career longevity] comes from being able to grow with your audience," he said. "You've grown up with her, and she's grown up with you." 
Female rappers and groups like Queen Latifah, Missy Elliott and Salt-N-Pepa are a good source of inspiration for female rappers to draw from, Jones said, both career-wise and in honestly talking about their experiences. 
By speaking out about how they're treated within the music industry and exposing discrimination, these women are allowing room for conversation and change, he said.
Nicki Minaj's legacy — having dominated female rap for 10 years —has brought forth so many women who are so successful, Langley said, and this nearly moves her to tears.
"So many people worked so hard for this moment," Langley said. "It's just really beautiful." 
In contrast to being famous, living lavish lifestyles and exuding confidence, it's important to remember that these women are still human and experience pain, loss and trauma, Langley said. 
Lyrics about loss of family, assault and racism resonate with fans and show the human side of these larger-than-life personalities. Despite life's trials, these women overcome and inspire others to keep going.
"It's nice to see Megan Thee Stallion turn [her assault] into a positive light, you know, shedding light on violence, and supporting Black women," Lott said. 
It's nice that her resilience is turning into a movement, Lott said, but the fact that it happened is still messed up.
The pandemic changed the way fans consume music, forcing musicians to deliver quality performances digitally. 
Megan Thee Stallion released a mixtape right before quarantine and an album a few months in, and she's not alone. Many women took quarantine as an opportunity to be creative in their own space. 
Women will continue to dominate rap beyond 2020 because they represent all women from all walks of life, Langley said, and they have powerful, important things to say.
@alexushurtado