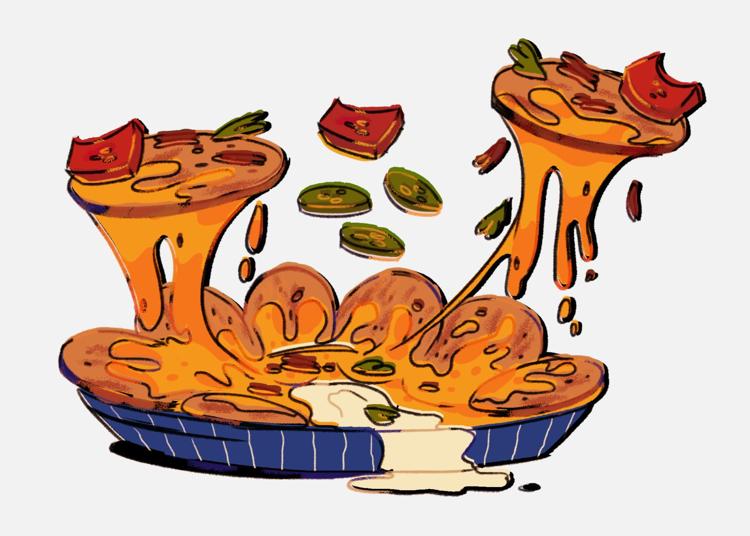 You're reading From Scratch, a series deconstructing the food we eat to explore its history, variety and the way we consume it.
In the beginning, there were potatoes and cheese. Lots of cheese. Forty-pound blocks, to be exact.
Then came the toppings: an even spread of diced tomatoes, chopped onions and sliced jalapeno peppers, with some bacon bits and chives on top.
Oh, and let's not forget the sour cream.
Actually, there's more to the Irish Nachos' 40-year reign of flavorful fame. Because, in the very beginning, there was Randy Ford and a ten-year-old fryer.
The History
It was 1980, and Ford, owner of J. Gilligan's Bar and Grill in Arlington, invested in the restaurant's first fryer.
Ford saw the business growing and decided to expand the menu, which meant partnering french fries with the hamburgers. Having opened just a year prior, the restaurant hadn't begun to serve french fries, which were integral to the creation of the Irish Nacho.
But that would soon change.
After reaching out to the owner of a former local restaurant, Ford bought the first fryer at J. Gilligan's, a ten-year-old floor model, for $350.
As soon as he could, he brought it back to J. Gilligan's, hooked it up and started experimenting with "every kind of french fry in the world that you can imagine."
"We had skinny fries, we had crinkle cut fries, we had french fries with skin on them, we had steak fries, we had, like, a McDonald's fries," Ford said, listing them off by memory. "Every kind of fries in the world."
They even peeled, cut, blanched and fried potatoes, making fries from scratch.
The kitchen was soon crowded with baskets of fries, and Ford would constantly hand them out to customers.
Soon enough, Ford cooked so many fries, he ran out of baskets.
"So, this was kind of the luck of the Irish, if you will," he said.
Ford had various colored ceramic serving skillets which would hold the traditional nachos J. Gilligan's still serves today. The day Ford saw he had run out of baskets to put his fries in, they were cooking round, cottage fries.
When those fries were ready, Ford took them out of the basket and reached for a skillet. The next steps came together naturally, as if he were making regular nachos. He reached for the cheese — shredded, Wisconsin cheddar cheese — and spread it over the potatoes. Ford followed the process through, adding jalapenos, tomatoes and onions next.
The next step strayed from the traditional nachos prep. Instead of melting the cheese in their cheese melter, or salamander, Ford did the next best thing.
"I just popped 'em in the microwave," he said. "Just melted that cheese for about a minute and a half."
J. Gilligan's doesn't use the microwave to cook but rather to just melt the cheese, Ford said. It's better to heat the Irish Nachos since it doesn't make the plate so hot, and it can finish up the potatoes because the microwave cooks them from the inside out.
After he finished the process, he set the newly created dish out on the counter and had one of the waitresses set it on table number three, where a couple sat next to the kitchen window. To this day, Ford can recall the conversation that spurred.
"Some guy says, 'Hey man, these are pretty good, what are those?'" Ford said. "And I said, 'Irish Nachos, of course!'"
The Variety
J. Gilligan's waitress Taylor Dowell has been working at the restaurant for five years and has come across many variations of the Arlington dish.
"We have a regular here, he gets them without cheese. So it's just gonna be the fries with all the vegetables on it, which is different. I have someone who gets no fries and adds spinach underneath," she said. "And then there's a few ladies that come in that get black olives added to it."
Others may enjoy it with a side of grilled chicken or hamburger meat, she said.
Dowell said she prefers it the old-fashioned way, but she especially loves the spice from the jalapenos.
"I like jalapenos, probably extra jalapenos," she said. "With ranch."
Traditional nachos may include hot sauce or guacamole on the side. For J. Gilligan's original recipe, it's sour cream. Ford calls it the "secret sauce."
For the customers Dowell serves, ranch is often their go-to sauce.
"A lot of people love sour cream, but it is Texas. A lot of people just love ranch in general," she said. "We make our own."
Ford said the cheese is another important ingredient to Irish Nachos.
Akin to a piano wire, the cheese slicer cuts the cheese into smaller blocks, which are then shredded down with a cheese grater.
"Back in the day, you could get a cheddar cheese — it was a 60-day old cheddar cheese. That's really important. They won't guarantee you 60-day old cheddar cheese anymore. They'll guarantee you 30-day," he said. "The older it is, the more it spreads out and the more it gives a milder flavor."
It becomes a better quality cheese, Ford added.
"People oftentimes ask, what's the secret, you know, of the Irish Nachos? The secret is two things. We use fried potatoes. And the other is the cheese," he said. "That's the key."
The Impact
For Cathy O'Neal, Levitt Pavilion communications director, she describes herself as a purist when it comes to the Irish Nachos, and loves the potatoes, cheese and sour cream of the dish.
"I can't even tell you how many Irish Nachos I have had," the UTA alumna said with a laugh. "At this point, I'm, like, part Irish Nacho."
The Levitt Pavilion hosts many out-of-town bands, some from out-of-state places like New York and even a few international ones. O'Neal said the bands will often ask for local food when they visit Arlington, and Ford will provide them dinner from J. Gilligan's.
Whenever a band takes a look at the green menu, O'Neal said they'll ask about the Irish Nachos, and she'll reply with glee.
"It's, like, the most decadent, potatoes and cheese, gooey, wonderful thing ever, and they have to try them," she said.
There's been at least one person from every state who has come to visit J. Gilligan's in its 40-year span, Ford said, and he credits a bulk of that to the Irish Nachos. What keeps the customers is the sense of walking into a place that feels like family.
That's what keeps Granbury resident Debbie Burns coming back for more. For Burns, the visits to J. Gilligan's come with celebrations, visits with her mother-in-law and enjoying a food she has experienced with almost four generations at the same table.
"If you tried to make it at home, it would not work," she said.
Dowell said the dish has had a huge impact in the community. Everyone in the area, she said, especially the older generation, knows about the Irish Nachos.
"These are a huge staple in Arlington," she said.
Everyone always has a story when they come into J. Gilligan's, Dowell said, especially when it comes to this potato dish and Randy Ford.
"The Irish Nacho literally changed the entire history of J. Gilligan's and the food," Ford said. "That gave us an identity."
@amnda_pdilla