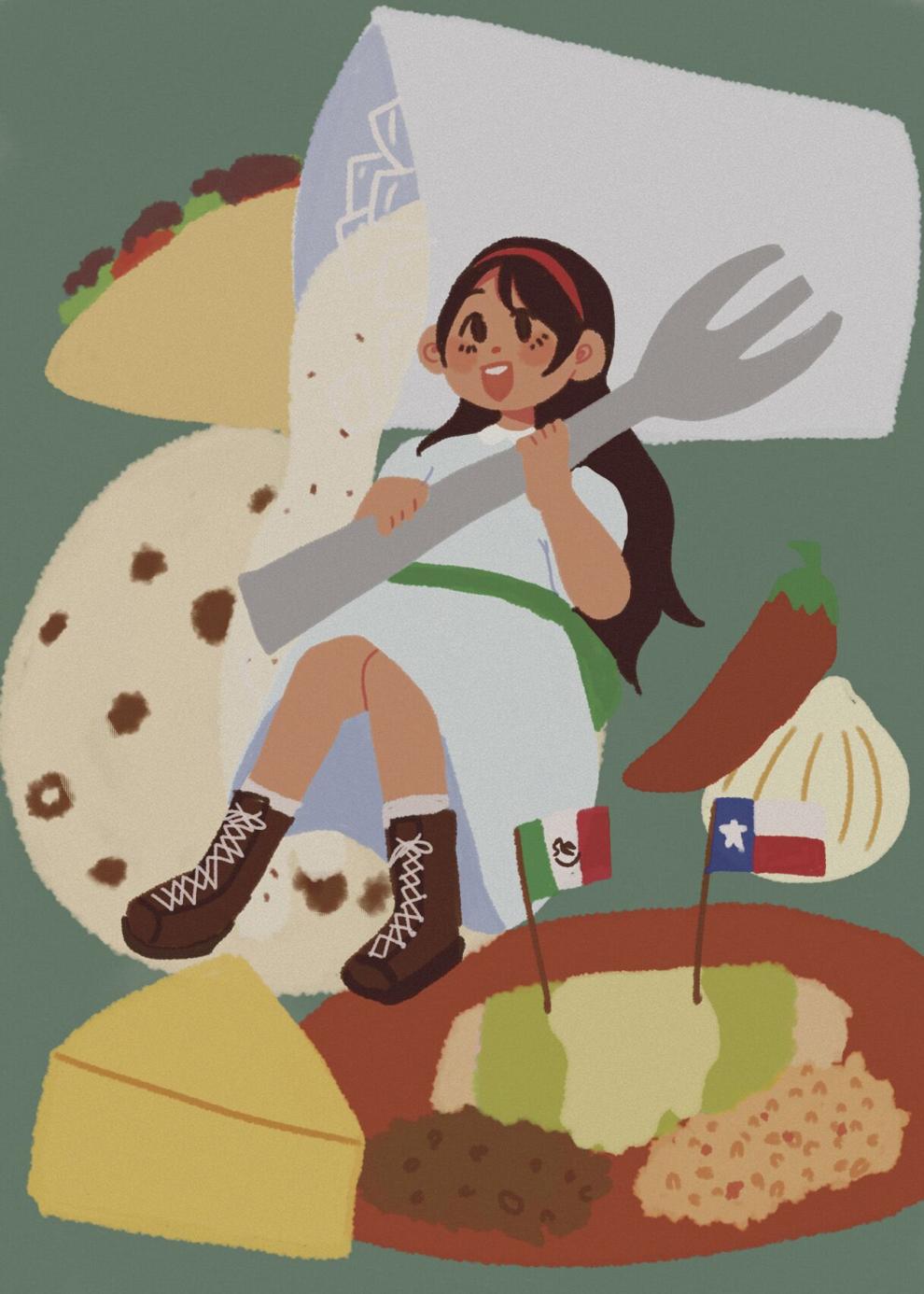 You're reading From Scratch, a series deconstructing the food we eat to explore their history, variety and the way we consume them.
TexMex is a rich and flavorful cuisine that may have gotten its start in Texas but soon expanded further into the U.S. and throughout the world.
Meals like beef tacos, enchiladas and fajitas are just a few staples that make up TexMex or Texas-Mexican cuisine.
The History
The name TexMex was inspired by the Texas-Mexican Railway that first opened in 1879. The 52-mile line was created to deliver sheep from Texas ranches to customers along the Gulf of Mexico.
TexMex quickly grew out of South Texas' Rio Grande Valley and gained popularity in San Antonio with "Chili Queens," or Hispanic women who set up pop-up restaurants in San Antonio plazas.
Sandra Esquivel, special programs assistant director, said that because it's so close to the border, San Antonio has a lot of Mexican customs but with a Texan twist.
All the restaurants have Mexican decorations, the same kinds of food and Tejano music, which is very popular, she said.
Esquivel said her parents are from Mexico, but she was born in the border town of Nuevo Laredo.
She grew up on TexMex, and she and her husband now talk to their children about the cuisine as they grow up with it as well. They are of Mexican descent, but she and her husband know more about the cuisine of TexMex than the cuisine of Mexico, she said.
The Variety
One difference distinguishing TexMex from Mexican food is the use of chili powder, Esquivel said. TexMex tamales, menudo and enchiladas, for example, use chili powder as an ingredient, while traditional Mexican ones do not.
Chicken enchiladas with sour cream sauce are Esquivel's favorite TexMex dish, and flautas are a popular staple in her family's home, she said.
They use chicken or shredded beef, and the tortillas can be warmed in the microwave to soften them up before rolling, she said.
On the side, have a skillet of hot vegetable oil going, where the flautas will be fried. After a few minutes, make sure that they're both toasted and good to go, she said.
"Then you put whatever topping you want on there," Esquivel said. "Some people like avocado slices or guacamole, or some of us, we put crema."
Crema is a thick sauce similar to sour cream, and with it, a garnish of lettuce and tomatoes can be added on top, Esquivel said. It's crunchy and very quick to make.
Ashley Dudley, university studies alumna and manager at Uncle Julio's in Arlington, said she's always loved TexMex, especially the kind found in Texas.
As a bartender, her TexMex recommendation is their margaritas, but Uncle Julio's has several signature Mexican dishes.
For example, their chocolate pinatas, which can be broken open to reveal fresh seasonal fruits and handmade churros.
International business junior Adrian Jaure said his mom makes enchiladas rojas from scratch, which is his favorite TexMex dish.
She makes either chicken or beef and then blends red chiles, known as guajillo, to make a sauce.
His mother then fries tortillas, dips them in the chiles and puts them back in the fryer. She'll have everything, including the lettuce shredded. She then plates them, rolls them up and adds queso.
It's pretty time-consuming but worth it in the end, Jaure said.
The Impact
Jaure said that to him, the difference between TexMex and Mexican food is that Mexican food is the original base ingredient, while TexMex is a modernized version.
"I feel like we're closer to Mexico, we've gotten those recipes and kind of turned them into our own," he said.
Esquivel said she is proud of the impact TexMex has had on the culinary industry. On a previous visit to North Carolina, she went to a Mexican restaurant and even there, TexMex was served.
The fact that people are still eating and enjoying a little bit of Mexican culture mixed with Texas is a great thing, she said.
@JMarieFarmer84