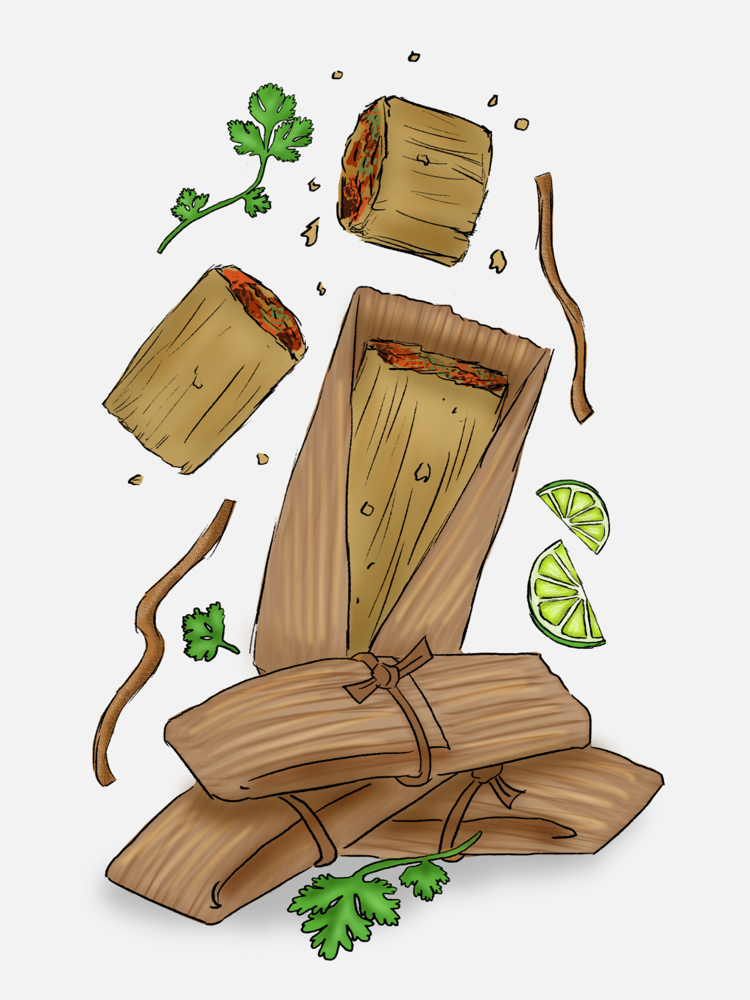 You're reading From Scratch, a series deconstructing the food we eat to explore its history, variety and the way we consume it.
Whenever broadcasting junior Lindsey Soto opens a tamale — specifically one filled with red pork — she thinks of her abuelito, her grandfather.
Though he passed away in 2006, Soto remembers him each year on Día de los Muertos, or Day of the Dead, where she places the dish at his altar.
"I always get that sentimental feeling when I see red tamales," she said. "Those are his favorite. It's always good to know he's still here, even if it's just looking at the food."
Tamales, also known as tamals, are a Mesoamerican dish made with masa, a corn dough, and traditionally filled with chicken, pork, beef or even cheese and beans, that is wrapped and steamed for hours on end.
Tamales have a special meaning during the holidays because the dish connects people to their past.
On events such as Day of the Dead, Thanksgiving and Christmas, people not only think about food but the memories connected to food, said Steven Alvarez, a St. John's University professor who previously taught a "taco literacy" course.
Beyond the corn husk wrapping, it is the memories and culture that keeps the tamale's influence intact.
The Variety
Alvarez said that tamales stem from many Central and Latin American countries, not just Mexico.
Tamales are made in Ecuador, Colombia and Venezuela where they are commonly referred to as hallacas.
They all have one thing in common: a corn masa dough that serves as a middle between the diverse wrapping and filling.
Depending on the region, tamales may even be wrapped in banana leaves or take more of a ball-shaped form, Alvarez said.
The ingredients, though simple, can be very time consuming to prepare, said Abel Moncibais, accounting and finance junior.
"Ever since I was young, I've always seen [my mom] you know, make the dough, put everything together," he said. "So it is a pretty lengthy process."
Moncibais said that his mother's tamale recipe has been passed down for generations.
During the cooking process, there are no specific measurements on how to make the perfect tamale.
"It's always 'Add a little bit of this,'" Moncibais said. "They never tell you an actual amount."
There is a wisdom in families like Moncibais' passing recipes down from their ancestors, Alvarez said.
"This is a tradition that goes back thousands of years," Alvarez said. "This is something that connects us with our ancestors, with the past, but also something that has kept us strong for generations."
The History
Tamales date back to the days of Mesoamerica and were made as early as 7,000 B.C., according to a History.com article titled "What Goes Into a Hot Tamale?" Tamales were used as an important ritual food for Mexica and Azteca people.
Old Aztec texts that were later reconstructed by Spanish Jesuits had tamale recipes with different kinds of fillings, including fish and eels.
After the Spanish acquisition of Mexico, the dish became familiar in Christian festivals and events. The dish is now commonly consumed during the Christmas holiday season.
Alvarez said that tamales specifically link to America's roots because corn is unique to the continent.
Tamales eventually gained traction and popularity in other cultures as well.
The dish eventually crossed the border into the United States and was popularized by other communities, such as the African American community with fried hot tamales.
Still, the dish is not as popular as tacos or other Mexican dishes. Even President Gerald Ford was unfamiliar with tamales. At a campaign stop in Texas in 1976, the then president bit into a tamale without unwrapping the corn husk, Alvarez said.
Tamales leave a sense of sentiment to not only the people who eat them, but those who make them.
The Impact
Something that Moncibais' mom keeps in mind when she makes the dish is how much it means to her roots.
Moncibais' family is from Rio Grande, Zacatecas, Mexico. His mom sells tamales in Dallas, then sends whatever money she makes back to Rio Grande to help children in need.
Alvarez said making tamales isn't just about the food — it's about moments with family.
"You're grouped together with family," Alvarez said. "With those families together it is also the circulation of stories and traditions and also recipes."
Soto remembers a time when her tias surrounded a table, each working on individual tasks to prepare tamales while reminiscing about the past.The extensive work needed to make tamales is often referred to as a tamalada.
For Moncibais, his girlfriend now joins his mom in making tamales. Though the process may be tedious, he said it's the time spent together that's important.
"It's the bonding part that makes it so special," he said. "You can't get that anywhere else."
@JacobReyesUTA