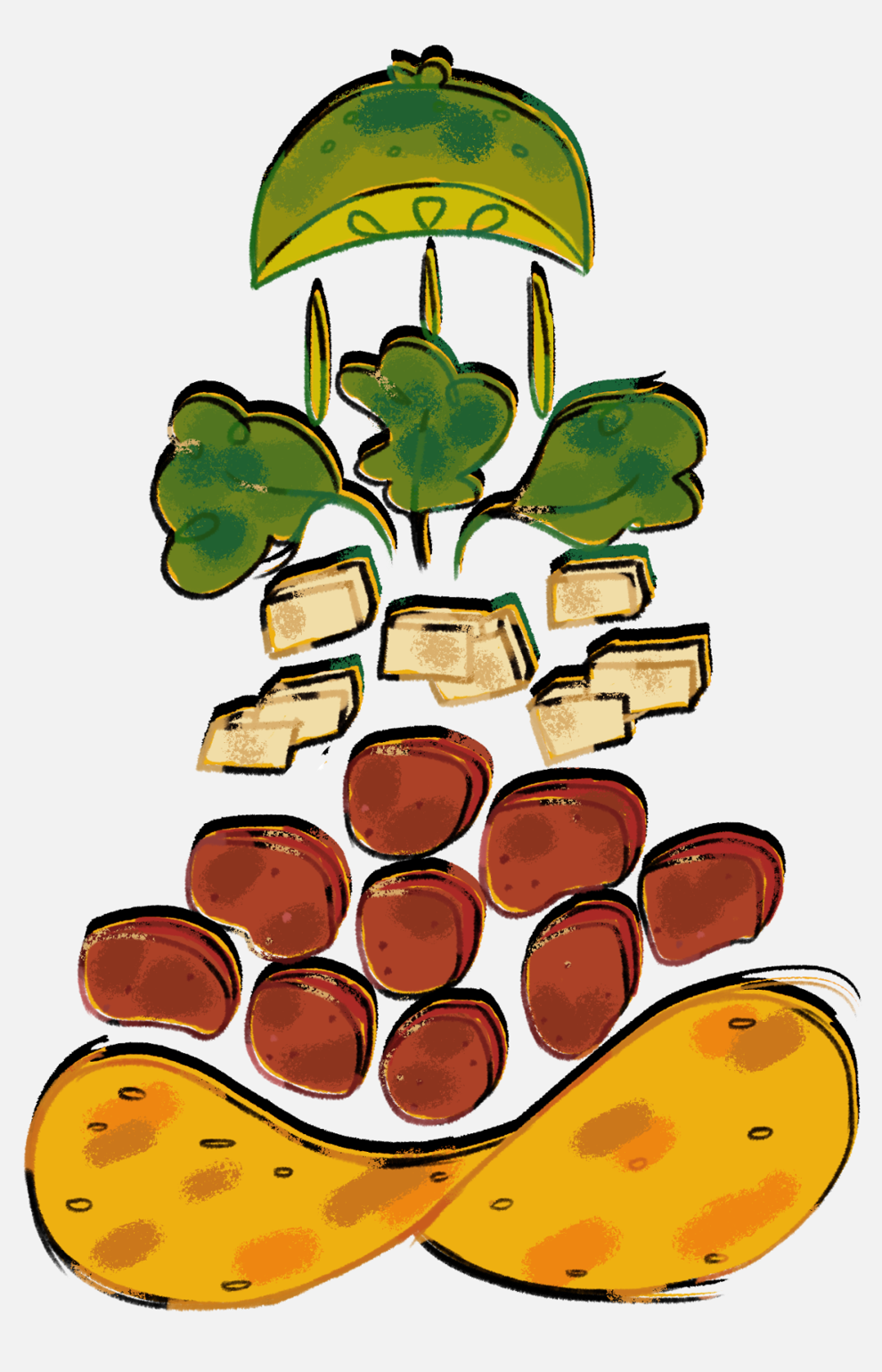 You're reading From Scratch, a series deconstructing the food we eat to explore its history, variety and the way we consume it.
What began as a bite-sized piece of Mexican culture has evolved into an international staple: tacos.
Today, tacos are garnering attention in more than just restaurants.
Texas Monthly, a Texan magazine based in Austin, hired the nation's first-ever taco editor in September. And earlier this year, Netflix launched "Taco Chronicles," a culinary series that explores and celebrates tacos and the people who make them.
The current spotlight on the food reflects its growing popularity across the nation and its influence on Texan culture.
The Variety
Broadcast senior Chris Ontiveros said he grew up in El Paso, Texas, right at the border of Juárez, Mexico.
There, he grew accustomed to the traditional Mexican taco: corn tortillas piled with carefully seasoned meat, topped with onions, cilantro and lime juice. The most common seasoning used is cumin, he said, because of its bold, distinct flavor. It's used to season various meats like chorizo (pork sausage) and lengua (cow tongue).
Nobody serves hard shell tacos in Mexico, he said.
Now that Ontiveros lives in Arlington, he said he's learned to accept more "Americanized" tacos. The tacos in America are larger, less seasoned and often covered in cheese, he said. People pay more attention to making the tacos "look" nice.
In Mexico, tacos are considered more of a snack than a meal because they're small and easy to throw together, Ontiveros said. They're rustic.
"Not that I'd turn my nose up if someone put a plate of tacos in my face around here, but I can definitely tell the difference in flavor and taste," he said.
International business junior Auroya Wallace said one of her favorite things about tacos is the diverse options. From fish or shrimp tacos to classic carne asada, she enjoys them all.
"Don't be scared to try something new with tacos," she said.
Tacos now come in many shapes and sizes, but the principle remains the same since the first corn tortilla was fried and tossed in Mexico, said José Ralat, Texas Monthly's taco editor.
The History
There would be no Texas without Mexican food or culture, Ralat said.
In an interview with Smithsonian Magazine, Jeffrey M. Pilcher, University of Minnesota history professor and author of Planet Taco: A Global History of Mexican Food, discussed the history of tacos.
While the true origin of the taco is unknown, Pilcher theorized they date back to the 18th century, from the silver mines in Mexico. In the mines, "tacos" was a word used to refer to the paper wrapping around the charges used to excavate the ore.
In the 19th century, Mexican soldiers would carry corn tortillas with them during battle, Ralat said. During the clashes between Mexico and Texas, the tortillas became a part of both cultures.
When tacos came to the United States around 1905, they were seen as street food for lower-class migrants, Pilcher said. However, when the children of those migrants began gaining civil rights, advancing economically and claiming citizenship, tacos and other Mexican foods became more mainstream.
Then, tacos became "Americanized," with cheddar cheese, iceberg lettuce, tomatoes and other nontraditional ingredients. In the 1940s, hard shell tacos were adopted, and since then have become a popular staple at fast food restaurants.
The Impact
Today, the term "authentic" is often used to validate which types of tacos are acceptable and which aren't. Ralat said the word implies a type of dominion over the taco industry.
"The word 'authentic' is hollow, hackneyed and inadequate," he said. "It doesn't really belong in the discussion at this point."
Since tacos are regional, authenticity doesn't really exist. They've become personal, Ralat said. Not all tacos are Mexican.
Tacos have always been a Mexican essential, but now they're a staple of Texan culture as well.
Ralat said when he thinks about Texan food in particular, he thinks about tacos and barbecue because of the heavy Mexican influence on Texan culture.
Wallace said growing up in a primarily black and Mexican community helped her understand Mexican culture despite not being Mexican herself. She learned to appreciate the care that the Hispanic community cooks into its food by watching her best friend's family prepare tacos almost daily.
"You can taste the culture and the history in the food," she said.
It's not necessary to be Mexican to make tacos, but it's important to keep an open mind in learning the traditions, flavors and history behind the food, Ralat said. When people view a tortilla as a blank slate to fill with whatever they want, that could become an issue of cultural appropriation. Experimentation is fun as long as it's respectful.
Tacos are a "natural vessel," Ralat said, and everything will make its way into a taco eventually. Might as well enjoy them.
"Tacos are Mexico's gift to the world," Ralat said. "Texans were just lucky to live in a part of the world that was once Mexico."
@CecilLenzen