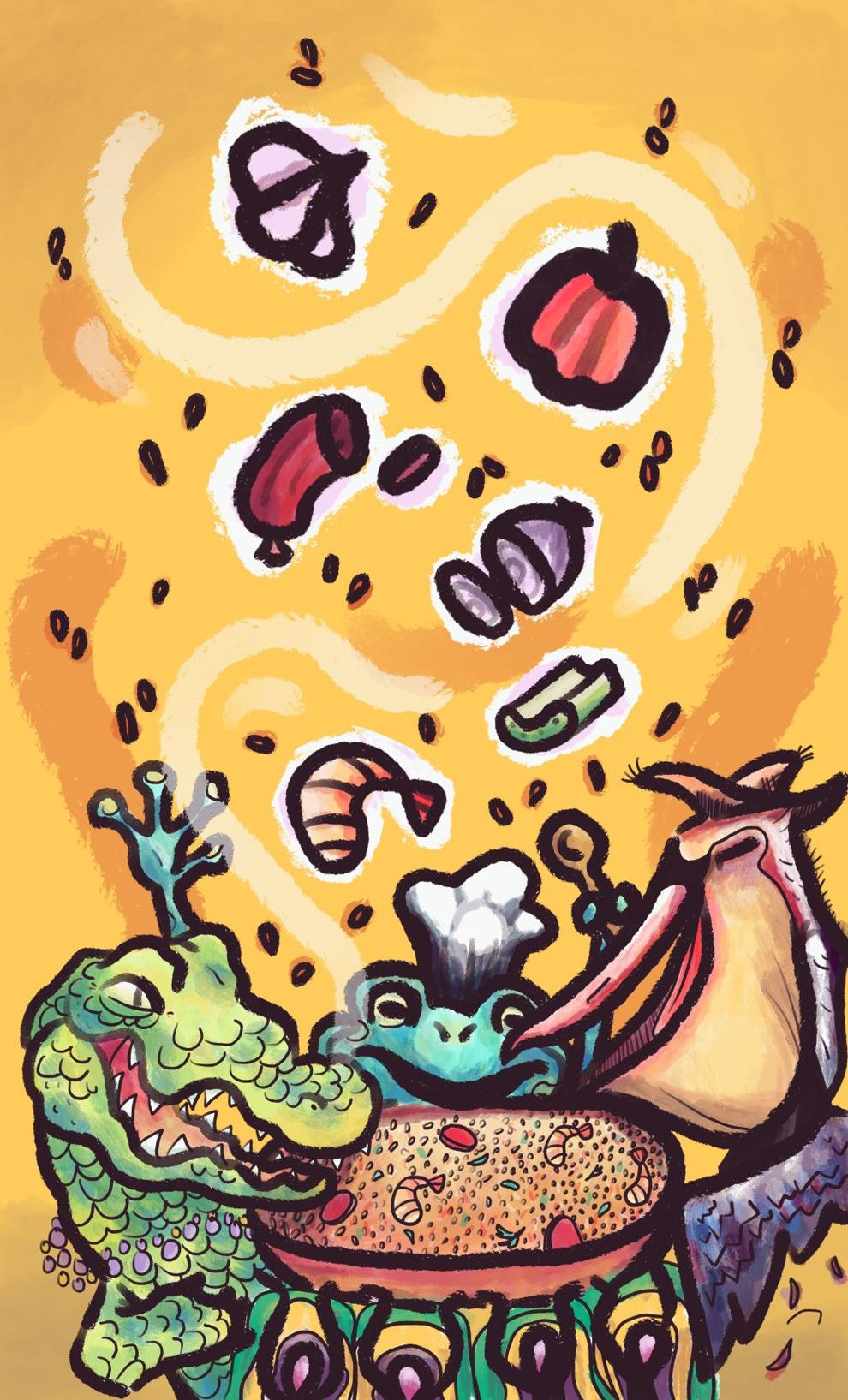 You're reading From Scratch, a series deconstructing the food we eat to explore its history, variety and the way we consume it.
Like its birthplace, jambalaya is a dish that blends cultural diversity.
Originating from New Orleans in the late 1830s, the popular rice dish combines Spanish, French and African cuisine into one pot. A city staple, the dish has become popular during the city's Mardi Gras festivities before Lent, the Christian preparatory period in anticipation of Easter.
Since the 17th and 18th centuries, Mardi Gras has been celebrated with an assortment of parades, parties, lights, colors, music and other festivities. The holiday's origin can be traced to medieval Europe, but it's commonly associated with Lent, the Christian preparatory period in anticipation of Easter.
By the late 1830s, Mardi Gras had travelled from Europe to New Orleans, Louisiana, and now the city is recognized as a prime location to celebrate Mardi Gras and enjoy the festive celebrations before Lent.
The History
The exact origin of the Louisiana dish is unknown, but it's commonly hailed as a mesh of the European, African and Native American influences prevalent in Louisiana in the 19th century.
Written recipes were uncommon during that time, but jambalaya descended through multiple generations to become the melting pot it is today. It began as a practical yet creative use of locally available ingredients and leftovers, according to the New World Encyclopedia.
Geoffrey Campbell, journalism adjunct assistant professor, said jambalaya reflects the city's diversity, a fusion of various cultures.
"There's a lot of pride in the food [there]," he said. "People are proud of it and for good reason. It's like the music here — it's just a part of what [New Orleans] is."
There's other dishes from Africa and Spain like paella that are similar, Campbell said, but jambalaya blends ingredients and seasonings from each country to create something new in a uniquely "Louisiana kind of way."
Without saffron (a paella staple) locally available, Louisiana residents substituted tomatoes and developed the dish into jambalaya.
It eventually emerged from indoor, small kitchen cooking at church fairs and other public gatherings in the 19th and 20th centuries. It became the ideal meal for outdoor cooking, with large, black, cast iron pots and hardwood fires making preparation quick and easy for large groups.
The Variety
Making jambalaya can be simple. It starts with what Campbell calls the Holy Trinity of jambalaya: diced celery, diced onions and diced bell pepper. He said he usually uses red pepper but most people use green peppers. In addition to the Holy Trinity, you have to add "the Pope," diced garlic.
"It's basically just rice and whatever you happen to have in the fridge," Campbell said.
There's usually some type of sausage involved and, of course, rice. Then you can add whatever else you want. Other ingredients might include chicken, crawfish, chorizo and black-eyed peas.
Mechanical engineering senior Sanmitra Pingulkar said jambalaya is a fun dish not just to eat, but to make. He first became interested in the food by watching Munchies videos on YouTube and taught himself how to cook the dish.
The versatility of the recipe appealed to him as someone who cooks on a regular basis. You never see the recipe cooked the same twice, and everyone has their own version, he said.
Connie Smith, Connie's Louisiana Kitchen food truck owner, said she starts her jambalaya with tomato sauce and chicken stock.
Before she adds any proteins (chicken breast or sausage for her food truck), she fire grills it on a charbroiler.
She uses a 2-1 ratio of chicken stock and tomato sauce, adds red beans and celery and then throws in the grilled chicken and sausage.
Cajun seasoning with spices like dry mustard, cayenne pepper, thyme, basil and garlic is what makes a basic jambalaya pop, she said.
Once it's all mixed together, it takes about 35 minutes to cook, Smith said.
"It's a hearty meal, and it's gonna keep [you] full," Smith said. "It's not gonna be like a taco and you're gonna be hungry in two hours. It's gonna keep you full and it's gonna stick to your ribs."
The Impact
Campbell lived in New Orleans for three years, and he said foods like jambalaya contribute heavily to the culture behind Mardi Gras in New Orleans.
He said one thing that stands out about New Orleans is its people's resilience and ability to shrug troubles off and make the most of anything. It's a bustling city with a variety of blended cultures and backgrounds.
It's those characteristics that segued right into the city's distinctive foods, like jambalaya.
Basically, it's an assortment of things thrown into a pot, Campbell said. Individually, each component brings its own strong flavor, but they blend together to create a flavorful dish of culture.
In a place so full of color and creativity like Louisiana, it's an easy to find, easy to eat meal that reflects a blend of cultures.
"You can go to really upscale places in town and spend lots and lots of money on really good food but you can also find relatively cheap food that is some of the most amazing stuff you've ever had," he said.
@CecilLenzen