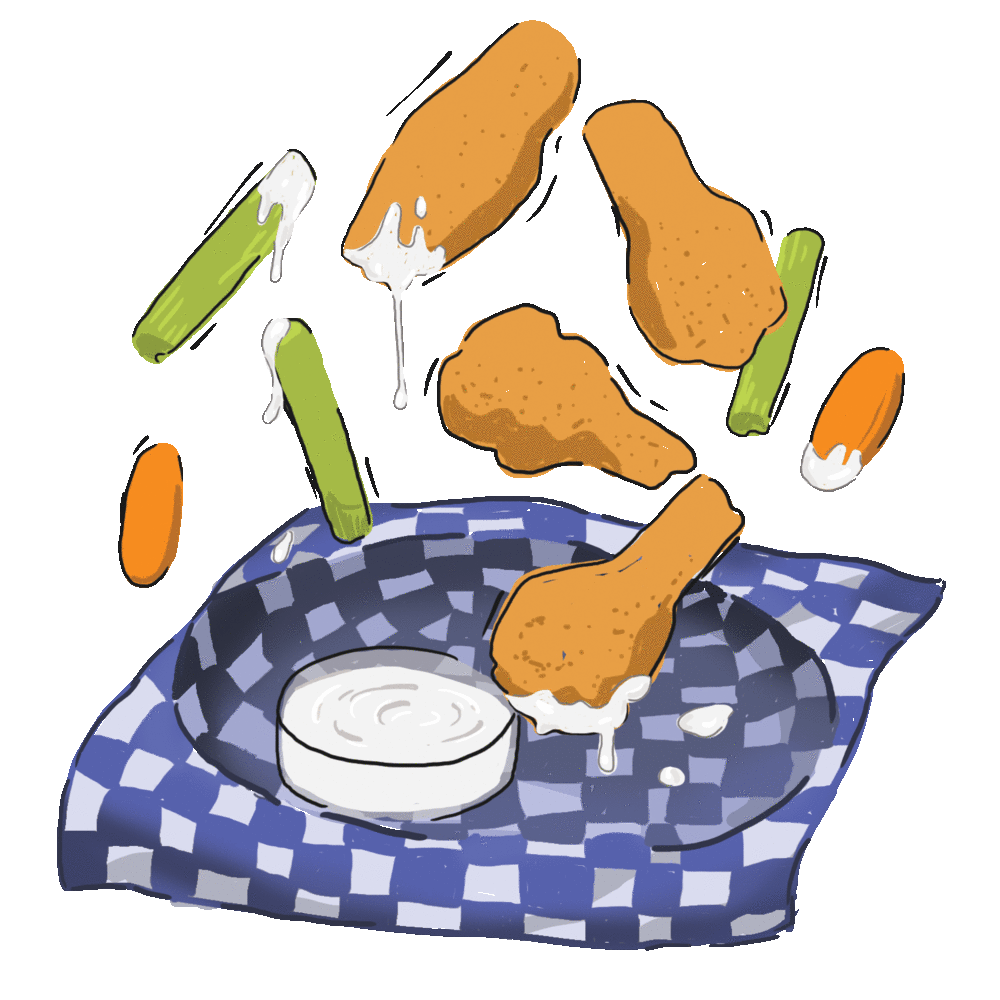 You're reading From Scratch, a series deconstructing the food we eat to explore its history, variety and the way we consume it.
Although they might not have the most endearing origin story, wings have kind of become a big deal in America.
Hailed as a game day favorite, it's hard to find someone who hasn't tried the deep-fried dish.
The National Chicken Council projected last year that chicken wings would reach an all-time high consumption, with 1.38 billion wings eaten during the 2019 Super Bowl weekend.
That's enough to put 640 wings on each seat in all 31 NFL stadiums.
Here's how the famous chicken dish took flight.
The History
Generally, deep-fried chicken is known as a staple of southern cooking, said Steve Striffler, director of the labor resource center at the University of Massachusetts Boston. However, up until the 1960s and '70s, the wings were considered leftovers or scraps.
Nobody wanted the wings because they were so lean, and so they were given to poor people or thrown in soups.
"There was some regional variation, but it wasn't considered to be a particularly good part of the chicken," Striffler said.
Once the '60s and '70s rolled around though, American consumers began buying more chicken, and farmers began breeding fatter ones.
The first buffalo chicken wing, which is what we generally think of as "wings" today, was conceived in 1964 at the Anchor Bar in Buffalo, New York. Bar co-owner Teressa Bellissimo cooked a leftover batch of wings in hot sauce as a midnight snack for her son and his friends, and they were such a hit that she added them to the menu the next day. Served with celery and blue cheese sauce, the "Buffalo Wings" quickly gained popularity.
Bellissimo's hot sauce supplier began promoting the item and selling his hot sauce to other venues, and restaurants around the country quickly caught on.
In the early '90s, fast food chains like KFC and Domino's Pizza began selling their own variations of the dish.
The Variety
As they flew into the fast food industry, wings began to stray from traditional buffalo flavoring into more adventurous sauces and seasonings.
Pluckers Wing Bar, for example, has 25 different wing sauces on its menu, said Todd Cunningham, Arlington's Pluckers assistant general manager.
Employees began experimenting with various flavor combos and pitching their creations to the owners, he said. Once perfected, they were added to the menu.
Some now popular flavors include teriyaki, cajun, salted caramel, honey garlic, mango habanero, tequila lime and root beer barbecue.
Biology sophomore Fatima Alonso said she usually sticks to traditional hot flavors, but she'll try lemon pepper when she's craving something spicy.
Eventually, wings started coming without bones, and the "bone-in" vs. "boneless" debate began.
Alonso said she eats wings regularly with friends but for her, boneless wings aren't an option.
"Yeah, they're chicken nuggets," she said. "They are. They have the same nasty texture."
Taste and texture aside, the easiest way to differentiate any wing from a nugget is its size, Cunningham said. Nuggets are cut and shaped into smaller portions than a wing.
Regardless of how you like your wings, Cunningham said there are some key components to "the ideal wing."
"It's gotta be the right texture. You gotta get it fresh, you gotta get it hot," he said. "The perfect wings come out, and they're steamy. They just came out of the fryer, and you tossed them up, and that sauce is kinda dripping off of them. That's the perfect wing right there."
The Impact
Wings' steamy, drippy, savory nature might be a turn off for some people because of the messy side effects. However, it's a character flaw that most foodies have learned to love.
Their inception happened at a strategic time because the first Super Bowl was held in 1967. Wings became associated with the Super Bowl fairly quickly, and they became a major staple of tailgating and other sporting events, Striffler said.
Hunkering down to watch a football game with a plate full of bones and a belly full of chicken is an American pastime that many have come to enjoy as a social bonding experience.
Communication technology senior Elijah Travis said he enjoys eating wings with friends and family while watching football and other sports. The experience is one that he's come to look forward to.
It would feel weird to eat wings by himself because chickens flock together.
So do the people who eat them.
@CecilLenzen