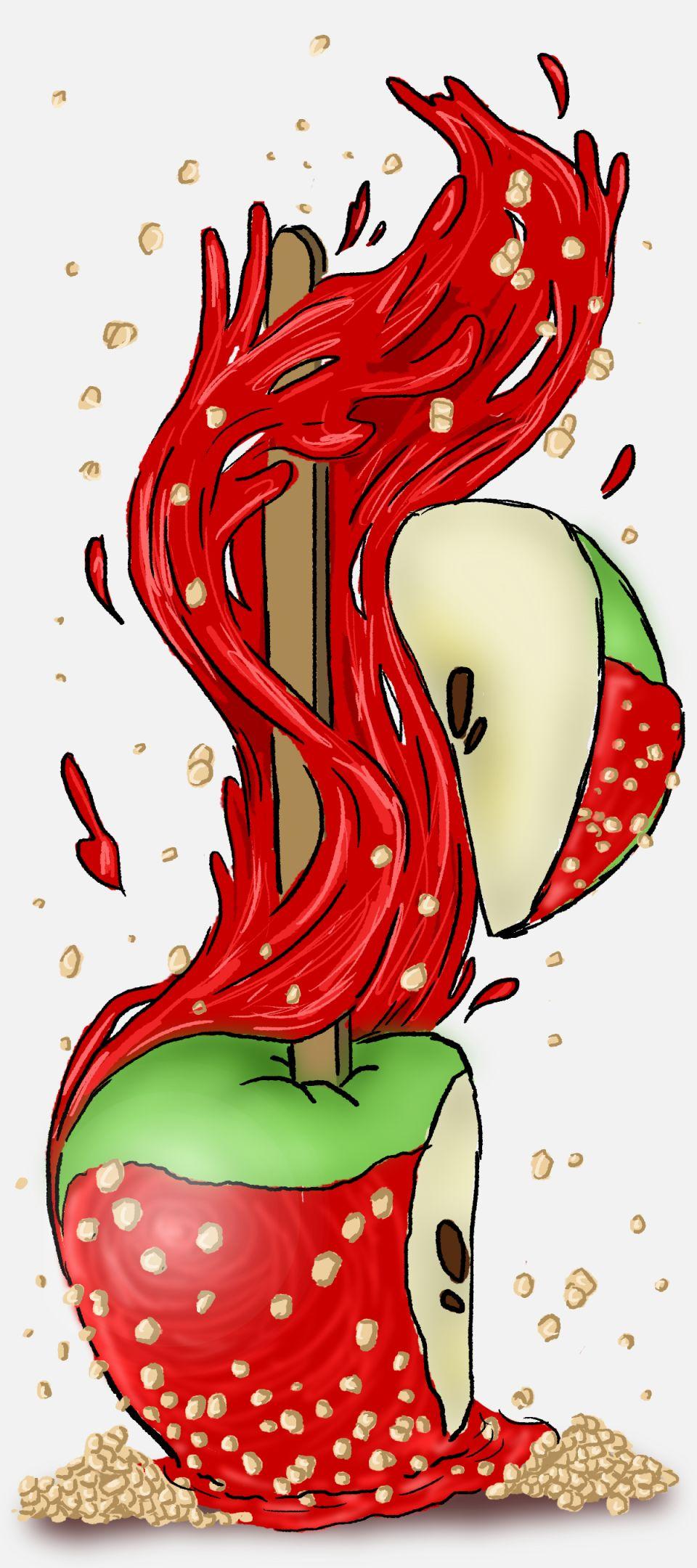 You're reading From Scratch, a series deconstructing the food we eat to explore its history, variety and the way we consume it.
With the State Fair of Texas closed, Halloween and Thanksgiving around the corner and fall in full effect, many are in the mood for a seasonal treat: candy apples.
Lawrence Brooks, owner of 2 Heart Creations, a bakery in Saginaw, Michigan, said candy apples have become commercial, and customers will buy them for birthday parties, baby showers, wedding receptions and other events. Candy apples are a year-round commodity, not a strictly Halloween treat, he said.
The Variety
Biochemistry junior Ruben Gonzalez said he grew up eating caramel apples as a seasonal treat. His aunt buys them for his cousins and him every year, not knowing that he isn't actually a fan of the snack.
"I'll eat them, but they have more of a sentimental value than me just liking them," he said.
Although he doesn't enjoy them that much, he said he still eats them because his aunt is like a second mom, and he doesn't want to disappoint or offend her.
Usually she buys him caramel apples, but he's recently tried apples covered in Tajin, a seasoning powder consisting of chile peppers, salt and dehydrated lime juice.
Now, people experiment with various flavors and toppings on candy apples. Customers can buy candy apples covered in popcorn, pretzels, mini marshmallows, sprinkles and crushed candy bars.
Music freshman Emily Alvarado said she can't remember the first time she tried a candy apple, but she recalled always trying different kinds, from Tajin to caramel.
In the Rio Grande Valley in south Texas where she was raised, apples were a common treat, Alvarado said.
The apples would come individually packaged and covered with candies. She said the treat makes her feel nostalgic because they remind her of buying candy apples with her family and friends in the Valley.
"I'm never not in the mood for a candy apple," she said.
The History
Candy apples originated in the early 1900s, according to the website for the International Independent Showmen's Museum, a museum dedicated to preserving carnival and circus history.
William W. Kolb, a candy maker in Newark, New Jersey, produced the first caramel apple while experimenting in his candy shop with red cinnamon candy for Christmas. He sold the first batch of cinnamon candy-covered apples for five cents each, and the apples quickly became popular.
Before long, candy apples were sold all over New Jersey, at the circus and in candy shops.
In the 1950s, Kraft Foods employee Dan Walker created the more commonly known caramel apples.
Walker invented the recipe with excess caramel candy from Halloween sales by simply melting them down and adding apples.
Caramel apples were made by hand for the first decade or so of their existence, and the first automated caramel apple machine was patented in 1960 by Vito Raimondi in Chicago, Illinois.
Since then, caramel and candy apples have become a staple at carnivals, county fairs and holiday celebrations.
The Impact
Brooks said he's always been a candy apple fan. As a child, he'd visit the county fair each year with his grandmother and mother.
"One of the things that I would get would be a candy apple," he said. "Candy apple, corn dog, cotton candy and snow cones — that was my ritual."
He creates a variety of cakes, cookies and other treats and added candy apples to his bakery's menu about five years ago.
The process of making candy apples, which he learned from his grandmother and from YouTube tutorials, takes patience and careful attention, he said.
When apples are sold in a store, they come covered in a shiny wax layer, so the first step is to remove the wax by boiling them in "plain old tap water" for about six seconds.
After boiling them, leave the apples out at room temperature for two days, wiping any remaining sap or wax from them each day, Brooks said.
Once he's ready to dip the apples, he prepares the candy from scratch. People generally use Granny Smith apples and dip them in caramel candy, he said, but many candy apple creators mix various candies and flavors.
"The tartness of the Granny Smith apple and the sweetness from the candy shell on the apple makes it great, makes it just good," he said.
Bring the candy mixture to a boiling 300 degrees and then add optional food coloring.
By that time, the apples should already be on sticks, waiting to be dipped. Brooks said he uses basic bamboo dipping sticks, which can be found at most craft or hobby stores.
The room temperature apples should be dipped while the candy mixture is still at 300 degrees, and then cool and harden for at least a few hours.
At 2 Heart Creations, he custom makes apples for specialty orders and sells a dozen for about $40. Cost generally varies, based on if customers want their apples decorated with ribbons, sparkles and specific food coloring.
Fair food has evolved from simple funnel cakes and turkey legs to Deep Fried Butter and Fla'Mango Tango, both winners of "Most Creative" award.
Many people aren't fans of candy apples, and many parents shun the sweet, sticky food. However, Brooks said it's worth trying at least once, even at the sake of oral hygiene.
"Every kid should experience having a candy apple at some point in their youth," he said. "They should experience going to the county fairs and having a candy apple and worry about the dentist later."
@CecilLenzen