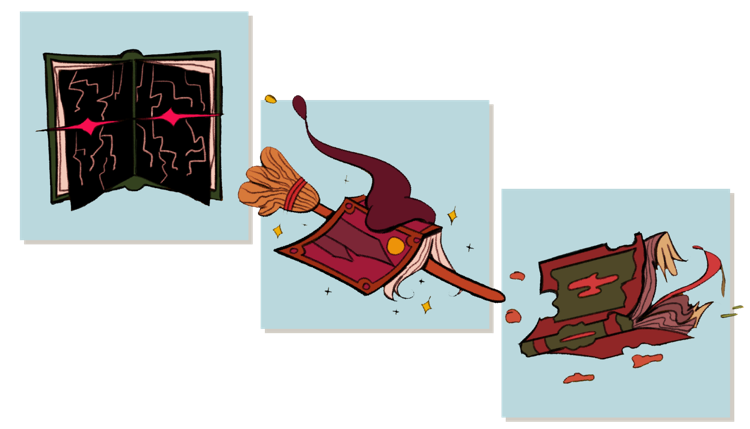 Many students have had some time open up for their hobbies lately, but when it comes to reading for fun, the abundance of choice can be overwhelming.
If you want the premium picks without the fuss, here's some recommendations from students about what to read without ever leaving your home.
Terry Pratchett's Discworld Series
This rec isn't just for one book, but more than 40 (and that's called efficiency.)
But don't let the high numbers scare you off a good book. Visual communication senior G. Langtree Price recommends the Discworld series because the different books focus on different groups and themes from fantasy politics to backwoods witches, and if you don't like one, you might still like another.
"It's a fantasy series that's just as comfortable poking fun at and satirizing fantasy tropes as it is in playing them straight," Price said in an email.
According to the official site, the Discworld is the setting of all the novels, a flat circular world on the back of four elephants, which stand on the back of a giant star turtle. As you might have guessed, the genre is fantasy comedy.
The 41 books in the series can be read in any order according to the official site, and a book generator is even available to help prospective readers know where they should start.
Price has read most of the books in the series, with the exception of some that were released posthumously. He likes his fiction with a touch of humor, he said, and Pratchett's series has that.
"It takes itself serious when it needs to, but its main focus is people basically being people," Price said. "It's fun and silly, but it's not afraid to dig into serious issues like bigotry, corruption, addiction, and more."
Rose Madder by Stephen King
Mechanical engineering senior Lacee Dalton said that she'd recommend mystery, suspense and horror books because they really grasp the reader's attention. But if she had to pick one, she said Rose Madder is the way to go.
The book focuses on a woman being abused by her husband, Dalton said, and follows her as she runs away and begins to build a new life in a strange city.
The woman is always looking over her shoulder because her husband is a cop who's known for tracking people down, Dalton said.
By the time Dalton gets to the 10th page, she never wants to put it down, she said.
"I like that there is some Greek mythology involved in the story," Dalton said in an email. "I also like that instead of staying in an abusive relationship, eventually she gets out of there, and he gets what is coming to him."
Dalton said that firstly, she'd warn that the book deals with some pretty intense relationship violence, but the ending is worthwhile.
It may sound like a spoiler, but Dalton said that the ending is so unexpected, every time she reads it, she's still surprised.
"By the end of the book the husband gets what is coming to him," Dalton said. "Read it to find out how corrupt this cop is and to see what he gets."
World War Z: An Oral History of the Zombie War by Max Brooks
For an older book that's become strangely relatable lately, nursing senior Aisha Imran said she'd recommend the book World War Z by Max Brooks.
World War Z is a horror-thriller, but Imran said it has sci-fi and post-apocalyptic aspects as well that make it really entertaining, along with the main gimmick of the book.
"Essentially, each chapter is its own interview with someone," Imran said. "They have varying occupations and are from different parts of the world."
The interviews together tell the story of the world in the decades leading up to the zombie outbreak, and what happened after. Imran said the interview style is her favorite part of the book.
"You get to see a lot of different perspectives, and every interview just seems like you're talking to a different person. Like none of the two are the same," she said.
It keeps the book from getting monotonous, Imran said, and all the varying opinions and thoughts interest her most.
The book delves into a lot about fear and uncertainty, Imran said, and although she finished it for the first time in early March, she's already begun reading it again.
"It's been really comforting to see, seeing the author put into words like, what I have felt occasionally," Imran said. "Being stressed and isolated from the world, not knowing what's going on. And then also like the slight horror of, 'OK, how far is this going to go?'"
The current situation of COVID-19 was a big reason she picked World War Z up again so soon, she said, and the characters' experiences are only a step away from our own.
"If you want to feel the strange comfort of looking into a backwards mirror, it might be the one for you," Imran said.
____________
So if you're looking to dive into books right now but aren't sure what's worth your time, there's the list that's hand-curated by your peers.
If none of those sound good, however, there were some honorable mentions from the UTA subreddit, from Brave New World by Aldous Huxley to The Hitchhiker's Guide to the Galaxy by Douglas Adams.
So whatever you choose to read, from this list or not, you can use it to replace the current world around you with one from the pages of a book.
@Sam_Knowles00