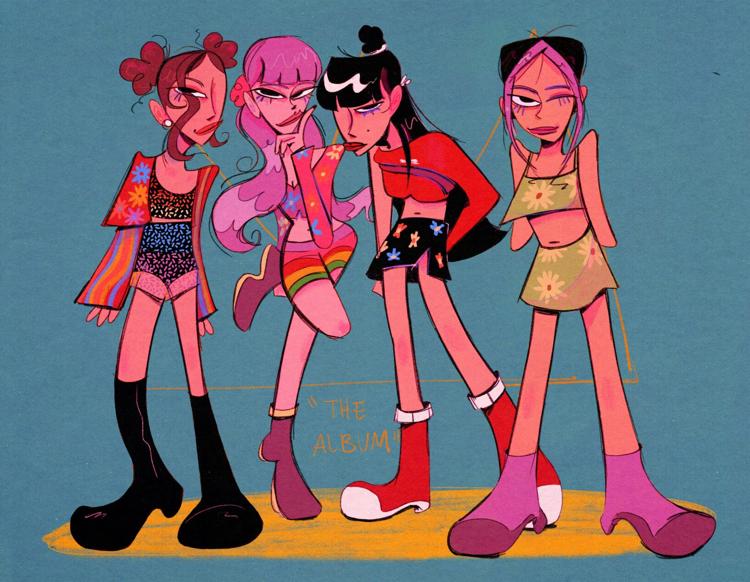 After a four-year wait following their debut, BLACKPINK, the biggest female K-pop group in the world, is releasing their first full-length album Friday.
The release of any music at all is a huge win for BLINKS (BLACKPINK's fanbase name), because the group is notorious for long wait times between releases. But they're consistently met with fan support.
In August 2016, BLACKPINK released its first mini-album Square One, which consisted of two songs: "Boombayah" and "Whistle."
"Boombayah" reached No. 1 on the Billboard World Digital Songs chart faster than any other song in history, setting BLACKPINK's precedent for breaking records in the coming years.
The new album, titled The Album, means a lot to fans, especially ones who have been there since the band's debut, waiting for this day for years.
One such fan is medical technology alumnus Kendy Le. As part of a Vietnamese family, he grew up listening to K-pop, following K-pop groups and discussing them with friends and family.
When he first discovered BLACKPINK during their debut, Le was immediately drawn to their "Girl Crush" aesthetic, a now-trendy style of K-pop that denounces the typical cutesy feminine vibe and embraces a more mature, darker take on femininity.
"They show how powerful they are, and they always have really exquisite, extravagant music videos," Le said. "Their music is really powerful, and you can dance to it."
"DDU-DU DDU-DU" is BLACKPINK's most popular song and made them the first K-pop group to hit 1 billion views on a music video. The song is known best for its accompanying dance moves.
Now that he's been a BLINK for four years and attended their 2019 concert in Fort Worth, Le identifies himself as a huge fan.
Although he loves what BLACKPINK puts out, Le wants to see some more musical risks taken by the group in their new album because they're in the perfect position to do so. He said he hopes to see them incorporate different genres while keeping the formula that makes them so loved.
"It's always been the same producer making all their songs," Le said. "So it might be like, kind of repetitive."
He's interested in seeing BLACKPINK's take on popular sounds, like adding a retro or maybe tropical beat, Le said.
BLACKPINK's lack of musical variety may have stemmed from their small discography, meaning that when they do release a song, it needs to sound safe to ensure it appeals to as many people as possible.
Despite their popularity, the group has only 14 original songs (not including celebrity collaborations, remixes and translations).
This is unusual not only for K-pop but for musical groups in general, especially ones the size of BLACKPINK.
Musicology professor Megan Sarno said the reason BLACKPINK's management may have chosen to put so much time into other endeavors rather than an album is because music isn't what makes money in the industry.  
It's things like concerts, merch and sponsors that bring in the cash, she said, all of which are things BLACKPINK is a part of.
"If you've got a good manager, you don't need to have an album at all," Sarno said.
Although BLACKPINK's management is a controversial topic, the idea still stands: BLACKPINK didn't need a full album to make it this far, so to produce one (albeit a long time coming), is just the icing on the cake for BLINKS.
A big part of BLACKPINK's success comes from their perfect image, Sarno said. Fans can lose themselves in the fantasy that K-pop offers, from the music to the dances to the outfits.
"It's just so clean, and it's so controlled and so ordered, but so fun, you know?" she said. "It's so immersive."
Another factor of BLACKPINK's success is their international appeal.
Not only are the members — Jisoo, Jennie, Rosé and Lisa — from New Zealand, Australia, Thailand and South Korea, respectively, but their music and style is more westernized than other traditional K-pop groups' and feature more English lyrics to appeal to the most fans.
This is a polarizing aspect of BLACKPINK's success because while some fans feel represented and included by the group's international appeal, others think K-pop should stay Korean, for fear of the genre losing its integrity.
Still, the heavy English and westernized concepts bring in casual fans like medical technology freshman Ssanyu Nabaliisa, who is into K-pop but not BLACKPINK in particular.
Nabaliisa enjoys BLACKPINK's music and videos, and understands why others like them as well. The dances and the choruses are catchy and easy to sing and dance to, she said, but the lyrics aren't deep enough for her to personally enjoy them as much as other songs.
She likes BLACKPINK's "Boombayah," "Whistle" and others, but she's apprehensive about the full-length album's release.
She's a fan of albums with a solid concept or theme, Nabaliisa said, and the two pre-release singles for The Album, "How You Like That" and "Ice Cream" were about as opposite as you can get.
"Usually albums have, like, an essential concept to them, and "How You Like That" and "Ice Cream," like, they're both totally different," Nabaliisa said.
But no matter what her assumptions are now, she'll give the new album a try and see if she likes what she hears, she said.
The Album's release marks a new era for BLACKPINK, and for both casual K-pop fans like herself and BLACKPINK stans like Le, the much-anticipated album is undeniably important to people around the world.
@Sam_Knowles00