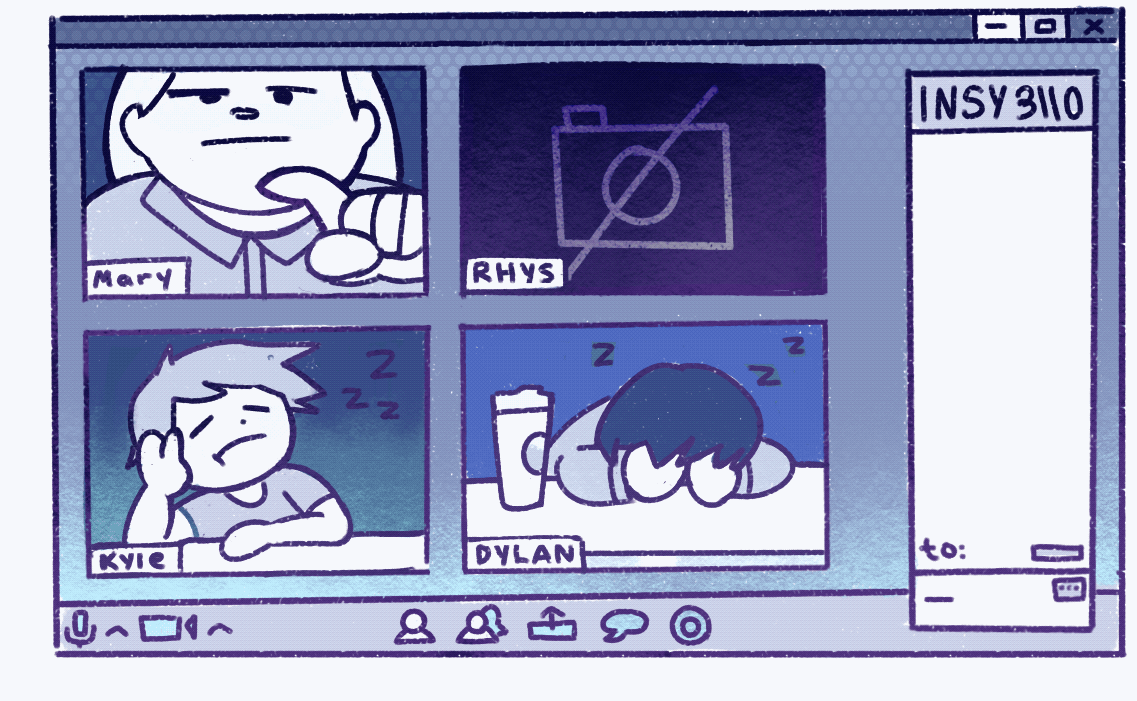 Lolin Martins-Crane ran her virtual training session on her office computer.
Meanwhile, she drafted an email reply to her employer. At the same time, she participated in a Microsoft Teams panel on her phone. A loud "ping" notified her of a text from her daughter.
She'd had it. Martins-Crane, Lockheed Martin Career Development Center director, found her attention pulled in so many different directions that she had to shut things down for a second and stop.
Trying to multitask is a bad habit she picked up during the pandemic because so many things overlap in her schedule, Martins-Crane said. But it's a habit she's trying to break.
"I couldn't do it before, I'm not sure why I think I can do it now," she said.
Many students have bad habits like Martins-Crane, from falling asleep during virtual class to checking social media out of frame. For some, navigating the onslaught of Zoom, Microsoft Teams and Canvas video calls is a relatively new skill to learn, so there are many places to mess up and lots of room to grow.
Some common aspects of online classes have led to mass cases of "Zoom fatigue": basically, being sick of virtual learning.
No matter what your beef with online class is, here are some easy solutions.
Move around
Because of the intensity of being in a call with a video feed focused on yourself, students can feel pressured to stay still and in-frame for the full duration of the meeting, Martins-Crane said.
"[In our calls] we don't feel that we can stand up and move away or be distracted because it looks like we're not paying attention to the call," Martins-Crane said.
This adds to the pressure on students and can actually cause some virtual meetings to feel more draining than physical ones, she said.
She remembers the first few weeks of classes, all of the student workers she came into contact with seemed drained.
"Our team was like, 'I'm exhausted, and all I did was sit here all day,'" Martins-Crane said.
However, unless your professor specifies otherwise, it's good for students to remember they're free to get up, stretch, and get their blood flowing again as a little pick-me-up during class. This should also help the students who struggle to stay awake, she said.
Avoid looking at yourself
Nikki Dickens, Career Development Programs assistant director, said she personally struggled with the thumbnail containing her own image when meetings went virtual.
Seeing herself on the screen instantly made her critical, making her obsess over whether her posture was right or if she looked good, and this is something Martins-Crane noticed as well.
"It's another stimulus piece that you keep grabbing," she said.
A way to fix this problem is to place a sticky note over the space where your image box is, Dickens said. This will also make the chat feel more like a regular face-to-face conversation, where you obviously can't see yourself.
Simulate "actual" class
Alex Rojas, advertising and broadcast communications senior, said that nothing really sticks out as "horrible" between her Teams meetings, Canvas calls and Zoom classes, but she definitely would prefer to be in a real class.
"I'm starting to get to a point where I really miss that, you know, being in class with everybody and having that interaction," Rojas said.
A tip for combating this is to take an active role in class, Martins-Crane said. If you can raise your hand to answer questions or use the chat to communicate, it can help make you feel like you're having a legitimate interaction as opposed to watching a stream.
For students like Rojas who struggle to make virtual meetings feel like actual classes, Martins-Crane and Dickens recommend students designate a specific space for work.
Dickens herself works from home and knows the struggle of working on her couch all day and then trying to relax on the same couch at night. There just isn't enough differentiation of the space.
No matter how tempting it is, sitting on the bed or sitting on the couch is not gonna make you feel like you're in class, Dickens said. It's better to bite the bullet and work at a desk or table.
Additionally, it can be helpful to have a space of your own to dedicate to work, Martins-Crane said. It's not possible for everyone, she said, but if you can, having a spot where only you are allowed to move and touch things can be beneficial for feeling in-control and productive.
Finally, for the aesthetic portion of your space, keeping some university-themed posters, pictures or items around the area can help remind you what you're doing this all for.
"There's a few freshmen that I've interacted with and talked to, but they've got, you know, they've got their banners, they've got their cup, you know, just something to help them be a little bit more engaged," Martins-Crane said.
Keep a daily calendar
It's a classic tip, but keeping a schedule or calendar for the day can be really helpful for keeping track of classes and meetings, she said. Even adding fun things to the list can help make sure class feels like class and fun stays fun.
This is something social work senior Dulema Rivas learned quickly, as her online courseload forced her to get on top of assignments fast.
"This has gotten to be like a struggle, but I've become really organized with my classes," Rivas said.
Something to keep in mind is that it might not be the online chats or screen time alone that are causing students to feel fatigued, Martins-Crane said.
At the end of the day, everything has changed in a matter of months, and it may have caused stressors in students' lives that they haven't even put a name to, and that's normal.
"Even if you're loving this, any change takes energy," Martins-Crane said. "It takes time, and it takes focus, and it will drain [you] even if the change is something that you want."
@Sam_Knowles00