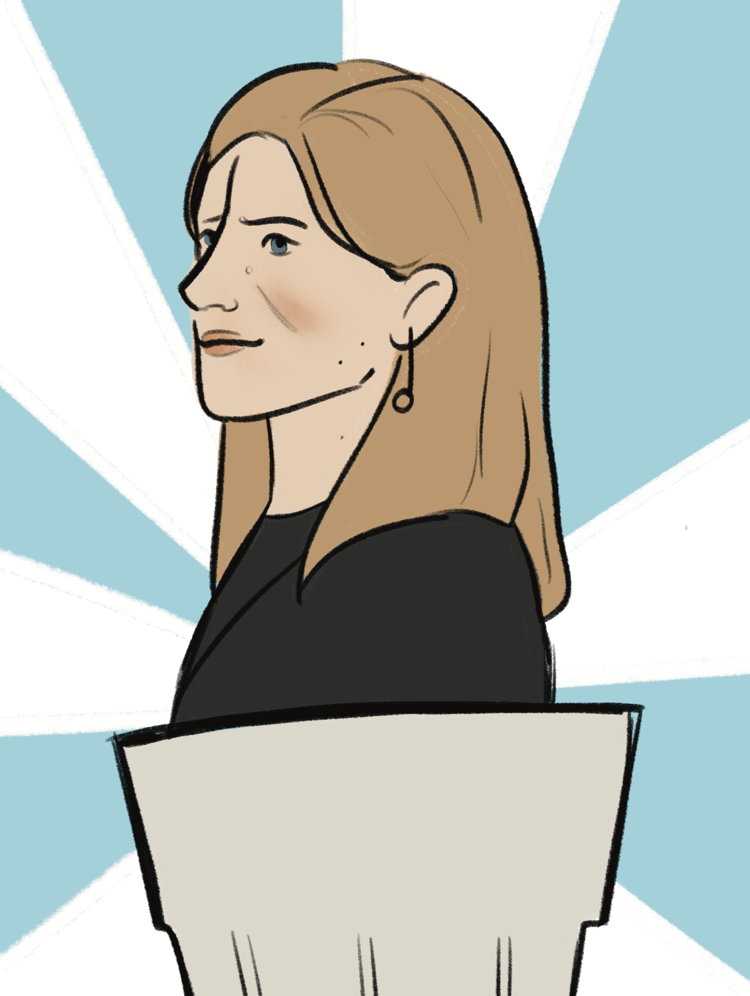 Justice Amy Coney Barrett was confirmed last week to the Supreme Court, bringing an end to the fast-tracked process that only took 27 days after her nomination.
This came after the death of Justice Ruth Bader Ginsburg on Sept. 18 after she served for 27 years on the court. Just days before her death, Ginsburg dictated this statement to her granddaughter Clara Spera: "My most fervent wish is that I will not be replaced until a new president is installed."
Barrett was nominated to the bench on Sept. 29, just 35 days from the election. She was confirmed on Oct. 26, eight days before the election, making history for being confirmed so close to Election Day.
Her confirmation was the first time in 151 years that a justice was confirmed without the support of a single member of the minority party — a sign of how divided the country has become when it comes to the judicial branch of government.
Her confirmation was ill received by some. According to a Gallup poll, a slim 51% majority of Americans supported her, while 46% of U.S. adults did not want Barrett to be seated.
The level of opposition to Barrett's confirmation among Democrats was the highest ever measured by the poll among those who identify with the party not holding the White House, at 84%. Republican support was measured at its highest since 1987 at 89%.
More Americans wanted to see Barrett confirmed than not, according to the poll. But other polls have shown solid majorities wanting the winner of the 2020 presidential election and the new Senate to make the nomination, rather than President Donald Trump and the current Senate.
Barrett's confirmation process played out during an election where millions of people have already voted, but election results could possibly come later than election night this year due to mail-in ballots needing to be counted.
The confirmation vote's timing is important because it happened so close to the election, said Kayla Canelo, political science assistant professor. In 2016 — about eight months before the election — Senate Republicans let former President Barack Obama's nomination of Judge Merrick Garland stand for 293 days before it expired at the end of Obama's term.
"Their argument for that was that it was too close to the election and that the next president should be able to nominate someone," Canelo said. "This was kind of pitched as making it 'what the people want.'"
Many people are upset at how quickly Senate Republicans confirmed Barrett.
"I think what people are so upset about at this point is that this opening on the Supreme Court with Ginsburg passing is so much closer to the presidential election," she said. "We're talking a matter of within 40 days, as opposed to that eight-month period."
Many Republican voters and politicians alike have hailed Barrett as good news for the court, though.
Sen. Lisa Murkowski, who originally opposed confirming a new justice so close to the election, announced her support for Barrett during a floor speech in the Senate.
"I will be a yes," she said. "I have no doubt about her intellect. I have no doubt about Judge Barrett's judicial temperament. I have no doubt about her capability to do the job and to do it well."
Murkowski said Barrett is the sort of person needed on the Supreme Court, praising her temperament, legal writing and practice.
Mechanical engineering freshman Kevin Mathew has heard the argument that if the tables were turned and the Democratic Party was in power, they would have also tried to push through a Supreme Court nomination, he said. But that's not the issue people should be focused on.
"This election has already started, millions of people have cast votes," Mathew said. "The hypocrisy lies in the fact that it is so much closer to and even during the election than it was with the previous example of Merrick Garland with Obama, and it's a severe case of hypocrisy."
When public health sophomore Nibi Khadka saw the announcement of Barrett's confirmation, she felt a wave of emotions. At first, she was shocked, but that's a feeling she's felt all too often during the Trump administration.
When Obama nominated Garland in 2016, Republicans in congress refused to give him a hearing, Khadka said. She was fine with that because the election was coming up and she felt the people should have a voice.
"I just thought it was really hypocritical," she said. "Obama had the opportunity to nominate someone, but Mitch McConnell said it was too close to the election. So it didn't happen until after the election. But now, he was okay with [confirming] one a week before the election, which is just ridiculous."
Mathew said he saw when Sen. Lindsey Graham said he would refuse to confirm a Republican president's Supreme Court nominee during an election year. This year he made a complete and brazen reversal to rush through Trump's third justice.
"It's really hard to digest that as Americans," he said.
It's a trend that's led to politics becoming so polarized across the country, Mathew said. The last four years have seen a lot of change and led to division across the country.
"Democrats have really played the position of the unifying party trying to bring America back to what it was," he said. "I don't think it's going to last if Trump wins the election."
The events that happened under Obama are still so fresh in everyone's mind, Canelo said.
"Many of the same people who were in the Senate at that time are doing this again, and it's the same actors, the same players in the game," she said. "I think that's what some people find so frustrating about this."
Since about 2005, Senate confirmation hearings for the Supreme Court have become increasingly more partisan, she said. It hasn't always been that way.
When Justices Antonin Scalia and Ginsburg were nominated and confirmed, they had significant support, receiving votes to confirm by almost every senator, she said. Then starting around 2005 with Chief Justice John Roberts, people started seeing much more partisan voting in the Senate.
Confirmation votes have become more contentious, and they can shape the way the public sees the court as an institution, she said.
Political science senior Nyasha Magocha said her opinion on the impartiality of the court has shifted because of what Senate Republicans are doing this year. The shift in their opinions is nothing more than an attempt to gain more control of the Supreme Court.
"It's just kind of an indication that the GOP is more worried about not just packing the court, but deterring any democratic influence and making sure that they continue to have the grip that they've had," Magocha said. "It just really shows what's more important to them — their influence versus being democratic and fair."
The Republican Party is playing a political game to ensure that they can stay in power, Mathew said. The decision to confirm Barrett was just another example of the Republicans putting the will of the party over that of the people.
"It is concerning because Republican voters see this and don't see it as much of a problem as they should," he said. "It's because of the normalization of these tactics, through a history of presidential disinformation and the president discrediting those who disagree with him."
Seeing how fast the confirmation vote happened was frustrating, Magocha said. There are other problems, like the pandemic or issues of voter suppression, that have seen little to no progress.
COVID-19 cases and deaths are rising more and more with each passing day, she said. The country is in the midst of an economic recession.
"It's a slap in the face," she said. "It's really, really upsetting."
It signals to the American people that politics and policy are more important to the Republican Party than the safety of Americans, she said.
Trump has painted a narrative that Democrats are pushing back the process for a stimulus deal, she said. She hears him say that they are the reason there hasn't been a deal yet.
"It just kind of shows that that narrative is also incorrect," she said. "The GOP within the Senate just wanted to push Barrett and get that influence, and that's about it. That's all that they were worried about."
This process has shown him what the priorities of the Republican Senate majority are, Mathew said. There has still been no relief for the millions of Americans who face debt and unemployment caused by the COVID-19 pandemic.
"I find it incredibly hypocritical and incredibly partisan to come back for a weekend session to expedite a process for a Supreme Court nominee when they can call recess on themselves to avoid a [COVID-19] bill," he said.
Democrats should wait until after the election before they act on the calls for a response to the hypocrisy seen by Republican leaders, he said. If they were to do anything now, it would just be clouded out by the election and possible election disinformation that could be spread due to an increase in mail-in voting.
"I think we just need to stay focused on what has happened and what the problem was and why these things shouldn't go on," he said. "I think we should also focus on the logistics of moving this country forward."
@DJ_Shaw_