Certain terms and grammar rules in this article have been edited to accommodate recommendations by the Disability Language Style Guide from the National Center on Disability and Journalism.
Throughout the years, UTA has had many advocates for disability rights, from Sam Provence to Joseph Rowe and John Dycus, spanning as far back as the '60s.
But amid the efforts of students and faculty over the years, few have advocated for disability awareness at UTA as much as Sarah Rose, disability studies minor director.
Rose has pushed for the education of students about disabilities through the disability studies minor, and she has cultivated a campus of faculty and students who care about the preservation of the disability community's history.
Aside from learning their history, connecting with other people with disabilities in their community is important, Rose said, and can really make a difference in their lives.
Rose herself is hard of hearing, and being able to meet other students with disabilities in school for the first time led her to pursue advocacy as a career.
She herself wasn't attracted to the Deaf community until grad school because until then her speech was better than her hearing, and she had passed as hearing.
"I think that's one of the really exciting things at UTA, in that it is normal to see lots of people with disabilities, visible and invisible," Rose said.
Many people aren't aware that there are so many types of disabilities, and they're more common than you'd think. One in four adults in the U.S. have a disability, according to the Centers for Disease Control and Prevention.
Disabilities of all kinds encompass more people than first meets the eye, which is another reason why Rose works so hard to raise awareness and get more people to take disability-related classes.
"Disability studies is a field that looks at rhetoric policy, experiences about disability, and in part is looking at the larger trends of common and shared experiences," Rose said. "There've been a lot of studies about disability, but disability studies is actually looking at broader trends."
The disability studies minor is one that treats disability as a crucial element of human diversity, according to its website. The courses are taught by a variety of professors in colleges spanning from Liberal Arts to Nursing and Business.
It was important for the minor to include classes that would benefit many majors because a flexible schedule means more people can take a class, Rose said.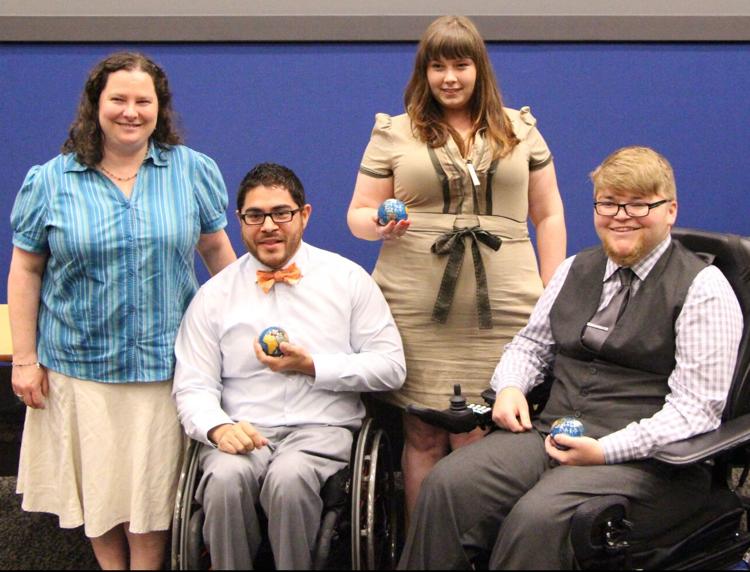 "People with disabilities are 20% of the population," she said. "Anyone can become disabled, so it's for people's own self-interest that they learn about it."
In addition to the minor, UTA hosts several prominent disability-related programs like the Movin' Mavs and Lady Movin' Mavs. The university has also pioneered a Disability History Collection.
UTA is building the first disability history archive in the southwest, one of only a handful in the country, Rose said. UT Austin even modeled their disability program after UTA's, something Rose was happy to be a part of because it involved people who actually have disabilities.
"The core tenant of the disability rights movement is 'nothing about us without us,'" Rose said. "People with disabilities need to be the ones to name and to be involved in shaping what policies and practices there are about disability."
With UTA's prominent role in providing access to education for students with disabilities, it made sense to start the collection, said Brenda McClurkin, head of UTA Special Collections in the Central Library.
The first step in the process of collecting pieces of disability history was to look at their existing collections with fresh eyes. From photographs to maps, graphics, sheet music, books, certificates and union records, McClurkin said their archive was already home to a variety of physical collection materials.
"We already had a lot of material related to disability, we just didn't realize that," she said.
Although physical materials are what most think of when talking about a collection, a big part of what McClurkin collects is for their digital files. Special Collections has received multiple grants in the past to provide resources for them to digitize their collection, which can be found online here.
Having a collection of disability-related sources is groundbreaking, McClurkin said, as it's still an emerging area of study. These resources enhance the diversity of UTA's archives, and it is essential to have them available for research and study.
Rose was impressed by the effort McClurkin and her staff put towards the online archive, which is much bigger than the physical collection. Because of the digital medium, the team was able to be more innovative in the website's design and go beyond basic standards.
"[The librarians] in many different departments have embraced disability, universal design, accessibility and are just wonderful to work with," Rose said. "They're really, really true partners."
In addition to the materials mentioned previously, Special Collections began adding oral histories and interviews with people who have disabilities to their archive as well, something that history associate professor Gerald Saxon had a big hand in.
Working in the history department is how he met Rose, Saxon said, and how he learned about the Texas Disability History Collection in the library.
Saxon teaches graduate classes on archives and oral history, which puts him in the position both to help with archiving and to teach his students how to, as well.
His graduate students have helped to process and organize collections within the Texas Disability History collection, Saxon said, and his oral history students have gone out and interviewed people whose interviews are now part of the collection.
There are probably close to a hundred interviews by now, Saxon said, and tons are available already.
Interviews from Casey Gonzales, retired Assistant Dean of Students, and Allan Saxe, retired political science associate professor, are available online here, but Saxon's favorites are with Dycus, who participated in three different interviews for the site.
"John is a pioneer at UTA as a matter of fact, in disability rights," Saxon said. "He's at the very forefront of some of the earliest people who pushed for rights on campus."
Forming UTA's disability collection is the biggest part of their work, but Rose, Saxon and McClurkin also work to spread awareness about their collection so it can be put to use.
"We speak to disability-oriented organizations and to let them know that we're there, and that we want to include them on their records," McClurkin said.
The collection won a Diversity Award from the Society of American Archivists in 2017 and a Lex Frieden Employment award in 2018, named for Texas disability rights champion Lex Frieden.
In addition to the online collection, Rose and Trevor Engel, disability studies minor adviser, worked on the "Building a Barrier-Free Campus" exhibit, which can be viewed here.
The exhibit is an easy-to-navigate look at UTA's history serving students with disabilities, Rose said.
From the formation of the Handicap Club (later renamed the Handicapped Students Association) to UTA students training for the Paralympics, the exhibit showcases a timeline of disability advocacy at UTA and is a valuable read.
"Dr. Rose has such passion for this area of study, and it's contagious," McClurkin said. "We're very excited about being part of it."
@Sam_Knowles00