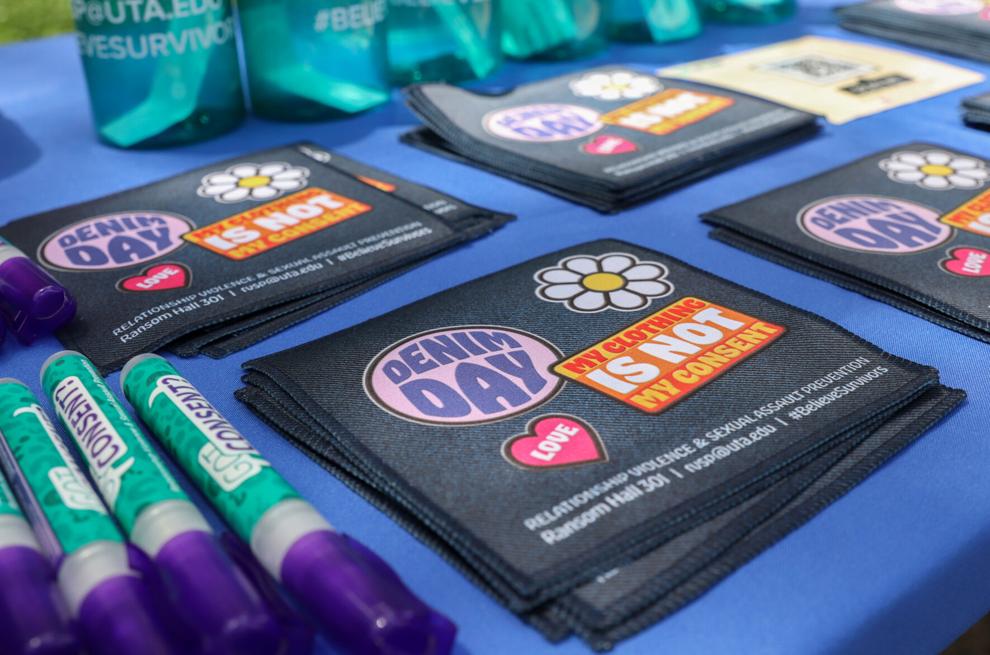 Relationship Violence and Sexual Assault Prevention hosted Denim Day on campus Wednesday commemorating victims and survivors of sexual assault.
Denim Day is an international campaign where people wear denim on the last Wednesday of April, said Jessica Sanchez, Student Advocacy Services director and adjunct professor for the School of Social Work and Women's and Gender Studies.  
Peace Over Violence, a campaign for sexual violence prevention and education, has run a Denim Day campaign in honor of Sexual Assault Awareness Month for the last 23 years.   
Denim Day was first introduced when a female judge overruled a rape case in Italy based solely on the fact that the victim wore skinny jeans and implying consent would've been given while removing the victim's clothes, hinting at the notion that the rapist wouldn't have been able to remove tight jeans by himself, Sanchez said.  
The next day, women in the Italian Parliament wore jeans to stand with the victim of the case, according to the Peace Over Violence website.  
Social work junior Amari Rabb said he didn't know what Denim Day was and the history behind it until Wednesday.
He said he doesn't understand why people believe clothing choices are consent.
Kinesiology freshman Josh Pathisseril said he felt mad when he heard about it and said it's not consent if it's not verbal. Consent is something that isn't talked about enough, and people need to learn more about it.
Pathisseril said wearing denim on Denim Day helps make it widespread and educate people who didn't know about it.
Zoe Stankowski, social work junior and RVSP peer educator, said Denim Day is a chance to show support for any survivors and victims of sexual assault or any other sexual violence.
As a survivor of sexual assault, Stankowski said they're passionate about the topic and want to spread awareness. They want people to know that nothing is consent other than the word "yes."
When people see others in denim or survivor shirts, it shows victims and survivors they're not alone. They're able to see their allies and see how many people there are to support them if they ever needed and getting the resources out is important, they said.
But for some, it's more than picking a stance.
Shaneka Dicks, social work graduate student and RVSP intern, said it's to let people know that she is allowed to wear whatever she wants to wear. Her clothing choices don't equate to consent, she said.
Dicks also said she believes people need to be aware of their manner and conduct themselves to create a safe space.  
Sanchez said people to follow three rules when a person who is battling or survived any kind of sexual violence decides to open up to talk: believe, be present and connect.
She said to believe when someone shares their stories.
 "They've chosen you for a certain reason, you have displayed some type of trusting characteristic that makes them feel like OK, I can trust this person."
Stankowski said as a survivor, the biggest thing for them was when people were willing to believe their story and them.
Sanchez said being present while a person is opening up is also important. People should put away technology, so people can really hear them and support them.  
The last thing is to connect them to the RVSP office. 
"I know it can be scary to ask for help, but you've already made it so far," Stankowski said.
They recommend those who are struggling to join the RVSP support group, even if they decide not to report.
"I need you to know that you have a community here, that you have staff and myself that care about you so much and that you are not alone," Sanchez said.
@ayeshahshaji
features-editor.shorthorn@uta.edu