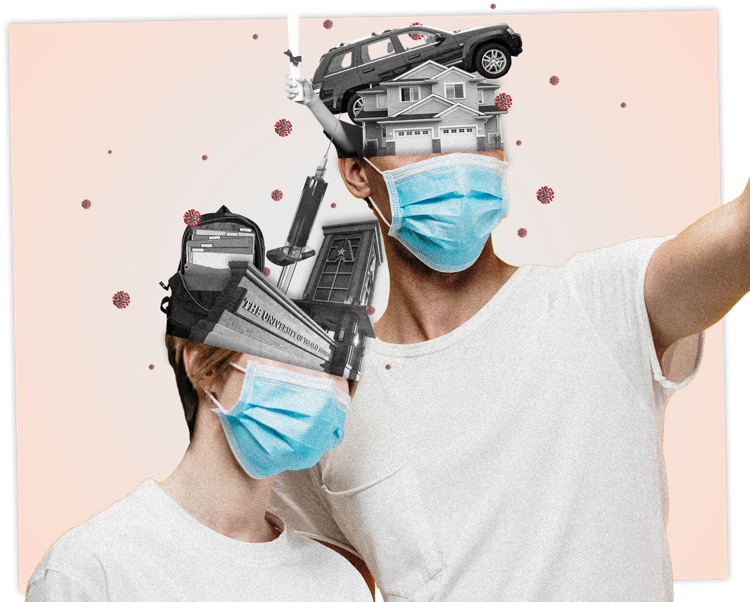 The last thing on nursing junior Luis Mota's priority list is going back to school.
The economic ramifications of the COVID-19 pandemic have put his household in a difficult situation. His parents operate their own business, but they had to shut down during the March and April shelter-in-place orders and are now in a financial hole.
His parents are undocumented, so although they pay taxes, his family didn't get a stimulus check and are not eligible for unemployment benefits.
They've been digging into what little savings they have and going to food banks to ensure they have enough to eat every day, and Mota has been searching for a full-time job to ensure the household stays afloat.
Not going to class this semester is an entirely new experience for Mota, who said he's always done summer and winter classes or activities since the 6th grade.
"It's definitely taking somewhat of an emotional toll," he said. "Part of the reason why I do enjoy going to school is the social aspect. I like to sit in the front row, and I like to engage in a lot of communication during class. I wanna say it's almost unsettling."
Mota is not the only student not registering for classes this fall. UTA and universities across the nation may see some students skip the upcoming semester because of coronavirus-related situations or fears.
Aside from financial concerns, Mota said he is also worried about going to school, catching the virus and getting his parents sick. No one in his household has insurance, so they can't afford for anyone to get sick.
This fear of catching the virus is shared by many students, including nursing junior Tiffani Barber.
Barber said she's not coming back to UTA because the classes she'd be taking this semester would still require her to come on campus.
"I really did appreciate that they had hybrid classes and fully online classes," she said. "But to me, it just didn't seem safe. To me, it didn't really feel like they were putting students first."
She said she doesn't believe that UTA can properly enforce social distancing, so she's taking her classes at Dallas Community College, which will have all her classes online and at a cheaper price.
Accounting and finance senior Olivia Winters said she's taking the entire semester off because of her fear of getting the virus and spreading it within her household.
She said she's fortunate enough to have passive income that can keep her from having to work, so she wants to limit any kind of interaction with others not in her home.
Winters said she doesn't have a good workspace set up to properly take classes online, as she would often rely on the computer lab on campus.
She also lives in Addison, Texas. She would prefer to live on campus if she had any face-to-face classes, but she's worried that if the university goes entirely online as it did in the spring, she would just feel like she's wasting her time and effort.
It's not ideal for her to pause her education and not know where to go next.
"I'm stressed out," Winters said. "I like having a plan, and the way everything is going it's stressful because I don't know what I'm doing with my life right now. And we're in one of the states with one of the biggest issues of reopening over and over again."
According to an Academic and Course Planning university report released in June, 46% of students surveyed earlier in the year cited COVID-19 uncertainties as a reason for not yet enrolling for the fall semester, and 39% of students are concerned about health and safety.
Troy Johnson, Division of Enrollment Management vice president, said it's still difficult to speculate on what enrollment would look like in the fall. University leaders have been trying to do all they can to ensure safety and provide solutions that work best for students, and they've been trying to relay that message to the community.
"We're really trying to be as student-focused as possible," Johnson said. "We're trying to give options and show pathways and help students still reach their ultimate goal."
He said that the incoming freshman class is still on pace to be one of the largest and most diverse classes in the history of the university.
There is concern for the status of international students, he said, but UTA is prepared to offer online classes to international students who remain in their home country this fall.
University leaders hope to limit international student enrollment decline to a 30% decrease this fall, according to the Academic and Course Planning report.
Johnson said there may be a lot of uncertainty, both for international and domestic students, but UTA is trying to make attending easier for everyone.
But for students like Mota, these adjustments don't change the fact that he needs to work full time to help his family be financially stable.
The coronavirus pandemic, along with the subsequent shutdown of businesses, has led to a 8.6% unemployment rate for June and over 3 million unemployment claims in Texas since mid-March.
UTA ranks second in the state for first-generation and low-income students, and it is recognized as a Hispanic-Serving Institution. North Texas is also home to 475,000 undocumented immigrants and nearly 37,000 DACA recipients.
Mota's family falls into those categories. Although he has enough financial aid and scholarships to attend classes, he said now he needs to focus on helping his family.
He said he wished the university would have provided some kind of discount on student fees in the spring and going into the fall to offset the lack of certain services that are no longer physically available.
Winters agrees, saying the lack of discounts or prorated tuition rates for not being able to use the services on campus made coming back to the university very undesirable.
But at this point, Mota said, there is very little the university could do to make it possible for him to attend this fall. He's now just hoping that the coronavirus pandemic subsides so his parents can get on track and he can safely attend classes.
@ByDavidSilvaR