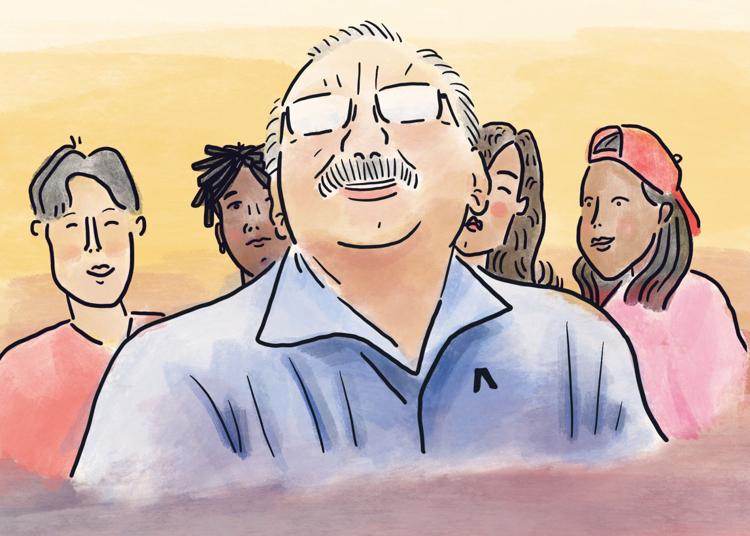 In his first week at UTA, Casey Gonzales was invited to speak with the university's Association of Mexican American Students. After preparing his speech the night before, what Gonzales found the next day was an audience of seven — six Latinos and one student from Iran. Intrigued, Gonzales asked the student if he was interested in learning more about Mexican culture.
"Not really," the student replied. "I saw all these brown bodies walk in, so I walked in, too."
Gonzales gladly welcomed the student and insisted he stay. Yet with a small group of minorities, including one who was simply looking to fit in based on physical appearance, it seemed like there was a bigger issue at hand than his intended remarks.
He set aside his 3x5 cards, moved in front of the podium and spoke with candor to the intimate group.
"I think we have other issues we need to talk about."
________________________
For over 35 years, Gonzales has served UTA in multiple administrative roles.
From director of the Equal Employment Opportunity and Affirmative Action programs in 1984 to assistant dean of students and director of the Parent Family Center today, Gonzales has overseen the creation, growth, and at times, disbandment of organizations that have served racial minorities and lower income students.
Later this month, Gonzales will retire and leave behind a legacy of diversity, inclusion and a passion for growth.
Gonzales' passion for serving others came at an early age. Born in Tucumcari, New Mexico, he left his home at the age of 14. The son of a ranch worker, Gonzales' father never understood his passion for education and learning.
"He couldn't understand why I didn't like the same life that he had," Gonzales said. "I always had a book in my hand. I was always reading."
After a disagreement with his father, Gonzales packed his bags and took off. He found a job at a local Italian restaurant, and the owners offered him shelter in the same closet-sized room that stored the restaurant's water heater. With a 50-cent sleeping cot, Gonzales resided in the restaurant for the duration of his high school years, showering at school after football practice and setting aside two hours every Sunday for laundry.
When he wasn't at school, he worked at the restaurant. Originally a dishwasher, Gonzales was placed as a chef and saved up his money to pay for college. Back then, Gonzales said he wasn't aware of financial aid and scholarship opportunities. If he wanted tuition assistance, he was usually pushed to speak with military recruiters at college fairs, which he was not interested in doing.
After high school, Gonzales attended and graduated from New Mexico Highlands University. Before he set his sights on Texas, Gonzales oversaw the development of human resources for Armand Hammer United World College of the American West, an up-and-coming boarding school in New Mexico. The school now stands under the name United World College. There, Gonzales worked alongside founder Armand Hammer and Prince Charles of Wales.
In 1984, Gonzales began his professional tenure at UTA, where he has remained since.
Hired by former university president Wendell Nedderman, Gonzales was, at the time, UTA's highest-ranking Latino. His initial responsibilities as director of equal employment opportunity and affirmative action involved overseeing the university's desegregation plan to help increase the minority student body, only 15% of the school's population at the time.
An extension of those responsibilities include an update of the state's desegregation plan with the Texas Higher Education Coordinating Board that included the partnerships of other Texas university administrative officials. For weeks, Gonzales would fly down to Austin to contribute to the state initiative. The plan looked at ways to recruit and retain students of multicultural backgrounds and female students.
Gonzales' focus was largely on the growing diverse student body. At the time, the Association of Mexican American Students was the only Latinx student organization on campus. From there, the one Latinx organization spawned into many.
Gonzales was part of overseeing the creation of many organizations, including the Latin American Student Organization, the Hispanic Student Nursing Association, the Black Student Association, the Vietnamese Student Association, many multicultural greek organizations, the now disbanded National Association of Black Journalists and more.
Julian Rodriguez, broadcast journalism specialist and faculty adviser for Hispanic Media Initiative at UTA, said though his department does not report or work directly with Gonzales today, he appreciates that someone he relates to is there when needed.
"Knowing that I can go to a Latino leader and can ask them for something, and they can provide – if not the answer – they can provide the name that can answer my question," Rodriguez said. "It's [priceless]."
UTA alumnus Ray Casas first met Gonzales in 1992 when Casas was a freshman. Casas had signed up to be part of a student and faculty mentor program to meet new people and get some guidance as a new student. When Casas' pledged mentor failed to show up, Gonzales stepped in. From then on, Casas and Gonzales would meet every Monday.
"He was an adviser to hundreds of students at UTA," Casas said. "Especially Latino students."
For Casas, it is because of Gonzales' guidance and faith in him that he was able to journey outside of Texas, working in Washington, D.C., New York City and Los Angeles.
"I owe all my professional success to Casey," Casas said. "He was there every step of the way."
After he graduated, Casas joined Gonzales as an Association of Mexican American Students adviser and recruiter for incoming freshmen. During this time, Gonzales would visit different high schools in the Metroplex with Zeb Strong Jr., former recruiting initiatives and Human Resources outreach services director. Together, Gonzales and Strong Jr. would recruit students, particularly those of different racial and socioeconomic backgrounds.
At the time, it was rare for faculty members to head outside of campus to recruit high school students in the area. For Gonzales, it was important to provide the information and assistance needed to students looking for a better life.
"Minorities did not feel welcomed," he said.
To break that narrative of minority students not feeling they belong, Gonzales spoke with first-generation parents and provided the information needed to get their children into college. He would attend local Spanish radio talk shows, where he talked about the services UTA had to offer and would host Spanish-only financial aid information sessions at local high schools.
Now as the director of the Parent and Family Center at UTA, Gonzales looks to ensure all families feel welcomed on campus and know of the services they provide. Something the young kid who worked at the diner years ago didn't have.
As he looks ahead at retirement and spending more time with his wife and eventually traveling, Gonzales says what he will miss most is being there for his students.
"The thing that I will miss the most will be the students," Gonzales said. "I always felt good that students felt very open and honest in coming to see me when they needed, whatever they needed."
On a Facebook post announcing his departure, the UTA Parent and Family Center received dozens of comments — many from former students — thanking "Casey" for guiding them during their time at UTA.
He never wanted to be known as a Mr. Gonzales or assistant dean Gonzales. He wanted students to know that whenever they needed someone, Casey was there.
@JacobReyesDFW