In two stress-free steps, you can make creamy, comfort food that is also protein-rich and easy to pack for lunch. Most of the ingredients for this recipe can be found at Kroger, except nutritional yeast, which is available at Whole Foods or other natural food stores. Nutritional yeast is essential because it gives the sauce a cheesy flavor.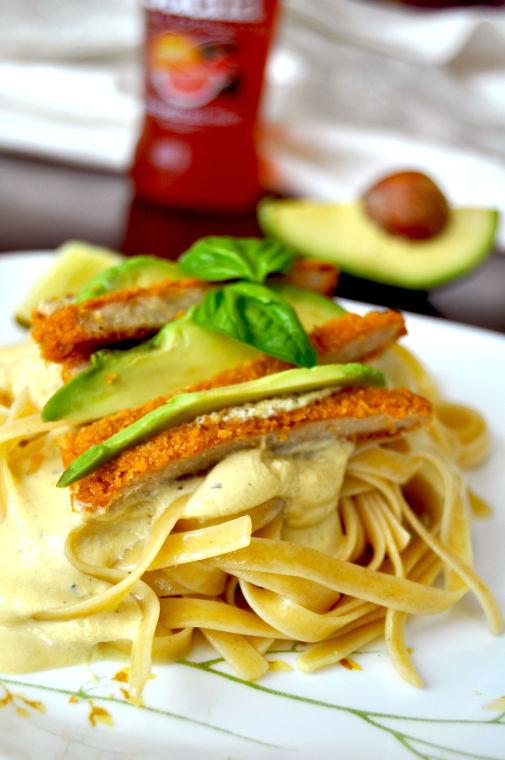 Two-Step Vegan Alfredo Fettucine 
Ingredients
1 block silken organic tofu (12-14 oz)
1 cup plain, unsweetened almond or soy milk
1/4 teaspoon nutmeg
2 teaspoons garlic powder
2 teaspoons onion powder
1/2 teaspoon mushroom powder (optional)
3/4 cup nutritional yeast
1-2 teaspoons lime juice
3 cloves garlic (roasted)
2 tablespoons + 1 teaspoon flour (I have used all-purpose or whole wheat)
Salt and pepper, to taste
Handful of vegan mozzarella shreds (totally optional, I recommend using Daiya or Follow Your Heart vegan cheese)
Almond parmesan, for serving (optional)
 Instructions:
Blend everything together in a blender or food processor.
On medium heat, simmer the mixture in a saucepan and whisk occasionally until it's thickened. Add more seasonings to your taste, if desired.
Serve the sauce over 2 to 3 cups of cooked vegan pasta. I used fettuccine here. Use your favorite. Most dry pastas are vegan, just check the ingredients.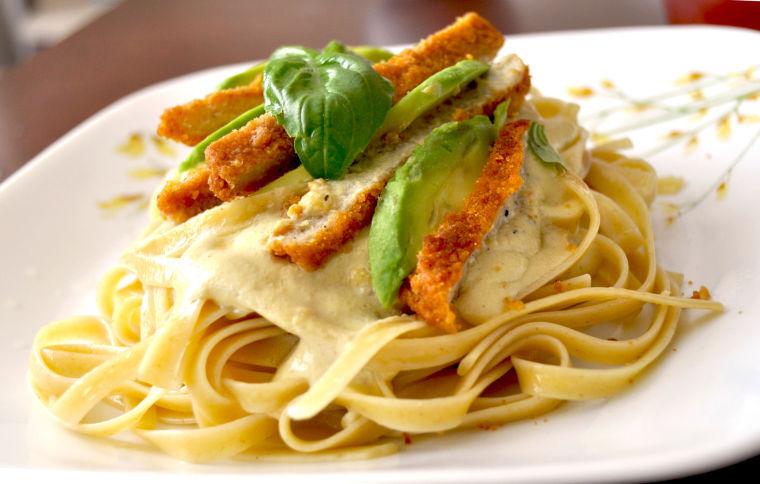 When I make this dish, I like to serve it with Boca Chik'n nuggets and avocado slices. It would also be nicely paired with sautéed mushrooms or lemon roasted broccoli.
While this recipe uses tofu as a base, you can also make vegan alfredo without soy. Other bloggers have used cashews and cauliflower as bases. The possibilities are endless. Check them out, and tell me what you like best in the comments.
@missannmai