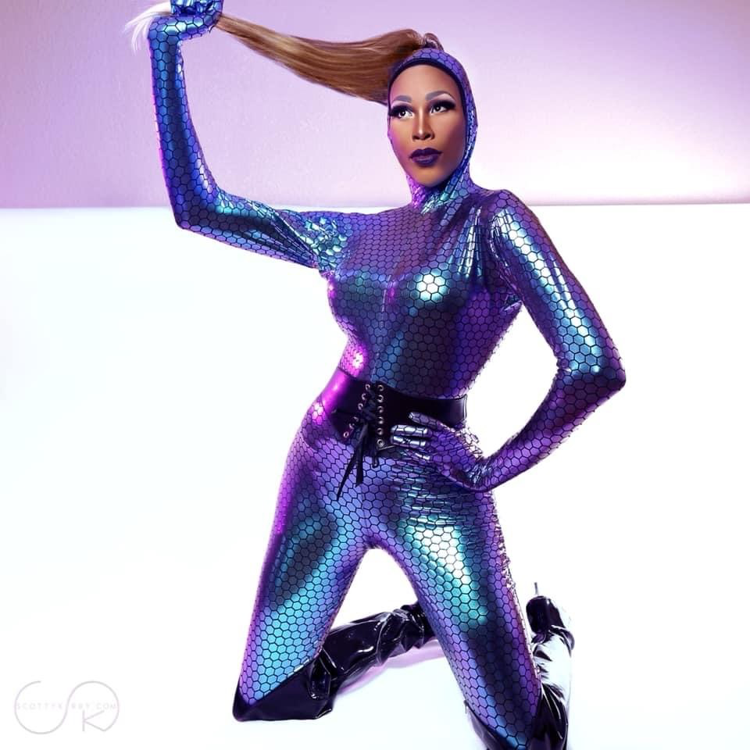 In season two, episode 10 of the FX series "Pose," some of the men from the ball community learn to walk in heels. They are preparing to walk in drag for the first time to show their understanding of all the struggles women go through. One of the men, Pray Tell, is unable to perfect the walk and storms out in anger saying, "I am not a woman!"
Another man named Ricky follows Pray Tell outside and tells him he needs to become confident expressing his inherent femininity as a man and confesses that he himself once had difficulty doing so.
"Then I realized I could be butch and femme at the same time," Ricky says.
This is a sentiment that drag queen Sissy Pop 2.0 said she relates to.
"Definitely, being a gay man of color, we are always kind of put in the box by you know, family, friends [and] society to be butch, manly." Sissy said.
Performing in drag has provided an opportunity for her to assert her independence and live according to her own beliefs. It's not just about being pretty — it's an artistic and political statement.
"You wouldn't really think that a man wearing a wig is political, but it actually very much is," she said.
However, the drag community is more expansive than just men in wigs and there is something for everyone, drag queen Rocky Tacoma said in an email. Transgender women are some of the pioneers of the scene and should not be discredited simply because they live as women.
For example, Marsha P. Johnson is celebrated as one of the trailblazers of gay and transgender liberation. She was one of the vanguards of the 1969 Stonewall riots, a resistance that took place following a police raid on the Stonewall Inn, a gay bar. She performed in drag as a form of self-expression and was one of the first women to perform at the bar when it began accepting transgender women and not just gay men.
"Drag can be expressed by whoever, and how they express themselves shouldn't denote their gender identity," Tacoma said.
Drag queens face unique struggles within the LGBT community. They are often stereotyped as divas or thought to not be smart, Sissy said. But in reality, being a drag queen requires one to be well-versed in areas such as event planning and even math. One also has to remain up to date on current events. Black drag queens, specifically, are always expected to dance and perform with attitude. To challenge this, Sissy said she incorporates politics and comedy sketches into her performances.
"I'm just here to make people laugh, have a good time and do all types of looks they wouldn't expect a Black queen to really do," she said.
Another stereotype they face is the idea that they are "catty," but drag queen Mocha McVenti said otherwise.
"I definitely carry myself with class at all times and believe it is time to change the narrative of a Black drag queen," she said.
She believes drag is a voice, and she wants people to see the beauty in the voices that are being silenced. She said she is proud of the Black Lives Matter movement for enabling her to showcase her art while asserting that her voice matters.
Sissy said Black drag queens often have to work twice as hard to be given equal opportunities in the entertainment space.
"It's sad to say," she said. "People who are not of color and who are entertainers, they are instantly loved and adored by everyone," she said.
Black drag queens are rarely allowed to stand out or be the stars of the show, she said. It took her years to make a name for herself and still, she is sometimes used as the token Black girl — to make the show seem diverse.
Tacoma has experienced this in Dallas as well, but luckily she had many Black role models to look up to, who she said helped her break into the competitive scene.
However, a lot of work still needs to be done, such as developing more Black-owned and Black-centric venues where Black drag queens can fully express themselves, she said.
"It took me a little bit longer to find my niche in the industry because I felt like I was catering to the needs of a white audience by doing Britney Spears, Lady Gaga, or Madonna on the show," she said. "I had to tell myself it's okay to pull out something more soulful because that's how I choose to entertain and express myself."
Despite the difficulties, being Black has positively affected her drag experience.
"It has empowered me in ways I could never explain," she said. "It has shown me so much more love for groups that I may have turned a shoulder to in the past."
@TritimaAchigbu