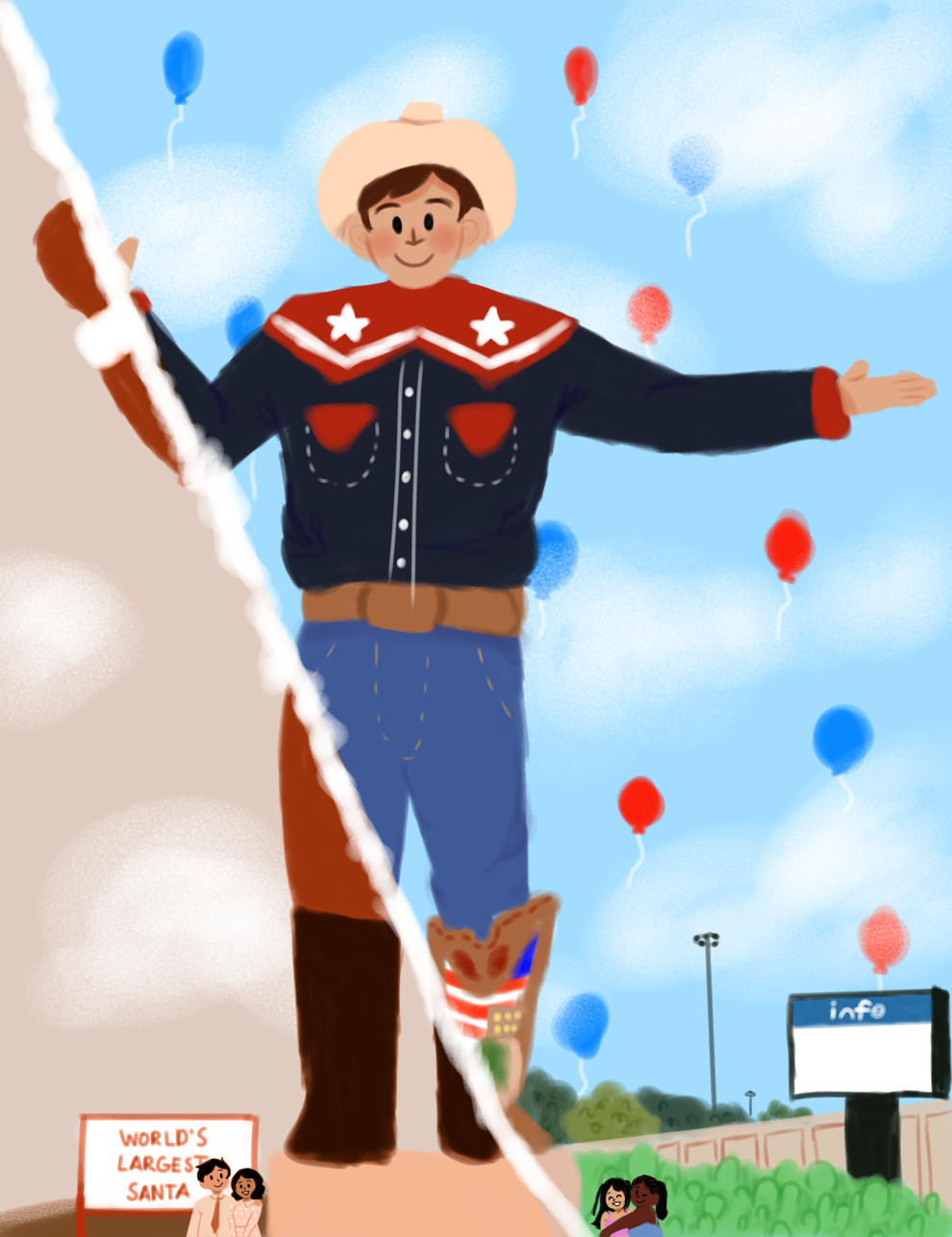 Joe Baxter, a 91-year-old resident of Kerens, Texas, said he was a young man when the 49-foot-tall Santa Claus, now known as Big Tex, stood in front of the old Kerens High School in 1949.
People drove up and down Third Street and Colket Avenue for two holiday seasons, coming from out of town and driving circles to see it lit up with lights, Baxter said.
The 135th State Fair of Texas opens Friday and runs thru Oct. 17. Before planning to visit for a photo in front of the world's tallest cowboy, people should reflect on where Big Tex came from, all he's been through and what he stands for.
The Santa was made of iron-pipe drill casing, papier-mâché, cloth and seven-foot lengths of unraveled rope for the beard, according to the State Fair of Texas website. 
Howell Brister, then Kerens Chamber of Commerce manager, proposed a giant Santa Claus to boost the local economy, according to a 1978 article in the Corsicana Daily Sun. 
Baxter's father-in-law helped dress, raise and take Santa down, he said. Although he and his late wife, Evelyn, lived in Port Isabel, Texas, they drove all night to Kerens for Christmas every year.
"It put Kerens on the map with the strength that it didn't have before," he said. 
Kerens natives O. F. Spurlock and Hardy Mayo's likenesses were used to model the giant Santa. 
Spurlock's daughter Ruby Stovall said the figure's dimensions were seven times larger than her father, who was used because he was shaped like Santa Claus. 
Everyone in Kerens helped work on the figure, Stovall said. Agriculture students wielded the frame, a local sewing factory sewed the clothes and the barber shop distributed rope to community members to be untangled for the beard and hair. 
"Everybody was tickled with it. It was something different, real different from anything anyone had ever seen before," she said. "And we were proud of it." 
It was expensive to maintain, so the Kerens Santa Claus was sold to R. L. Thornton, the State Fair of Texas president, for $750 in 1951. But before Big Tex could become an icon for the State Fair of Texas, he needed a makeover.
Dallas artist Jack Bridges was hired to alter the Santa and give him a cowboy like appearance. Bridges made the right eye wink, slimmed the face and torso and moved the right arm toward the right breast to give a thumb-in-vest appearance, according to the website. 
They took everything from his belly and added it to his chest, Stovall said. 
In 1952, Big Tex moved to a new home at the roundabout in front of the Federal Building, where he still stands to this day during every fair season. Comments made during the 1952 Fair regarding his look resulted in another makeover to straighten his nose, open his right eye and give him a voice. 
In 1981, he returned to his birthplace as a celebrity with a full team of security to celebrate the city's centennial, Stovall said.  
She remembered reading her fathers name on a plaque when she visited the State Fair.
On Oct. 19, 2012, a fire caused by an electrical short started in the base of Big Tex. The majority of his body and clothes were destroyed. 
In Kerens, people memorialized Big Tex by leaving flowers around an inflatable prop of the iconic figure, Stovall said. 
Karissa Condoianis, Texas State Fair senior vice president of public relations, said she didn't work at the fair then but remembers writing "Rest in Peace, Big Tex" on her Facebook wall. 
Everybody knows who Big Tex is, Condoianis said. 
It was a sad day because he symbolized the friendly attitude Texans are known for, she said. 
Big Tex always meant so much to the organization, and she said when he burnt down, everyone realized how much he meant to the world.
After the fire, the fair was rebranded, and Big Tex's image became a part of its logo. He is the symbol of everything the fair does, Condoianis said. He's behind many of the fair's nonprofit initiatives. The fair itself is a nonprofit organization, and the event is the largest fundraiser of the year. 
The Big Tex Urban Farms is a year-round farm where produce is grown and donated to South Dallas Fair Park to feed people in need. The Big Tex Scholarship Program offers scholarships opportunities to eligible college students.
"Big Tex is tied to all of that and is deeply ingrained into the community," Condoianis said. "And he's a beloved character."
It cost over half a million dollars to reproduce Big Tex in 2013, she said.
Pieces of Big Tex's past still hold significance. 
Despite no longer being in Kerens, the town of about 1,520 people maintains its status as the "Birthplace of Big Tex." 
This year the Hall of State, home to the Dallas Historical Society located across from the fair entrance, will host an exhibit called "Our State Fair: 135 Years of the State Fair of Texas."  It will feature the history of the fair and include some Big Tex items, Condoianis said.
A belt buckle that survived the 2012 fire is still on display in one of the State Fair's offices, and the fair still has one of Big Tex's heads in storage, she said. Big Tex has accumulated numerous heads over the years.  
Dallas resident Wayne Smith said he paid $1,750 for a nearly six-foot tall, papier-mâché, plaster and chicken wire original Kerens Santa Claus head from the Texas State Fair in the early '90s.
At that time, there was a hole in his forehead, both ears were almost broken off and the paint had completely faded, Smith said. 
"He was in real bad shape, but I knew I could fix him," he said. 
He had to do an entire restoration on it and has had it painted several times.
Since Big Tex was originally a Santa, Smith decided to use the head in his Christmas display. He has used the head as a Christmas decoration for about eight years and will continue to do so every year, he said. 
This year, the head is on display in the Hall of State "Our State Fair: 135 Years of the State Fair of Texas" exhibit.
"I don't own Big Tex," Smith said. "I'm just kind of his caretaker." 
The latest Big Tex was built with a steel structure designed to withstand hurricane force winds. The skin on his face and hands is made of latex and feels similar to human skin, Condoianis said. His electrical system is state of the art and is encased to prevent future damage.
Last year, the State Fair was canceled due to the pandemic. Modified, socially distanced versions of the fair like the Fair Food Drive-Thru event replaced traditional activities.
It was like a piece of normalcy to have Big Tex go up last year even though he wore a face mask, Condoianis said. Big Tex will not be wearing a face mask this year, she said.
"He got vaccinated in the offseason," she said. "And he is 55 feet tall, so he's really good at social distancing." 
He was installed at Big Tex Circle on Sept. 17, exactly one week before the 2021 State Fair of Texas opens Friday, Condoianis said. The 55-foot-tall, 26,000-pound cowboy revealed a new Shiner Beer belt buckle.
The fair is following the mask mandate in Dallas County, so masks will be required indoors. Dallas County Health and Human Services are offering free vaccines at Big Tex Circle from 10 a.m. to 6 p.m. all 24 days of the State Fair, according to the State Fair of Texas COVID-19 Updates. 
The State Fair of Texas' mission statement is to celebrate all things Texan by promoting agriculture, education and community involvement through quality entertainment in a family-friendly environment.
Being here a year later and putting him up for a fully in-person State Fair, staff are elated to welcome fairgoers, she said.
"Big Tex has become known around the world for not only being an ambassador and icon for the State Fair of Texas, but also for the state of Texas itself," Condoianis said. 
@katecey1 
features-editor.shorthorn@uta.edu