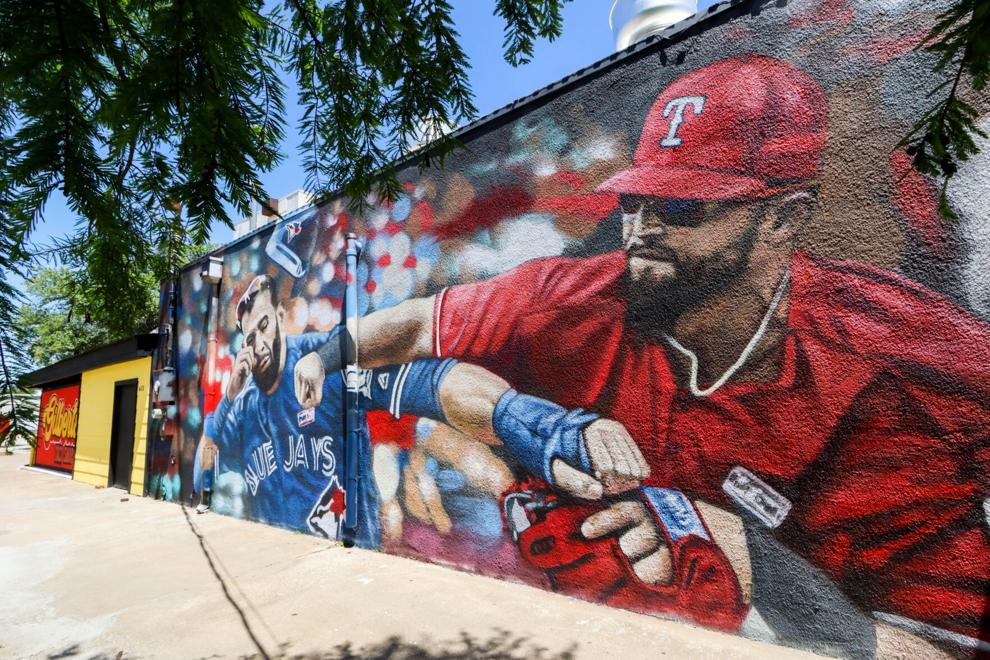 In artist Juan Velázquez's heart, "Art belongs to no one and everyone."
The sentiment was on display last week as he took to social media to rally community support, when his mural painted on the upcoming second location of Gilberto's Taco Shop along the 600 block of West Park Row Drive, faced the threat of removal.
The mural, which has become a favorite among the Arlington community, depicts the infamous "Don't mess with Texas" moment when Rougned Odor, Texas Rangers second baseman, punched Blue Jays' player José Bautista. The piece has been complete since January.
After Gilberto's owner José Ruiz filed permits for additional signage on his new restaurant, the city notified him last week that the mural violated development code and must be removed before the permits could be granted.
Upset and stressed, Ruiz called Velázquez after receiving the notice. He was worried about losing the artwork, especially with the time, effort and money that went into it, he said. Ruiz has also spent months preparing the restaurant to open and the mural's code violation became another obstacle. Velázquez assured him that he would take care of the situation, turning to social media.
"I made the decision to go public with it because I wanted him to see the support," Velázquez said.
Within 24 hours, hundreds of people flooded social media with comments or direct messages to Velázquez defending the mural, he said. Some wanted to call city employees and others to protest outside city hall. But Bowie Hogg, District 7 city council member who represents the entire city, poured oil on troubled waters, clarifying that there were no immediate plans to remove the mural.
After seeing Velázquez's post, Hogg conferred with the city manager, who then postponed the mural's removal until city council reviews the current policy at a meeting May 9. Ruiz will also be able to move forward with getting his sign permits and opening the restaurant, Hogg said.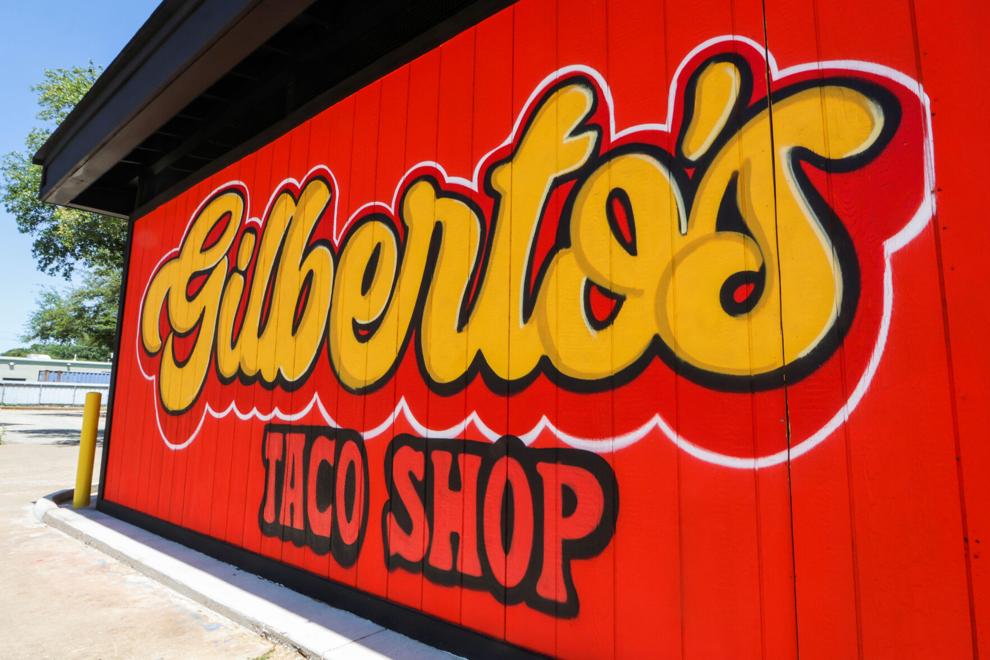 Although the mural was allowed to stay, the taco shop's logo painted on the left side of the mural will need to be removed for the sign permits to be approved, Ruiz said. The situation has become a catalyst for a larger conversation about where public art should be allowed in the city.
Currently, murals are allowed in the Downtown Business zoning districts and the Entertainment District Overlay with certain conditions, according to Arlington's Unified Development Code.
Some of those conditions are one mural per building, and it must be painted with weather-resistant paint. If the mural degrades severely, the owner shall repair or remove it within 60 days. No portion of the mural can be used to advertise, but it may display the tenant's name or logo on no more than 20% of the mural area, with the proper sign permit.
Confining artwork to one area doesn't sit right with Velázquez and some members of the community.
Not everyone can afford to live downtown, but they still deserve to have art in their neighborhood that they can appreciate everyday, Velázquez said.
He said he understands that some parameters need to be in place such as prohibiting murals from being painted in residential areas, but thinks they should be allowed in commercial areas. Hopefully, changing the code creates a path for other artists, allowing them to find work in places where they previously weren't allowed, he said.
Allowing murals to be painted outside of downtown would add value to the rougher areas that can't afford to make everything look nice, said Julie Elizondo, who showed support for the Rangers mural on Velázquez's social media post. It can also be inspiring to see beautiful things around the city.
"There's enough negativity in the world. I just feel like his artwork helps cast a little shadow on that negativity," she said.
Public artwork can also help the city's economy. When people go to take pictures at the Rangers mural, they might buy food from the taco shop or the Walgreens next door or get gas nearby, Velázquez said.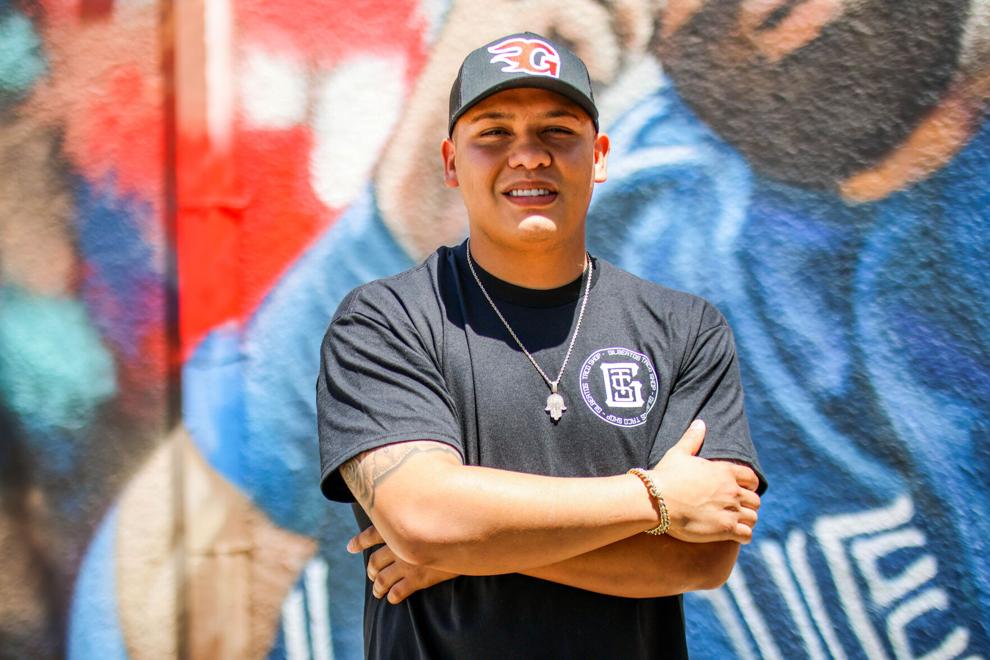 There is some data pointing to art's economic impact in the city. A 2019 study by the Downtown Arlington Management Corporation found that the total annual economic output of the arts and cultural institutions in downtown exceeds $118 million. Impacts were calculated for jobs and salaries, money that the organizations and their activities pumped into Arlington's economy, taxable sales and hotel room sales generated by out-of-town visitors.
Downtown Arlington has a history of supporting the arts, said Maggie Campbell, president and CEO of Downtown Arlington Management Corp. The corporation represents collective stakeholders and engages in work that benefits downtown like marketing, promotion, beautification and economic development, Campbell said.
Over the last ten years, downtown has been involved in promoting the movement for public art. To date, there have been 20 murals commissioned that the corporation has been involved with, either by paying the artist directly or providing grants to property owners, she said. Murals have been painted on businesses ranging from Theatre Arlington to Sugar Bee Sweets Bakery.
The emergence of performance art in downtown over the years, from live music at Arlington Music Hall or Levitt Pavilion to small shows at bars and restaurants, provided a rich environment for murals which can be enjoyed by everyone for free, Campbell said.
The Downtown Arlington Management Corporation has since established a program where it provides matching grants to business owners to fund major storefront improvements, including murals. This can help pay the artist, pay for the materials or both, Campbell said. The corporation also helps connect artists with downtown businesses looking to commission artwork.
"We believe that public arts enriches people's lives and provides opportunities for all kinds of people to enjoy art," she said.
While downtown may have become a bastion for the arts, it would look forward to participating in and following the discussion as city council reviews the existing ordinance, Campbell said. The mural program has become a great attraction for downtown and similar programs may work in other areas if someone can figure out how to do it, but there are things to consider.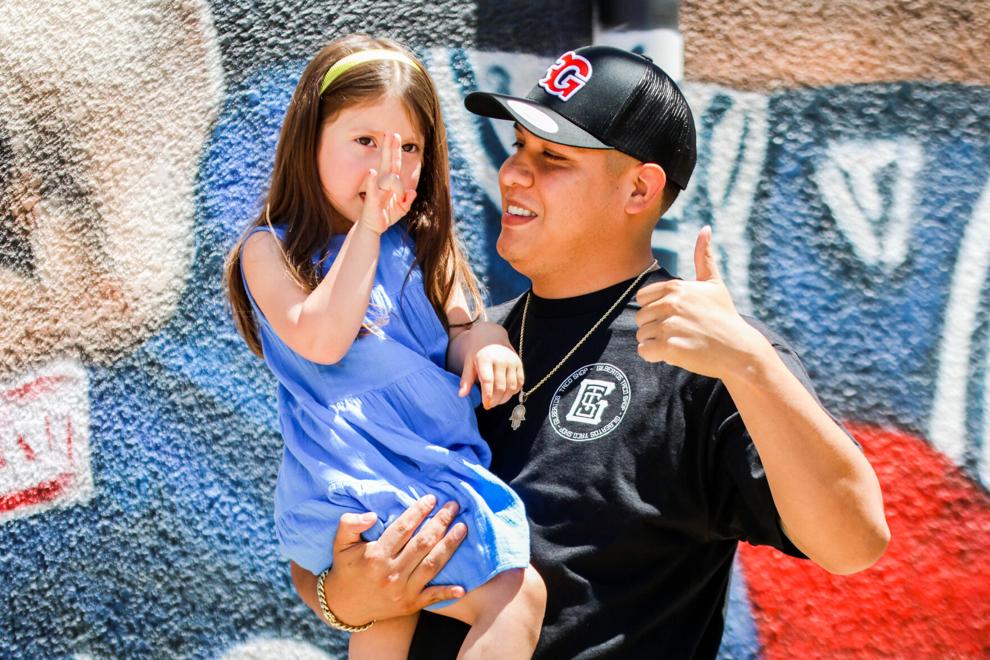 It will probably take a couple meetings for the city council to officially determine how the policy is changed, Hogg said. One concerning factor is the mural's longevity, which could detract from the look of a neighborhood if degradations aren't abated through routine maintenance.
But one possible solution could be asking the artist to coat the mural with a weather protective seal, he said. It is likely that murals would be prohibited in residential areas as well. Either way, Hogg said he hopes to find a working process to increase the amount of art throughout the city.
"You have to figure what's a good balance of encouraging art, but also looking out for the entire community," he said.
The Rangers mural will be allowed to stay until the city council reaches a final decision, with initial discussions beginning May 9. But if the policy were to be reviewed and no change implemented, then the mural might be subject to potential removal again, Hogg said.
And that's something Velázquez said he might not stand for, intent on talking about the issue until the code is changed.
But overall the situation has been one of positivity and Velázquez said it felt good to have the community's support, as he is someone who wants to give back to the community. And without this incident, reviewing the mural policy wouldn't have been on the city council's radar.
Ruiz said it would make him happy and proud to potentially be part of such an impactful change for the arts in the city he loves alongside Velázquez and hopes it inspires others to do the same.
"At first I was just trying to argue with them because they need to let the mural stay, but now I see this as something bigger," Velázquez said. "I see this as fighting for the rights of other artists."
@Perriello369