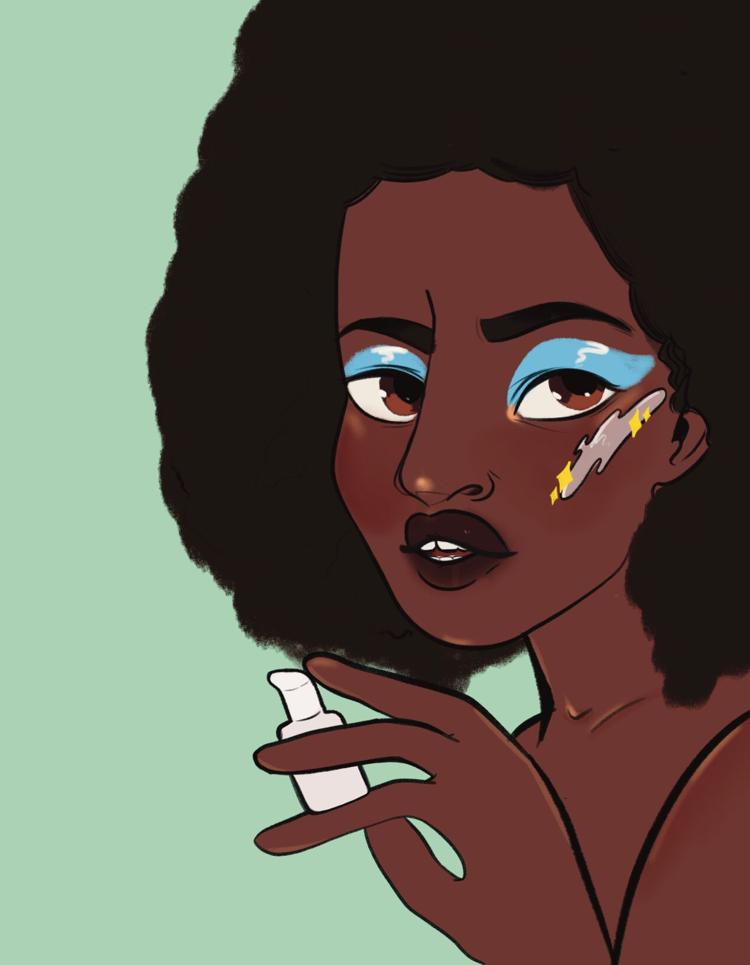 When psychology freshman Victoria Witt shops for makeup and skin care, she looks for brands that align with her morals.
Witt only buys beauty items that are cruelty-free and vegan, and she said she prefers to support small businesses when she can. This is what led her to ROSEN Skincare, a young, Black woman-owned skin care line that became available at Target last month.
Witt hasn't tried the brand yet because she only buys items as needed to reduce waste. However the brand is on her list, and she said she'll try it when she can.
The addition of ROSEN Skincare to the Target beauty lineup and other Black-owned products to mainstream stores was met with positive online support, but it also opened a conversation about supporting businesses for a cause.
With the holidays approaching, many consumers have decided to support Black-owned businesses, but particularly those that align with consumers' values.
A recent incident at the popular Black-owned restaurant TRUE Kitchen + Kocktails in Dallas is one example, and many people declared or denounced their support for the brand online. A video shared on social media showed owner Kevin Kelley yelling at his patrons for twerking inside his restaurant, saying he invested a lot of money into his establishment so Black people could have somewhere nice to go.
Ayah Dominguez, CEO and creative director of YRAGE, said although the video was incriminating and Kelley didn't have to yell, it was the first outburst he'd ever had to her knowledge. But now it's all anyone will talk about.
"A lot of small businesses, we're all still trying to get the hang of everything," Dominguez said. "One person that did something wrong, that doesn't make the whole group wrong."
As a fellow Black business owner, Dominguez has sympathy for the TRUE Kitchen situation and hopes that the incident won't be too damaging as long as the behavior isn't repeated.
As for herself, Dominguez runs YRAGE, a Dallas clothing brand that makes handmade, upcycled and screen-printed clothing.
When it comes to the current trend to support Black businesses online, Dominguez said there's pros and cons.
The pro is making people more aware of businesses like hers, getting their names out there. But from her experience the cons are that people sometimes don't know where to start or think they need to be loyal to the brand.
People forget that sharing Black businesses online is just as important as buying from them. Sometimes people feel guilty that they can't buy anything at the moment, but Dominguez said helping herself and other small businesses grow connections is appreciated, too.
Jason Shelton, director of the Center for African American Studies, said many of his grandparents, friends and family members owned businesses. As a result he grew up with an understanding of the importance of supporting Black-owned businesses.
"I grew up in a family where it was just customary that we, all the kids, spent some of their money with Black-owned businesses," Shelton said. "I can say for certain that it's nothing new to me and a great number of Black folks before me."
Hearing about the online trend worried him at first, because trends come to an end. However, Shelton hopes this can be one trend that brings a new awareness and conscious effort to younger African Americans who didn't grow up with the same influences he did.
"People have to support Black businesses as a lifestyle," Shelton said. "If you've got $10 in your pocket, spend $1 with Black-owned businesses. That's just what I was taught."
Nursing sophomore Sariah Richard said the first time she consciously decided to start supporting Black businesses was in high school, when she learned about Black history and the wealth gap between races.
Later when her best friend started her own head-wrap business, Richard remembers being happy to support both her friend and a Black creator.
This is still a value Richard holds, supporting Black businesses where she can. Especially now, during the COVID-19 pandemic, it's more important than ever to pour into the Black community because sometimes that business is all that person has, Richard said.
"I feel like that's important for people to understand and know that Black people don't always have the same resources, help or connections as anyone else," Richard said.
Supporting Black businesses will always be important, she said, but it's especially so during the upcoming holiday season, when choosing a small business over something mass-produced can make a huge difference.
Making sales might be how that creator puts food on the table and could affect whether they can give presents to loved ones this year, Richard said.
"This can be somebody's everything for this Christmas break," she said.
@Sam_Knowles00