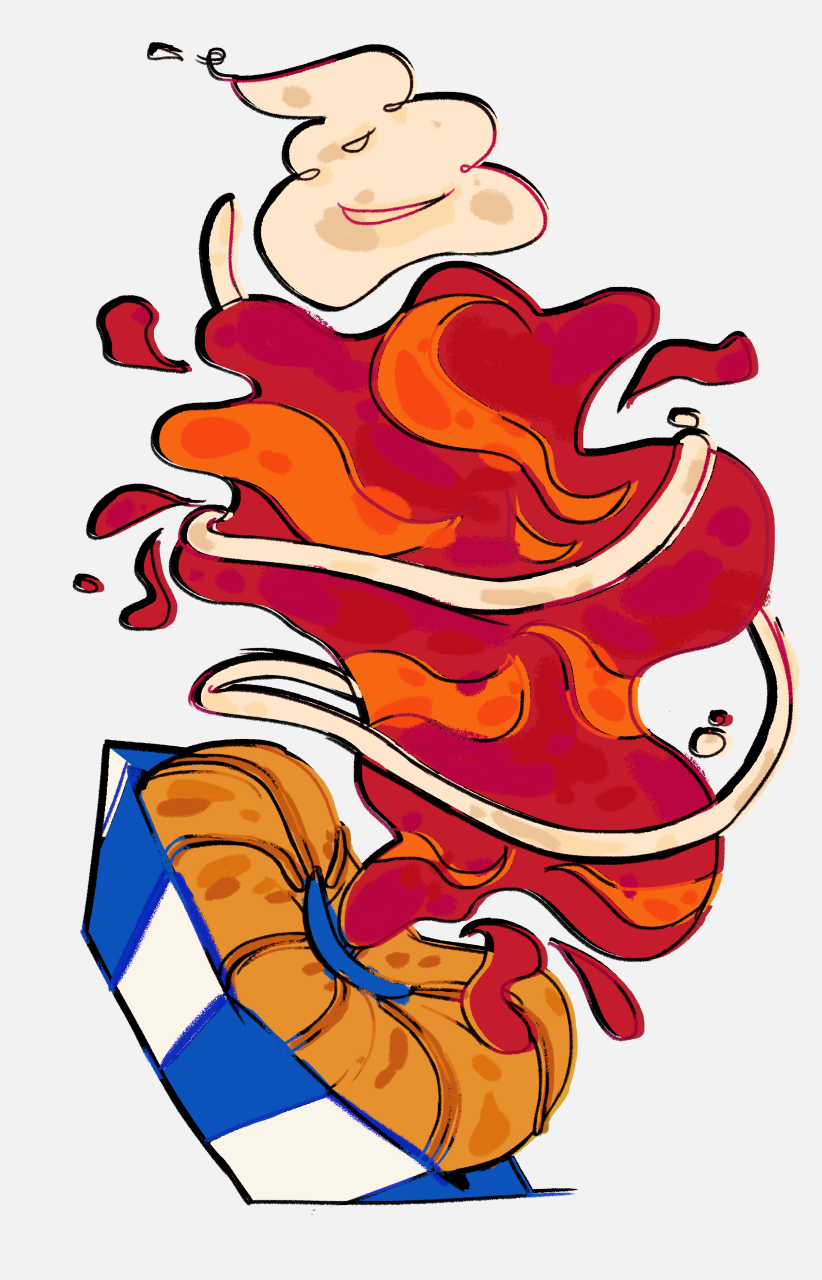 You're reading From Scratch, where The Shorthorn deconstructs a different food each installment, exploring its history, variety and the way we consume it.
From funnel cakes and corn dogs to more outlandish dishes like PB&J Bacon Pickle Dogs and Champagne Jell-O Hot Shots, the State Fair of Texas offers a wide array of concessions.
Melanie Linnear, the fair's vice president of food service, said fair foods have always been fun and a bit wild, but the options have become increasingly bizarre since the fair's establishment in 1886. Seventy-eight vendors at over 250 locations go all out to bring Texas their finest food concoctions to compete in a variety of categories.
This year, the Most Creative award went to the Fla'Mango Tango, a mango puff pastry, fried and drizzled with a citrus glaze, topped with whipped topping and served with strawberry mango sorbet.
The Variety
From deep-fried club salads to fried cow testicles, Linnear's seen it all in her 30 years working at the fair. Although the fair is commonly known for its deep-fried foods, deep frying isn't a requirement to enter, she said.
"It just has to be something new, something different, something creative and something that's not already being sold here," she said.
Business marketing junior Michaela Jones said she looks forward to trying as many fair foods as she can fit into her budget each year.
"It's the experience," Jones said. "The turkey leg is worth it; the fried oreos are so worth it."
However, there has to be a cutoff in determining which foods to try.
"If I feel like it's gonna make me sweat nasty and I'm going to feel terrible by myself afterwards, I won't touch it," Jones said. "I won't even look at it."
Sometimes, the items don't measure up to her expectations, but that's part of the fair fun, she said. At the end of the day, it's about trying something new.
Although she always makes sure to get the "classic" items, she tries at least one new item each year. She said the weirdest food she's ever eaten at the fair was Deep Fried Butter, which won the 2009 Most Creative Big Tex Choice Award.
The History
In 2005, the fair initiated the Big Tex Choice Awards to bring about more creative food items and spur a "little friendly competition" between vendors, Linnear said. The plan didn't disappoint.
"Over the last 15 years since we started the Big Tex Choice Awards, there's been a major evolution in food," Linnear said.
Now, fairgoers might not know what to expect when the annual event rolls around each fall. The Big Tex Choice Awards receive about 50 to 60 entries each year, and the awards are divided into three categories: savory, sweet and most creative.
"It's always about how do you keep your audience engaged in your food items," Linnear said. "You're always going to have the basic funnel cakes, your turkey legs, your corn on the cob. You're always going to have your basics, but you also need things that are beyond the basics. That's what fair food has evolved into."
The Impact
Concessioner Vera Bert said her family has run Bert's Concessions at the fair since 1919. Personally, she's worked at the concession stand for the last 50 years and said she relishes the opportunity to bring customers delicious food each year.
The family offers staples like pretzels and chili cheese fries with more fair-esque items like fried cheesecake and Texas fried pecan pie. The family has competed in the Big Tex Choice Awards throughout the years and won in 2010 for its Texas Fried Fritos Pie, a fried mixture of chili, sharp cheddar cheese and Fritos.
However, the awards aren't what the fair is about, Bert said. It's about keeping customers happy.
"This is like a big party, and they've come to our party, and we're here to help them have a good time," she said.
@CecilLenzen