Yellow, orange, pink and black overtones covered a wall of the Glendale Shopping Center in Dallas. Stand inches away from the mural itself and spectators will find spots of faded spray paint, blended colors and a blue background. The brick canvas is now home to a mural dedicated to fallen hip-hop artist Nipsey Hussle. The artist behind the artist: Jeremy Biggers.
A Dallas creative and UTA alumnus, Biggers has always been an advocate of the idea that art is for everyone, not just the select few. He says his "street art" is easier for people of all backgrounds to access than art presented in galleries across the city.
At an art gallery, patrons are expected to act a certain way, stand back from the exhibit and remain reserved while viewing. Biggers, however, grew up believing he or people that looked liked him were not represented in those places.
Here, at a black-owned shopping center in Dallas, he wants everyone to experience his art. Patrons are encouraged to stand as close as possible to view the details themselves: the faded spray paint. The blended colors. The blue background.
"The elite have tried to take ownership of [art]," Biggers said. "I've always been a proponent of, 'It's bigger than that.' Art is for everybody."
Growing up in Dallas, Biggers' exposure to art was limited to comic books and an old mural outside the office of Dallas Weekly, a newspaper that reports on the city's black community.
Biggers knew he was passionate about art at an early age, setting his sights on Dallas Independent School District's Booker T. Washington High School for the Performing and Visual Arts. In order to get in, students must show off their skills. While others carried portfolios and oversized pieces of art, Biggers walked in with a battered folder filled with his hand drawings from home, each sleeve inside carrying up to 50 drawings. He barely made it into the program.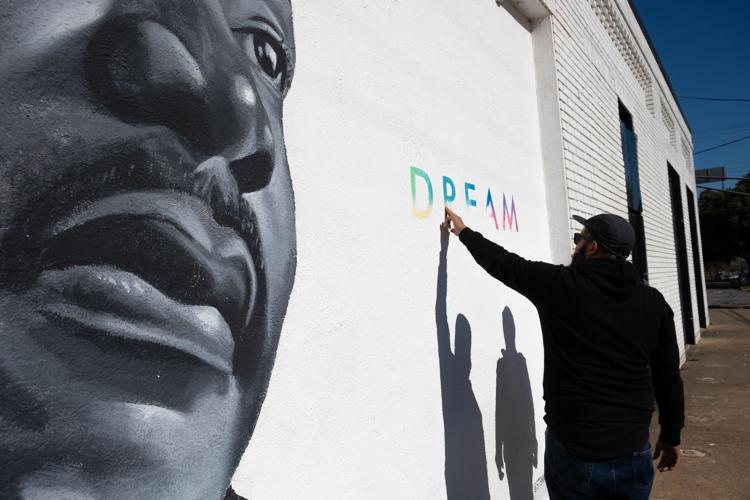 Years after graduating from Booker T. Washington, Biggers enrolled at UTA. There, he met now local artist Carlos Don Juan, who was also a student at the time. From then, a friendly rivalry began between the two students. Though he wasn't necessarily challenged at UTA — which included an assignment that involved painting Cooper Street — Biggers had no complaints. Plus, he had already gained knowledge out in the world.
"The bulk of what you learn in college is outside of the classroom," Biggers said.
Biggers has always had an appreciation for the city he grew up in. He was a huge Dallas Cowboys fan and loved being part of the city's image. But growing up and experiencing other cities such as Arlington, Biggers reminisced about Dallas' diversity and different walks of life.
That diversity and appreciation of his city is expressed through his art. Tejano legend Selena Quintanilla — though she is not from Dallas herself — is a prominent figure in the Latinx community. While on the podcast "De Colores Radio," Biggers agreed that if the show's host could find a wall, he'd paint a mural dedicated to the fallen singer.
When they did, Biggers stuck to his word. He didn't accept any money for his work, instead he saw the mural as a dedication to the Latinx community in Dallas and a rejection of the gentrification happening around Jefferson Street where the painting was created. Since then, the piece has been a staple on social media, with thousands of posts spotlighting Biggers' creation.
For Biggers, it's important for art to have a message, even if it makes people uncomfortable. His wife, artist and alumna Sam Lao, agrees and believes her husband is brave to incorporate political and social messages.
"That's an integral part of art," Lao said. "Occasionally it will make you uncomfortable."
From political statements like Black Lives Matter to criticism of the Trump administration, Biggers is not shy to make a statement. He also makes sure to use his art as a business model. Biggers has contributed his talent to Serious Pizza in Deep Ellum, the popular Sweet Tooth Hotel art exhibit, Virgin Hotels and a billboard for the movie Terminator: Dark Fate.
Biggers says it's important to contribute to the business model and expand his art across different platforms, and he doesn't care if people see him as a sellout artist.
"You're supposed to sell out. You're not supposed to be broke your whole life," Biggers said. "You're supposed to figure out a way to make money doing what you love."
Even in his business creations, Biggers' art still has meaning to him. His work at Virgin Hotels includes celebrity portraits with dots lined across the painting. What looks like a modern day portrayal of art is a nod to his late mother, the dots representing ladybugs he would see the weeks after her death.
Biggers' personal touch is also seen in other murals across Dallas. He has two dedicated to Martin Luther King Jr., both of which are not far from where he grew up as a kid.
Hatziel Flores, a professional artist who partnered with Biggers for the Nipsey Hussle mural, said that it is important for kids to see the art he and Biggers created. Not only that, it is important to see art they know and understand. Biggers decided on dedicating the mural to Hussle not just because of the artist's music and impact in the community, but because of his relevance to the younger generation, Flores said.
Biggers' art shines a light on communities that want to be seen, Flores said. With murals such as the ones dedicated to historical figures in the Latinx and black community, people — particularly young people — will feel seen.
"They showcase that not just what you love is important, but you are important," Flores said.
That importance is not lost on Biggers. Kids today who look like him, grew up like him, who are from his hometown or live near his murals may never set foot in an art museum, he said. Because of that, he wants to make sure that there is something accessible for them, no matter where they're from.
As Biggers examined the Nipsey Hussle mural before heading back to his car, three teen boys drove up, hoping to catch a glimpse of the famous painting they saw on Facebook. When a friend of Biggers pointed out to the boys that the artist was standing right in front of them, the teens jumped out of the car, hoping to take a picture with the man who ensured that his art and their accessibility to representation mattered.
@JacobReyesDFW