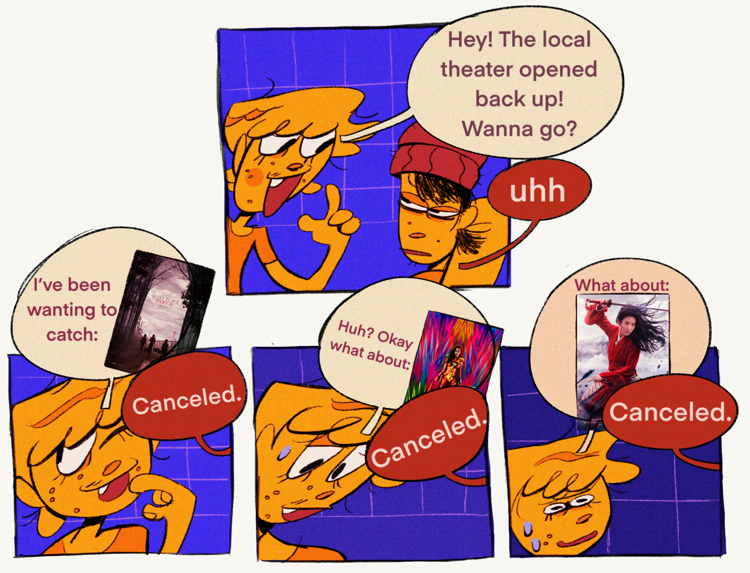 It's been over 100 days without the traditional movie theater experience.
That's over 100 days of no patterned carpets, no distinct movie theater popcorn scent and no oversized posters teasing the next upcoming blockbuster. That means no excitement right before the feature begins, no collective gasps at thrilling scenes or laughs at jokes that land. No complete immersion by the sheer size of the screen and the darkness of the room and no long walks to the car full of discussions about how great (or not great) this or that scene was.
Since mid-March, the movie industry has endured a near shutdown. Movie theaters across the country have been closed, production sets have been abandoned, and highly anticipated releases have been continuously delayed.
Anticipated spring and summer blockbusters like Mulan, Wonder Woman 1984, Black Widow, No Time to Die and A Quiet Place Part II have missed their release dates. Hollywood may take a $20 billion financial hit because of the pandemic.
For many cinephiles, there's a lot to miss. But the industry and its audience are adapting to the new COVID-19 landscape.
The popcorn may not smell or taste the same when it comes from the microwave, and car seats may not be a suitable replacement for comfy theater seats when watching a drive-in movie, but they're alternatives nonetheless.
Barton Weiss, film and video associate professor, said although cinemas are not open, being at home allows a lot of people to dive in deeper into the different catalogs of streaming services.
"I miss going to see films," he said. "But most people, if you ask them what they've been doing the last three or four months, they've gotten past all the beginning stuff on Netflix."
Interior design junior Grayson Hooker said although she misses the communal experience of being at the theater, she's been able to catch up on several A24 movies she had on her watchlist and has expanded her VHS collection.
"I've caught up on so many movies that have been on my list for years," she said. "There are other ways that movie lovers can enjoy their free time, for sure."
Weiss said there are downsides to having so many options at home, stating that there's less of an urgency to watch something if you feel like it will always be available. During the release of a film in theaters, it feels urgent to watch the film on the big screen before it's gone.
Patty Newton, film, video and animation assistant professor, said the experience of watching a movie at home or at a drive-in may not be as immersive, but sometimes those alternatives are suitable for the film.
During the end of the semester screening at UTA, Newton and her students watched Great Depression in a drive-in format, which she said was an incredible experience because of the much larger screen and the subject matter relating to the current pandemic.
Newton said there are many options popping up for filmgoers to experience movies in different ways.
Drive-ins have seen a growth in popularity since the start of the pandemic and have now led to several pop-up drive-in experiences around the Metroplex. AT&T Stadium hosted a pop-up drive-in series throughout July.
Several movies are still being released during this time through streaming platforms, and people have flocked to watch them.
On July 10, Palm Springs, a romantic comedy starring Andy Samberg and Cristin Milioti, released on Hulu and broke the streaming service's opening weekend streaming record.
But movie theaters themselves are still struggling. Independent theaters like Alamo Drafthouse Cinema and juggernauts like AMC Theatres alike have been unable to reopen in the Metroplex.
Although the summer film season is nearing its end, filmmakers and distributors haven't given up on releasing films as soon as late August. Christopher Nolan's thriller Tenet has been delayed three times but is currently set to release on Aug. 26 in the U.K. and Sept. 3 in the U.S.
Hooker said seeing the anticipated release dates come and go without being able to watch the film is one of the most difficult things.
"It definitely becomes more real when a release was scheduled and it gets to that date and you're like 'Damn, I can't really go see that,'" she said.
Other films are still set for a fall release, such as The New Mutants on Aug. 28 and Wonder Woman 1984 on Oct. 2.
The different guilds and organizations that make up large production sets are also starting to set guidelines to ensure the safest form of filmmaking, Weiss said.
"People are producing, and they're finding ways to be safe," Weiss said.
Newton said her film students had to get creative when finishing their projects for the past spring, using their families as cast members, shooting single locations and making do with the limited resources they had.
Weiss said this is just the way cinema works. Its makers and consumers have constantly changed and adapted to whatever situation, and they will continue to do so even in this pandemic.
Weiss said some areas will take longer to recover, but cinema as a whole will rebound and survive.
"If you look at the history of cinema, cinema has always responded to change in the environment," he said. "Whether adapting to sound or it's adapting to television, they've always found ways to take the things happening in the real world and change. So I do believe that change is going to happen in both the kind of films made and the mechanisms."
And there will always be an audience waiting for new films to roll out.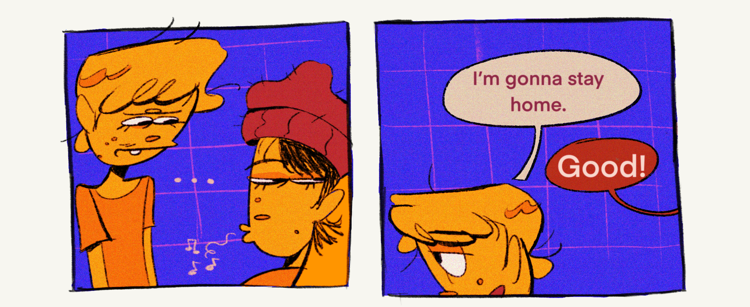 @ByDavidSilvaR