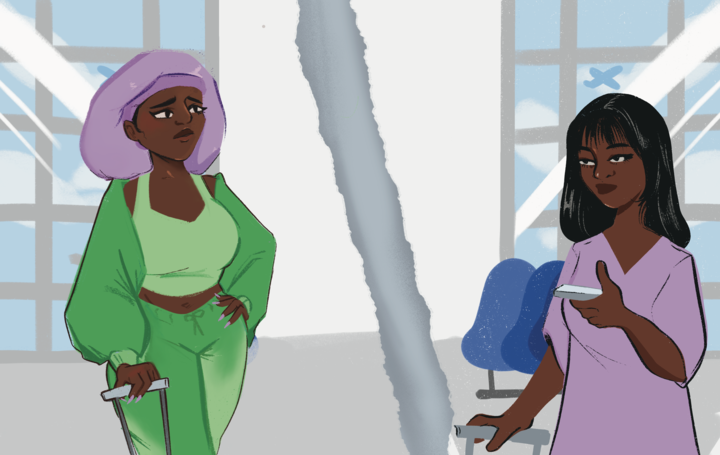 Precious actress Mo'Nique took to Instagram recently to ask young Black women, "When did we lose pride in representing ourselves?"
The Oscar-winning actress and comedian said she felt inspired to post the video after seeing young Black women in things like bonnets and headscarves at an airport. She mentioned that she often saw Black women in leisurewear in other places too.
"I've been seeing it at the store, at the mall — I've been seeing sisters showing up with these bonnets and headscarves and their slippers," she said. "The question that I'm having to you, my sweet babies: when did we lose pride in representing ourselves?"
Bonnets, scarves, durags, bandanas and other protective coverings are traditionally worn to bed as a means to retain moisture, protect freshly styled hair and prevent breakage.
While Mo'Nique said her question came from a place of love, it was met with controversy online.
Many people on Twitter and TikTok addressed Mo'Nique's video with outrage, while others felt what she said was something young women needed to be reminded of.
Much of the discussion around Mo'Nique's comments brought up respectability politics.
According to Dictionary.com, respectability politics refers to a set of beliefs holding that conformity to prescribed mainstream standards of appearance and behavior will protect a person who is part of a marginalized group, especially a Black person, from prejudices and systemic injustices. Many Twitter and TikTok users accused Mo'Nique of trying to urge Black women to subscribe to a more "respectable" representation of themselves.
Nursing junior Taniyah Harris pointed out a double standard between what white and Black women can get away with in terms of public appearance.
"No matter what we do, people are always going to criticize Black women," Harris said.
Black women don't have the opportunity to be as comfortable as they'd like to be, UTA alumna Caitilin Robinson said.
"When we're in front of other people, they are judging us," Robinson said. "They are thinking about what other Black people are going to be like."
The disagreement between people who agree with Mo'Nique and those who disagree is how much of a difference looking "respectable" actually makes.
Several people online mentioned the way protesters and activists dressed during the civil rights era. Some said that they dressed well and demanded respect; others pointed out that they were still beaten, hosed down and spat on in their suits and knee-length dresses.
With Mo'nique having positioned herself as an "Auntie" within the community, people were upset by her using a tool of supremacy against young Black women.
In an effort to maintain their styled hair, the young women were called out for not preparing themselves for public view before arriving at the airport, said Mia Kirby, assistant professor of practice in the center of African American studies and social work.
"It's not only 'go get your hair done and have it be straight,' but also 'don't publicly demonstrate that this took effort,'" Kirby said.
The sentiments Mo'Nique shared in her video are not something Black women are hearing for the first time. A common theme between Kirby, Robinson and other Black women is being taught by their mothers and grandmothers to never leave the house with their hair undone.
"This is really part of our culture and our heritage," Kirby said. "I have a 12-year-old daughter, and she wants to learn how to do her hair, and I'm like, 'put a scarf on and then [you] wear the scarf in the car, you pull them off before we leave.'"
While this is something most Black women are taught, it's a lesson some are trying to unlearn. If one woman feels comfortable wearing a bonnet to run errands and another woman doesn't, Kirby's take is to "mind your business" and "let Black women live."
@KaleidoscopeJax