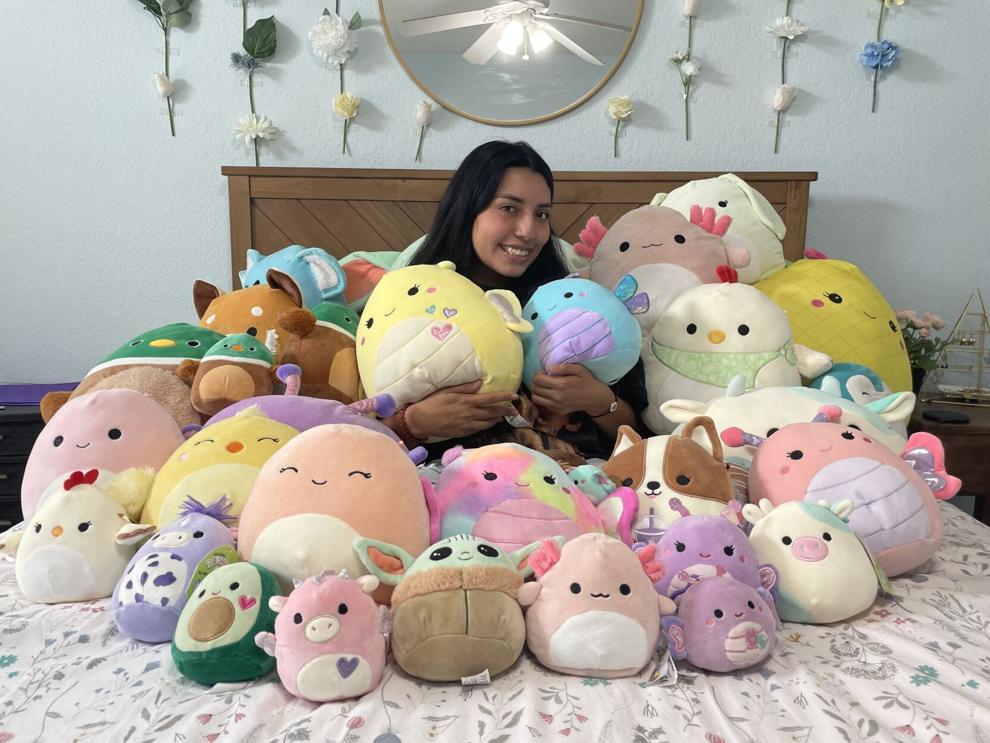 Many people have picked up a hobby in the COVID-19 era, and for computer science sophomore Patricia Rojas, that new hobby is Squishmallow hunting.
Rojas said in the two months since she started collecting, her count has grown from six to more than 20. 
According to their website, Squishmallows are stuffed animals that come in a variety of species and colors. They're meant to be cuddled, collected and gifted, and in the two years since their launch, over 50 million have been sold.
The stuffed animals have seen a rise in popularity recently with the hashtag #squishmallows racking up more than 860 million views on TikTok from creators of all ages. 
Rojas said she first noticed Squishmallows trending on TikTok last January, and it was around that time she started collecting them more seriously. 
It's been a good bonding experience for her and her siblings, she said. They have fun searching for different Squishmallows together, and it's brought them closer as a result. 
But Rojas' siblings aren't the only ones who bond with her over the toys. After tweeting about her collection, she met a girl online who also collects, and they've become "Squishmallow buddies," keeping each other updated on their current finds. 
"I think that's the coolest thing I've got out of it, a little Squishmallow friend," Rojas said. 
Pauline Pham, visual communications design freshman, said she also enjoys Squishmallow hunting, an activity she usually does with her sorority sisters. 
She said they once went to multiple Five Below's to search, going as far out as Dallas and Garland. 
Some are harder to find, which makes it a challenge to get all of them, Pham said. She recalls going to Costco and seeing someone carry out three of the big Baby Yoda-edition Squishmallows.  
For her, stuffed animals bring a sense of comfort, Pham said. She has a plush penguin gifted to her by her grandma that brings back memories, and for her, collecting Squishmallows is no different than collecting something like Pokémon cards. 
She said people shouldn't be ashamed of having stuffed animals because liking the things you like makes you unique, and it's better to not listen to people who bash the things that make you happy. 
Political science sophomore Nadia Contreras said she spends a lot of time in her apartment, and having something cute to look at makes her room a happier environment. 
Contreras said the rise in popularity of stuffed animals like Squishmallows can be attributed to many people wanting comfort during the pandemic. Squishmallows are mostly inexpensive and can provide people with that comfort, regardless of age. 
She thinks if something makes people happy, then who cares what others think about it. 
"They're stuffed animals, so it doesn't hurt anyone to collect them. Except maybe your bank account," Contreras said. 
@aivylinaa