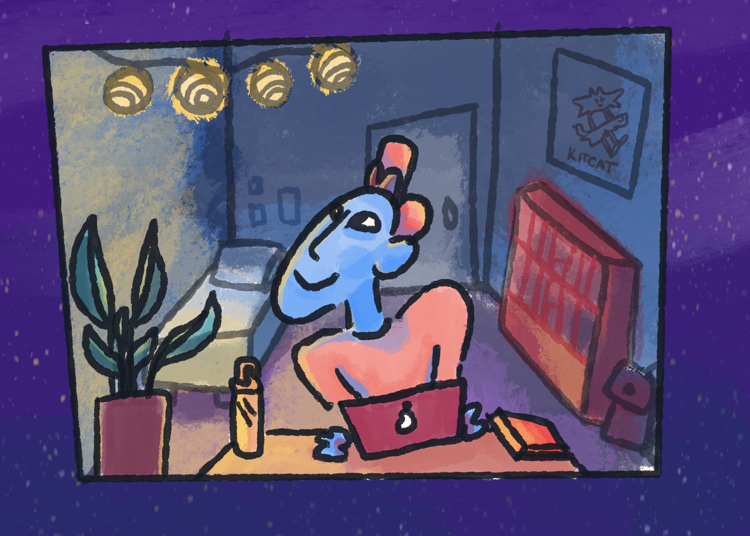 Physics sophomore Aileen Bernés Alfaro gets 8 to 9 hours of sleep every night — a drastic change from her freshman year when she'd regularly pull all-nighters to study.
"That's definitely a lesson I had to learn the hard way," Bernés Alfaro said. "Freshman year versus this year — I've really prioritized sleep, and it's gone a lot better."
According to the Sleep Foundation, most people think of sleep as a time where your mind and body shut down. However, sleep is an active period where important processing, restoration and strengthening are taking place, and adults need at least 7 to 9 hours of sleep per night.
For Bernés Alfaro, maintaining a good sleep schedule helps her focus throughout the day and perform better in class, she said.
There are many things a person can do to optimize for better sleep, and setting up the environment in a bedroom could be one.
Rebecca Sherman, Home Design Editor for PaperCity Magazine, said taking ideas from hotels that are beautifully designed is a good way to come up with ways to make up a room, especially for better sleep.
Most hotels now have websites with gallery pictures to scroll through and study the layout, she said.
"Interior designers, you know, a lot of them have become experts in hospitality design," Sherman said. "They are experts in creating spaces that people would want to come back to because they're so relaxing and soothing."
One main thing that designers often do in rooms is keep it clutter-free, she said. Some ways to do this are having only the basics on a nightstand, like a book or a glass of water. Also, incorporating drawers or baskets to store things out of sight can help.
Carlie Simpson, an interior designer at Landry Designs, said one thing in a room that can influence how you sleep is lighting. Having the right size bedside lamp is important, and most people use a lamp that is too small, she said.
With a good lamp and lighting, you can achieve mood lighting, which is used to create an atmosphere within a room.
Simpson also said you can control natural lighting by using window treatments like blackout curtains or shades.
If you live in an apartment, Sherman said many have ceiling fans with low overhead lights and having those on is not a good way to feel relaxed before going to bed. Incorporating a few lamps, whether it's a floor lamp or table lamp, will make it easier to slowly wind down as it gets later into the night.
Other tips Sherman recommends when winding down include covering your television and tucking away electronics like cellphones, tablets and kindles in a nightstand shelf or drawer next to you.
It's perfectly fine to have electronics close by, especially to feel safe, she said. But having them out of sight can send signals to the brain that it's time for bed.
When it comes to bedding, if you want to get fancy — although this might not be practical if you're a student — Sherman said one can start a high-quality sheet collection by finding bargains online. Materials like cotton or linen are temperature-regulating and act as a natural insulator.
A lot of times, hotels like the Ritz-Carlton switch out their sheets periodically, and other companies will buy them and sell them on their sites or on eBay at a low cost, she said.
"You're going to wash them, obviously, so they're going to be clean. You can start collecting really fine sheets that way," Sherman said.
Ultimately, it depends on a person's preference, Simpson said. Coming home and feeling comfortable in a living space can have a positive effect on one's life.
"Transform your space to reflect your life," she said.
For Bernés Alfaro, her bedtime routine starts at 10 p.m., and during this time she will light a candle to give the room a calming sense. She also has no television and does not do any school work in her room — at all, she said.
"My room is just a place to relax and a place to sleep," Bernés Alfaro said.
@daisygarciac