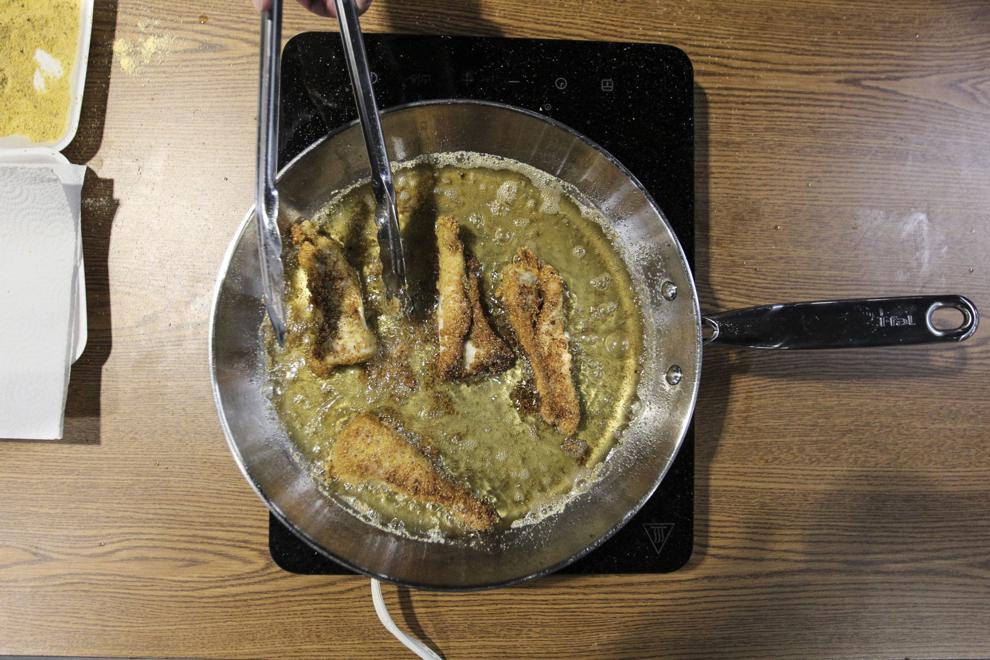 Electrical engineering junior Terrance Green cooks about two times a month using his communal dorm kitchen.
After growing tired of using the microwave every day, he started to cook in the dorms since microwavable food isn't the best for students, he said.
Green said he always cooks more than enough food for himself and his roommates. At one point in time while he was cooking, he had about 10 to 15 people show up. He said everyone is grateful for his cooking and it has its perks.
"Girls be impressed, so I'm cool with it," Green said jokingly.
The dish he is most proud of is his shrimp fried rice, he said. On the flip side, his least favorite was a spread made up of ground beef and crushed noodles with mayonnaise and mustard.
"It was a rough time," he said.
Finding ways to cook when living in dorms can be tough, said Lydia Thornton, earth and environmental science sophomore.
She uses the microwave for most of her meals and finds it is an everyday need.
Her residence hall has a kitchen area, however, it isn't the easiest to get to, she said. The kitchen is on the second floor and her room is on the third.
The kitchen has appliances for cooking, but students have to bring every piece of cooking equipment they need with them, Thornton said. She brings the food and ingredients needed along with the pots, pans and utensils used.
Students can also check these tools out from the dorm, as long as they are washed and returned in good condition, she said.
Thornton said it's different than cooking at home, where these extra utensils or ingredients are readily available instead of a story above or not having them at all.
"Every time I go, I have to go back to my room because I forgot a spoon or certain spices," Thornton said.
Journalism junior Isiah Nunez used to live in the dorms and said it's a different experience eating on campus without a meal plan.
His dorm didn't require it, so he didn't get one. He said the cost of living on campus was enough and didn't think much about how he would eat his meals.
He said he was able to afford most of his meals with money transferred over from his mom. He would mostly use it in the Connection Café and restaurants in the University Center.
Nunez said spending more money on food made him think about what meals are worth it.
"You just gotta learn how to manage your money," Nunez said.
When he did cook in his dorm, it was mainly microwavable food.
When it comes to microwaving, Thornton sticks to mac and cheese and other frozen dinners. She said it's a constant cycle of heating food over and over.
Sometimes the microwave isn't enough for Thornton, so she uses her meal plan. The plan seems like a good idea for students, but it's hard for someone on a restricted diet, she said.
Thornton is a vegetarian and the options the school provides aren't always the most filling. She said UTA has gotten better about having vegetarian dishes, but says the food options are more like side dishes rather than a main course.
Thornton said with the vegetarian options the school offers, students are more about eating to survive, instead of eating to enjoy.
Green said he only cooks when he has a craving for something or when money is available for groceries. He doesn't have a minifridge in his dorm room, so ingredients are only good for the day of cooking.
Green said it's important for everyone to have a home-cooked meal every now and then, and when students can drop ramen noodles for one night it's always a plus.
"Food makes everybody happy," he said.
@bjgarcia27