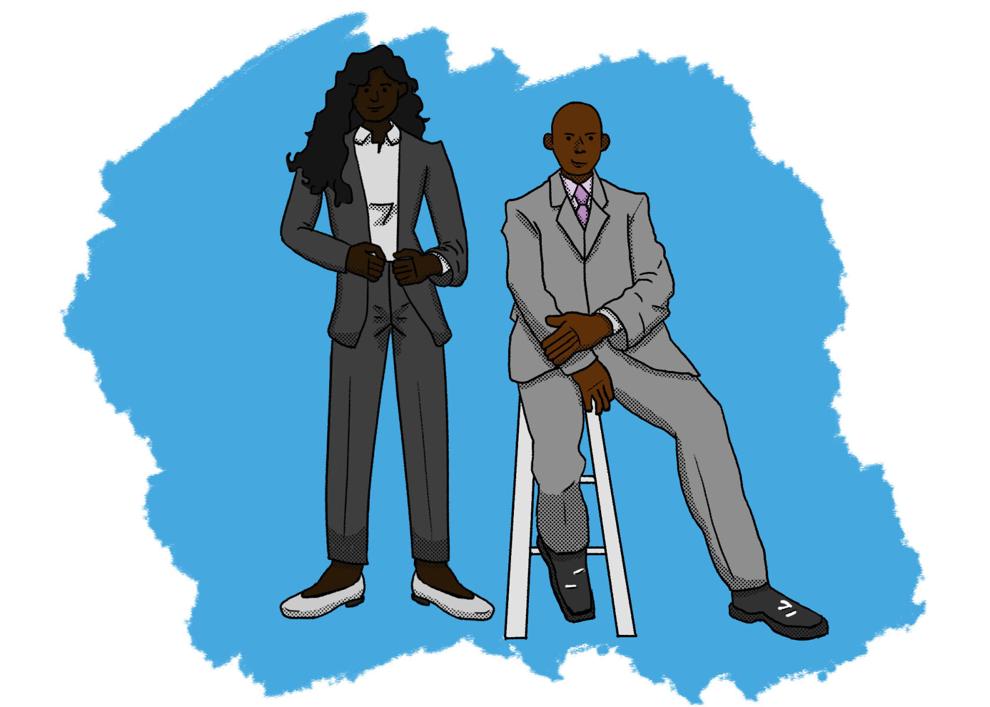 Many people have heard the term "Black excellence" through the internet and social media, and even more attention has come to the phrase since the beginning of February, or Black History Month.
However, the term's nebulous phrasing can make it hard for people to understand its importance and significance.
It's not any particular act, but a self-expression of love and admiration for who the Black community is as a people, said Frederick Engram, criminology assistant professor of instruction.  
The community exemplifies Black excellence in many ways, like through the arts and sciences. But when Black people show up for each other locally, Engram personally considers this act a display of Black excellence.
"Black excellence is a state of mind, it's a state of being," he said.
Jason Shelton, Center for African American Studies director and sociology associate professor, said his family inspires him to be excellent, along with looking up to Black professors in high positions at universities.
"There's a way to get through that door, I just had to figure out how they did it," he said.
When it comes to places like corporate America, many Black people believe they have to work harder than white people to achieve top positions.
Black people account for about 13.4% of the U.S. population but hold only 8% of professional jobs and 0.8% of Fortune 500 CEO positions, according to a 2019 survey by the Center for Talent Innovation.
Engram believes Black people have a more difficult time when it comes to receiving opportunities, because white supremacy is so systemic, it doesn't allow them to simply get a position on their own merits alone.
He said Black people always have to go above and beyond to prove they belong in a space, while white mediocrity allows them to be there inherently.
"We have to prove on the front end that we're even qualified for the conversation," Engramsaid.
Electrical engineering senior Keodara Seifert said her father was an immigrant from Trinidad and Tobago, and he came to America when he was 14.
He was an excellent student, becoming a Stanford University graduate with a degree in electrical engineering. Seifert said that as an American citizen, there was no way that she should not be successful.
It goes back to people being involved in their communities, she said. Once people get to where they're successful, they shouldn't just forget about the younger generation.
Go back and show them how you were able to achieve what you achieved, Seifert said. Show them that it's not quick money, you have to put in the work. 
"Once people start giving back more and start becoming mentors to younger people, I think we'll see a big change," she said.
Engram said his grandmother became a parent at a young age, which prevented her from finishing school or going to college.
When Engram graduated high school in 2001, his grandmother told him she didn't want to see him return home until he finished college.
"She always wanted to see me do better," he said.
Engram's grandmother inspires him to be excellent, to rise above situations the way she wasn't able to, he said.
Shelton said he believes inequalities and discrimination are what shapes opportunities for African Americans to be successful.
He said it's hard making it in America regardless of race, but when a layer of racial discrimination is added onto that, things are doubly difficult.
When it comes to recognition of Black excellence in professional settings, Engram said he doesn't see any change happening soon, because America is rooted in racism.
"The social construction of race made it so that everything we do is about race," Engram Jr. said.
It's an unfortunate yet real scenario in the country that can't be overcome completely, he said. Much can be changed in terms of allowing different marginalized groups to be seen, but Engram doesn't see things ever changing for good.
However, he thinks that there should be a recognition of the lack of opportunities for Black people in those spaces. Someone shouldn't necessarily receive an opportunity because they're Black, but they also shouldn't have to jump through hoops to be considered for an opportunity, Engram said.
He said he doesn't want the term "Black excellence" to be co-opted or commercialized, because it is for Black people. Others may try to take it and monetize it, which distorts the message.
As long as Black people hold on to their excellence, it can't be destroyed, transformed or taken over, he said.
@JMarieFarmer84