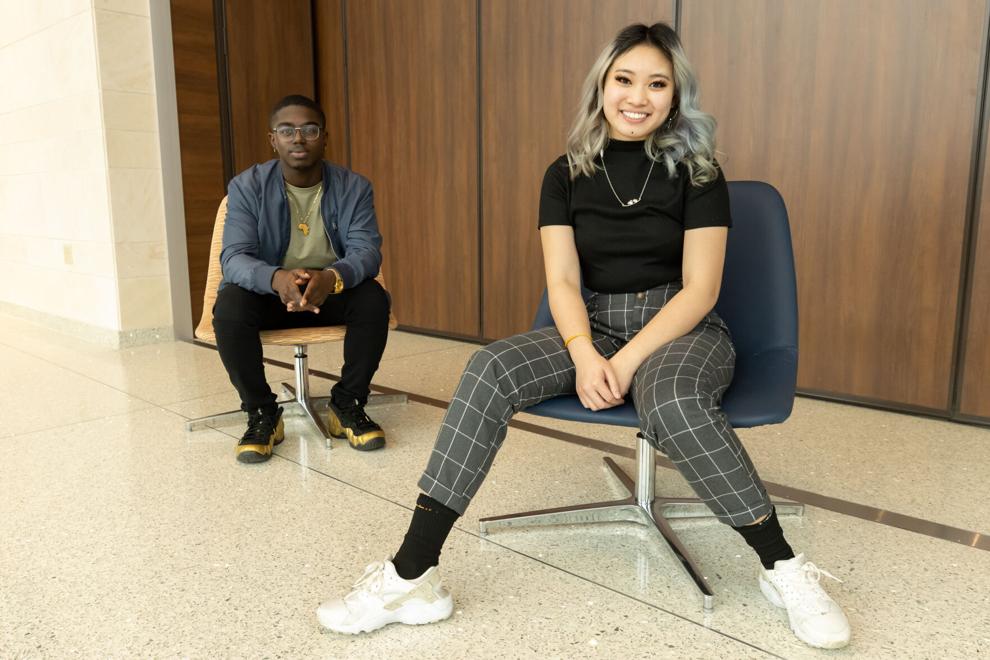 Interim President Teik Lim revealed eight diversity, equity and inclusion initiatives in July to further racial equity on campus.
The commitments were formed with feedback from students, faculty, staff and alumni, Lim said in a Message from the Interim President. The commitments are to be fulfilled by fall 2021.
Now in Black History Month, some community members have begun to question the status of those initiatives. Here is the progress made so far, according to faculty and students.
Vice president recruitment 
As of Feb. 8, the Diversity, Equity and Inclusion vice presidential search committee has identified three finalists for the position.
The search committee has been working with a national consulting agency to get the word out to highly qualified applicants, UTA spokesperson Joe Carpenter said.
The next step is for the finalists to participate in interviews with several university groups using campus-wide presentations hosted through Microsoft Teams, he said. Information on each of the finalists will be updated on the university website.
The new vice president for the Diversity, Equity and Inclusion committee will have direct access to Lim and be a member of the President's Leadership Council, Carpenter said. 
A new office of Diversity, Equity and Inclusion will also be built after appointment, which is envisioned to support the vice president and their various initiatives and programs.
Mr. UTA Xavien Johns said this position is a significant one.
Having grown up in a predominantly Black neighborhood, UTA's diverse student population allowed him to meet different types of people.
On campus, Johns is able to be around people who look like him as well as those who don't, he said. UTA's student body is racially and ethnically diverse, but the university must hone in on its equity and inclusion policies.
He believes it's important to create a safe environment for people to learn together because at the end of the day, ignorance comes from not knowing. 
If knowledge can be spread, then students can grow, Johns said.
The committee 
The Diversity, Equity and Inclusion committee is made of a broad representation of staff and faculty across campus, Lim stated in an email from the Office of the President in August.
Maria Martinez-Cosio, Faculty Affairs associate vice provost and committee member, said students are more politically engaged than she can ever remember seeing. It's something the committee wants to encourage, she said.
Students previously asked for a more focused approach on equity issues, and the Diversity, Equity and Inclusion committee intends to move that direction, Cosio said.
The committee is split into a host of subgroups that report back to the larger committee. Community engagement, communications and marketing, diversity programming, faculty and staff concerns, and student engagement are some of those committees.
Faculty and staff diversity
Human Resources and Faculty Affairs in the Provost's Office are leading the university's plan to enhance recruiting, retention and promotion of underrepresented faculty and staff, Carpenter said.
Approximately 18 positions have been filled using Academic Affairs and Human Resource's multidisciplinary hiring process, Carpenter said. There have been various new appointments in different areas across campus, and this commitment overlaps with the professional development commitment.
Scholarship opportunities 
The university has designated an additional $25 million for scholarships beyond what it has historically provided, Carpenter said.
These scholarships will address student diversity as well as the financial concerns of first-generation college students, students from low-income families and those facing challenges due to COVID-19, Lim said in an August 2020 newsletter.
The timeline is set to distribute $5 million per school year for the next five years, starting in fall 2021. This was a commitment that needed time to organize and integrate into the existing scholarship award structure, Carpenter said.
The university is currently in the process of accepting applications, and Carpenter thinks this commitment's full impact won't be realized until classes start in the fall, and more information is known about scholarship acceptance.
Professional development
Human Resources has implemented diversity and inclusion training for all staff and faculty. The training includes topics like implicit bias, microaggressions, cultural competence and creating welcoming, diverse environments.
As of Feb. 8, 18 educational sessions for faculty and staff have been offered with 640 employees attending these sessions, Carpenter said.
Human Resources have also installed a new leadership program called the MavsLeadership Excellence Program, which focuses on strengthening mid-level leadership performance, providing a space for networking and exchanging ideas, and developing growth-minded diverse leaders.
Ms. UTA Mimi Vu said it's significant for faculty to have this curriculum because sometimes people may not be aware of how their subconscious thinking reflects how they treat others.
When fields are dominated by the majority, they may not be aware of how it affects the minority, Vu said. It's why diversity is important to help with understanding.
Everyone needs to learn and recognize their own stereotypes and biases, she said. By celebrating UTA's diverse population, it will create a more welcome environment for students and faculty.
Student courses
New curriculum going over racial identity, privilege, bias and oppression was incorporated into the student success courses required of all first-year students in fall 2020.
The newly implemented curriculum has served more than 4,900 students in over 200 sections so far, Carpenter said.
A task force has also developed an enhanced curriculum on social injustice to be used for the spring 2021 semester, which will be reviewed and improved for future semesters moving forward.
Biology freshman Vy Isabella Vu took the student success course last fall after it had been updated with the new curriculum.
She said she learned about UTA's diversity and how to respect others' boundaries and beliefs. There was also a conversation about differences in identity, traditions and acceptance in the class, she said.
The class watched a TED Talks video and had a presentation where their peer academic leader talked about their experience and role in diversity acceptance on campus.
Vy Isabella Vu said that since the class was partially online, she might have missed out on a few activities that would have displayed culture at UTA, but her hope is to be able to participate more in person in the future.
She said if the university encourages more events to learn about different cultures, it will help lead to the acceptance and embracing of differences.
Long-term, she hopes for students to feel more comfortable on campus, one where students aren't afraid to speak up about problems that bother them.
UTA Police Department
The UTA Police Department has been reviewing departmental policies to ensure that they align with university values and are free from unfairness, Lim said in an email from the Office of the President in August.
UTA Police officers have received advanced training in diversity, racial profiling, and implicit and explicit bias the past fall and spring semesters, he said.
The department has envisioned this process to be an ongoing and collaborative approach, Carpenter said. The outreach is to a wide range of faculty, staff and students to get a perspective on their concerns.
Ishwarya Narahari, computer science and engineering graduate student, said racial profiling is an important discussion to have.
You're not supposed to be scared of the people who are meant to protect you, she said, and when they don't protect you, it instills a kind of fear that is very hard to get rid of.
Narahari said it's sad to see that people have to teach their children to act a certain way if a police officer approaches them. She believes the training is important because everyone should feel safe on their campus.
If the university stays true to being diverse and inclusive then that will mean a lot more love and acceptance on campus, she said.
Narahari believes these eight commitments are a good first step. But continuing to listen to students and being sensitive and empathic will go a long way, too.
Multicultural Affairs
The assistant director of Multicultural Affairs position has been filled and is set to focus on expanding the Maverick Advantage program and support services for diverse students, Carpenter said.
Multicultural Affairs has been active and engaged in supporting many programs in the past semester, and potential expansion and development of the organization are some of the things the new vice president of Diversity, Equity and Inclusion will evaluate, he said.
They'll determine Multicultural Affairs' role in diversity, equity and inclusion initiatives and how it can help the university, as well as how it can help identify what additional resources will be needed for the office to support the diversity, equity and inclusion initiatives, Carpenter said.
@aivylinaa