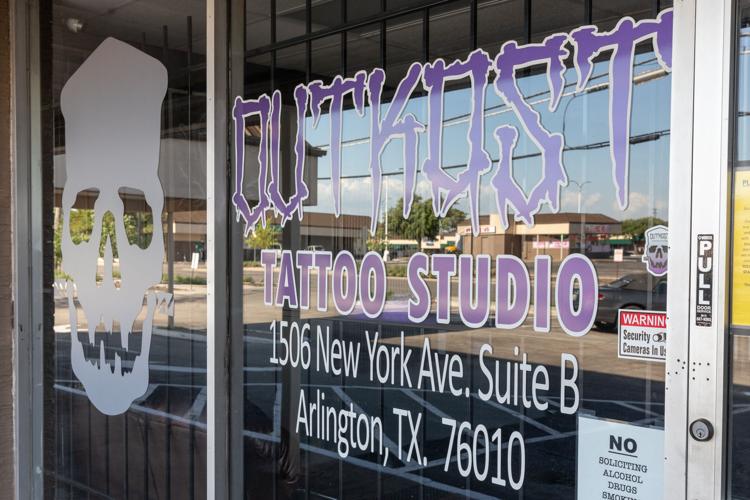 For over a month, Tarrant County tattoo parlors have been ordered to remain closed due to COVID-19. And for over a month, many tattoo artists have been completely out of work.
Jasin Clements, a tattoo artist at Outkast Tattoo Studio in Arlington, said when he first heard about the mandated closures, he had already had two appointment cancellations that Saturday morning because of the virus. When he realized all appointments had to be canceled until further notice, he immediately packed up his equipment from the studio and went home. He hasn't tattooed since.
The closures couldn't have come at a worse time, he said. Early spring is the busiest season for tattoo artists since many of their clients receive income tax returns in March or April. The extra money often gets spent on a new tattoo, but tattoo artists like Clements are missing out on that surge this year.
Before Outkast Tattoo Studio closed, Clements was completely booked for a month and a half. As an appointment-only artist, he gets multiple clients that want larger tattoo designs and generally sees about 10 to 20 clients each week.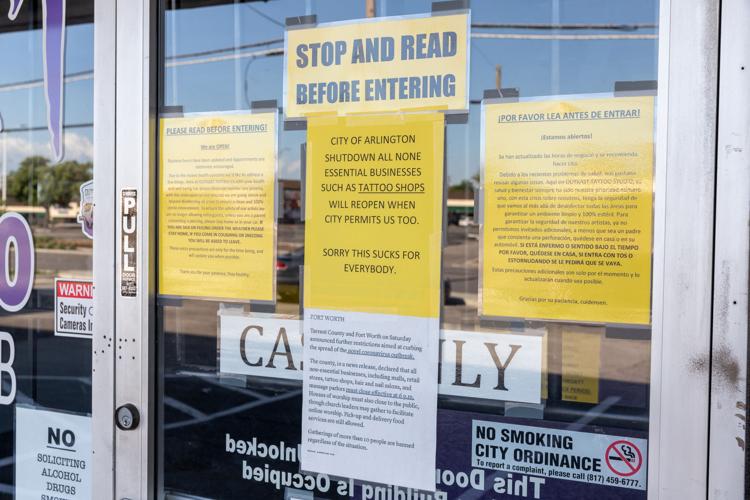 For now, he said he's focusing on booking future appointments. Many people have reached out to him via social media to see if he's still booking appointments or visiting homes, but the most Clements can offer is a promise for the future.
With each booking comes a $50 deposit, which isn't much to get by on, Clements said, but it's better than nothing and helps pay some bills. Since it's currently unsure when Tarrant County tattoo parlors will be allowed to reopen, he's scheduling appointments for June and hoping for the best.
Being out of work has been a humbling experience, he said. Before March, he sat comfortably in the middle class, but now he's making less than a McDonald's employee.
"It's horrible what they've done to the middle class and to people like us," he said.
Meanwhile, he's looking for a means to support his stay-at-home girlfriend and two-year-old twin sons.
"Now, there ain't no money coming in," he said. "At least not like there was."
Nico Green, Clements' girlfriend, said it's unfortunate that tattoo shops had to close, but it's understandable that they wouldn't be exempt when so many other businesses were also deemed unessential.
Nevertheless, she's glad for the extra time Clements gets to spend with their sons. Before Clements was out of work, her main concern was that the boys would get sick.
"It's great that he's home and stuff," she said. "But still, we need to eat, we need to pay bills."
Since he's an independent contractor and not an hourly employee, Clements said he hasn't been able to qualify for unemployment benefits or a stimulus check and has had a hard time finding a job to replace his line of work.
When he can, he draws portraits for commission. The portraits usually sell for $200 each, but it's hard to complete more than two each week, he said.
The small amount of money Clements earns drawing or making appointments doesn't amount to much, Green said. He needs his clients back.
"If people want to work, I think they need to be able to," she said. "Especially small businesses, like tattoo shops."
Clements said he understands the severity of the pandemic but questions the local government's decision on which establishments were forced to close. Places like grocery stores are hard to regulate and keep clean, but tattoo artists are specially trained to keep their work spaces sterile at all times, and there's rarely more than ten people in a tattoo shop at the same time.
The cleaning regimens that many grocery stores and other essential businesses have adopted are already a regular routine at tattoo parlors. Everything in the studio has to be 100% clean and sterile at all times, so for Clements, a tattoo studio doesn't seem a likely place to catch coronavirus.
"As long as we're not breathing it in, I don't see why we can't wear a mask and just operate business," he said. "As long as we're not breathing in or touching our mouths — which you shouldn't do as a tattoo artist anyway — I think we should be alright."
He said one of his main goals for now is to survive unemployment without food stamps or welfare checks. Since he's not sure how all of that would affect his taxes next year, he'd rather avoid them entirely.
Clements has hit rock bottom before and doesn't want to have to depend on the government for help again. After a period of excessive alcohol and drug consumption, he ended up in jail, where he rekindled his love of drawing. As a child, he always drew, both in class and church, and he'd often get in trouble for it. In jail, though, other inmates appreciated his work and encouraged him to start tattooing.
Although he'd never thought about tattooing, the idea made perfect sense. Once he got out of jail, he purchased a tattoo book, saved up enough for a tattoo machine and got started by tattooing himself.
Nonprofit services still running include Mission Arlington, Arlington Life Shelter, The Salvation Army, Arlington Animal Services and Meals on Wheels.
Eventually, tattooing became Clements' therapy. He loved connecting with people and forming a bond as their artist.
Tattoo artist Miles Becken said Clements' story mirrors that of many other tattoo artists.
"Every tattoo artist has their story, but I can guarantee more than half of us were homeless or just trying to take care of business with no money, broke as an apprentice," he said.
When the government forced tattoo artists to close down the culmination of their life's work, it cut deep — even if the closures were for the greater good.
Becken said he wasn't angry or disappointed when tattoo shops closed because he had seen it as inevitable. For him, although the closures aren't ideal, they're a necessary means to keep his family safe. Even though tattoo shops uphold a high standard of cleanliness, there's still no guarantee that if they remained open he wouldn't contract coronavirus and transmit it to his wife, daughter or mother-in-law, he said.
"It's not about me, it's about other people," he said.
As long as tattoo shops reopen soon, Clements said he doesn't think the pandemic will have a long-lasting financial effect. Once tattoo parlors open, people will want to support them.
Now that select nonessential businesses will soon open back up, Becken said many shop owners and tattoo artists are discussing ways to still monitor the spread of COVID-19. Dallas Tattoo, where Becken works, is scheduled to reopen on May 18 and is considering taking clients' temperatures and turning them away if they show up with an extra person.
"You've gotta take things with a grain of salt, but you've also gotta not think about yourself," he said. "There are other people, and we are in this together."
@CecilLenzen