When the pandemic hit, accounting associate professor Stephanie Rasmussen and her family went virtual and were at home 24/7.
She started to balance work and motherhood and became a teacher to her 6-year-old twins. Her husband had always worked from home and could watch the children on the weekends when she went to UTA to work from her office.
"I found myself having to do a lot of my work late in the evenings or on weekends," she said in an email. "It was challenging to adapt my schedule to meet my children's educational needs and my work responsibilities."
While students had an extended spring break in March, many professors and instructors underwent training to learn how to work remotely and transition their courses online. Many of them were also balancing other responsibilities and teaching their own children from home.
Rasmussen's children were happy to return to school recently, but it was difficult for her to explain the pandemic to her children and how to cope with it.
"It was very important to show our children that we are not living in fear of the pandemic, we are just trying to live in a way to help those around us," she said.
The pandemic has given Rasmussen the freedom to experiment with some teaching techniques she was curious about but hesitant to implement in the past. She currently teaches three courses — one online and two in hybrid modalities. Her two hybrid courses only meet for exams.
"I am excited to see how what we learn from this experience will allow us to better meet the educational needs of our students for years to come," she said.
Mathematics senior lecturer Alice Lubbe and her husband both started working from home in March. Now their desks face each other while they work.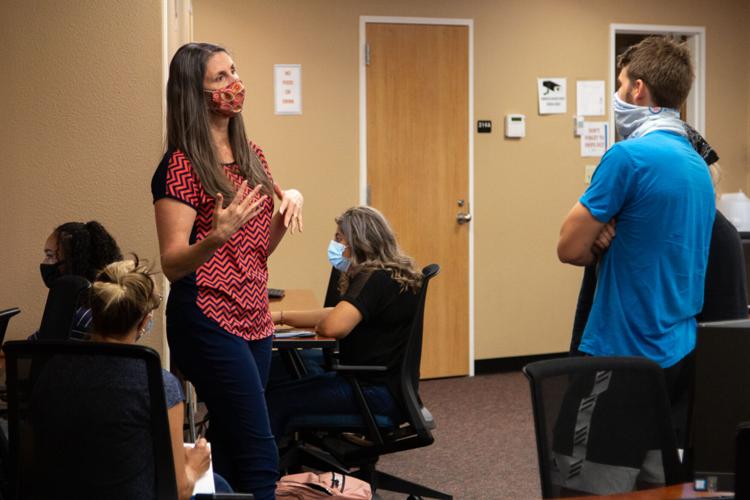 Her husband teaches elementary school and works from home as well. She currently teaches four courses — three hybrid classes and one online. She spends the majority of her time on campus now but considers her husband a co-worker.
"They were trying to figure out what to do, so it took them a little longer, but you know, for UTA, we only lost a week, and then we were just right back in it online," she said. "So I was literally at the desk all the time."
For some professors, spring marked the first time they were teaching online. For others, the training was a refresher.
Lubbe had taught online courses prior to the pandemic, but the transition in the spring was sudden. But after two to three weeks, she felt completely adjusted.
"It was maybe a little bit of madness," she recalled.
When returning for the fall semester, her biggest concern was if students were going to follow UTA's mask policy while in class, which they did.
But she quickly realized that students like to congregate and get close together when doing labs, she said, which is why she broke her labs into smaller numbers.
Half of her class attends lab one day and the other half on a separate day.
When students take exams, they are split throughout multiple classrooms. The department has to use three to five classrooms to spread students out, Lubbe said.
"Testing is rough," she said.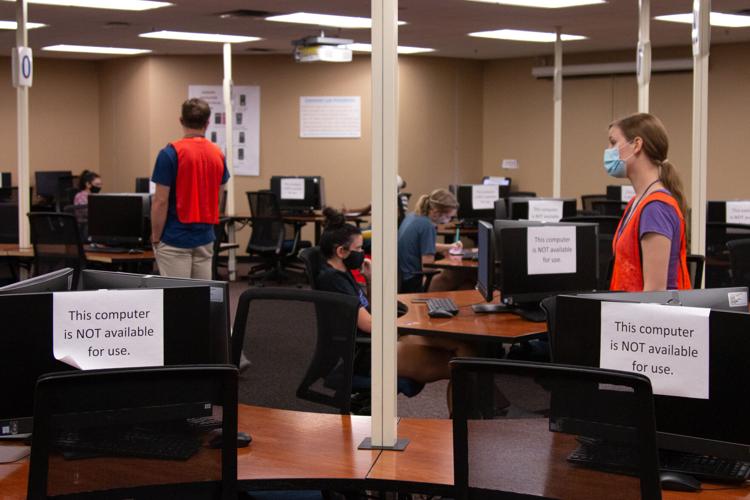 Anne Healy, Theatre Arts Department interim chair and associate professor, has had a similar experience figuring out how to maintain social distance for her classes.
For the department's hybrid classes using the Mainstage Theatre, more space is needed than the 6-foot social distancing measure.
Actors, dancers and singers need more room when projecting their voice on the Mainstage Theatre, she said. The typical 6-foot recommendation would instead be extended to about 14 to 16 feet.
"We have calculated those numbers and we have protocols for each of our spaces depending on the activity," she said.
Any face-to-face courses happening are entirely up to the level of comfort between faculty and students, Healy said.
"We purposely chose the hybrid for modality in order to give the faculty the most flexibility in terms of how they taught the course," Healy said.
Although it feels like a normal semester with less time in the classroom for Lubbe, she said it's still stressful.
"I feel like I've lost some of my hair," she said.
@Angie_Perez99