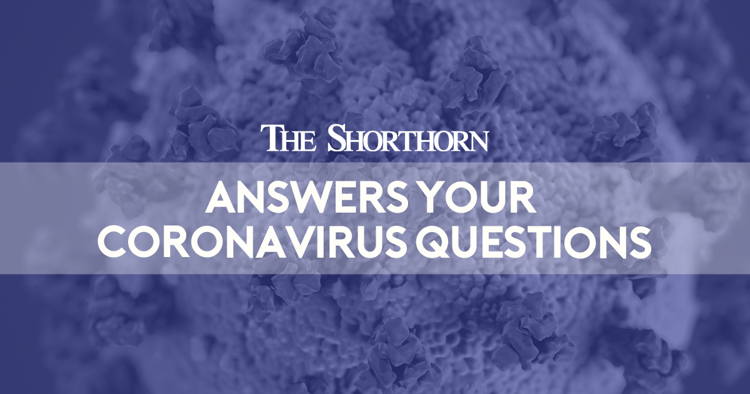 Dozens of students and other members of the UTA community submitted questions to UTA Unfolded concerning the coronavirus. If you have a question, you can submit it here.
Here is a roundup of some of the questions and answers.
"Is it true that someone was confirmed with the coronavirus at UTA?"
Yes, a UTA student contracted COVID-19, the university announced March 14. Tarrant County Public Health placed those who were in contact with the infected student in self-isolation as a precaution.
"What will happen with the graduates of spring 2020?"
Graduates will still receive their degrees as scheduled. All UTA commencement ceremonies have been postponed, and there has not been an announcement as to when they may be rescheduled. The Shorthorn will publish a story once more information is available.
"Will faculty and staff be allowed to work remotely if their job can still be completed while off campus?"
Faculty and staff are being advised to work remotely as much as possible, according to the UTA website. Research activities may continue should it be able to be completed via working remotely or in limited social interactions as described by the Centers for Disease Control and Prevention, or if it is necessary due to the nature of the work.
"Will all students, faculty and staff be partially refunded for parking?"
The answer to this is unclear. As of now, the university is working on giving prorated refunds for housing and dining services. The Shorthorn is working on getting a clearer answer if parking could also be refunded.
According to a tweet from UTA Parking, parking permits and paying street meters or pay stations are still required. However, the "After 5 p.m." rules apply all day — meaning students can park in spots that usually open up after 5 p.m.
"What are the hours of operation of the University Center Post Office? Is it going to be closed or is it still open?"
The UC Post Office is maintaining regular hours from 8 a.m. to 4 p.m. Monday through Friday.
"Will the library still be open?"
No. As of Tuesday, the Central Library is closing except for laptop lending. The loan period for laptops has been extended to the end of the semester. The Office of Information Technology has ordered additional tablets and laptops to lend. More information on the library website. 
"If someone gets it, how are they supposed to treat it?"
The CDC recommends to stay home and call a health care provider if you develop symptoms such as fever, cough, and/or difficulty breathing and have been in close contact with someone who had COVID-19 or recently traveled in an area with an ongoing spread of COVID-19.
If you're worried about having the virus, UTA instructs students to call before going to any medical clinic, including UTA Health Services.
Trouble breathing, persistent chest pain or pressure, confusion and bluish lips or face are considered emergency warning signs and require immediate medical attention, according to the CDC. In the event of an emergency, call 911.
Students can contact UTA Health Services with concerns during office hours at 817-272-2771. Outside of normal business hours, call the Tarrant County Public Health hotline at 817-321-5939.
"I heard from another student that it is airborne now and can linger in the air. Please verify."
According to the CDC, the virus is thought to spread mainly from person to person within 6 feet of each other through respiratory droplets produced when an infected person coughs or sneezes. It may be possible to get COVID-19 by touching a surface or object that has the virus on it and then touching your mouth, nose or your eyes.
Because it is a new disease, the CDC and other health organizations are still learning how it spreads and could provide new information in the future.
"Should we start buying food to last us 40 days?"
The Federal Emergency Management Agency recommends only buying what you or your family needs for a week. There is not a major disruption to supply at this moment, but consumers buying more than they need can lead to shortages.
@reeseoxner