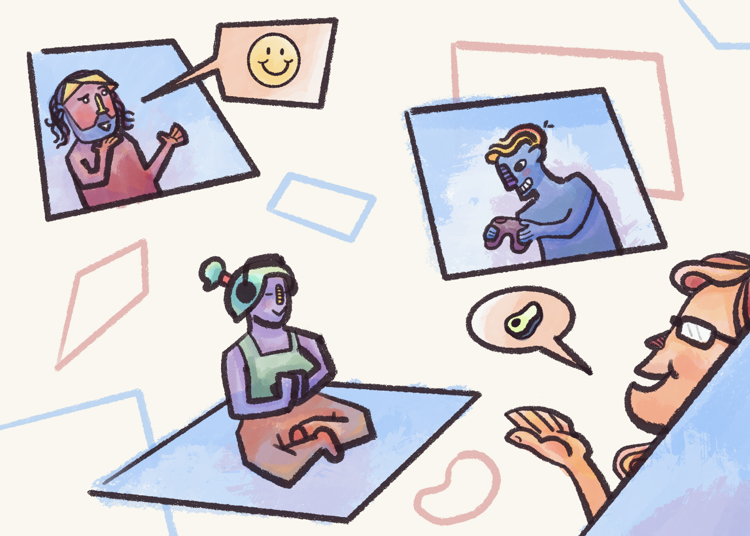 Even though some students may have been initially excited at the idea of a doubled spring break, the novelty has since gone stale to many, and the self-isolation because of COVID-19 is wearing others thin.
One such student is social work graduate student Sarah Richmond, who posted a link to a GroupMe chat on the UTA subreddit, inviting anyone in need of friends to join.
"I originally just posted something about the idea of a group chat, and I got so many responses and countless direct messages from students who just wanted someone to talk to," Richmond said in an email.
Her original intent for the chat was to find friends on campus, as it's not always easy to find hangout time when you're a commuter. However, in the wake of COVID-19 the chat has taken a new form for the students involved. The university recently strongly advised students not to be on campus and required residents to move out of their residence hall.
Scrolling through the feed reveals countless messages from students finding company while maintaining the recommended social distancing, discussing hobbies and interests from makeup to DJing and even Dragon Ball Z tattoos.
Richmond said she was surprised at the growth, as the chat went from 10 people to 45 in a matter of hours, and the growth has continued since.
Although she was already a homebody before the quarantine, Richmond said that everybody needs someone to talk to, and she's happy to help how she can.
"I feel good about it but don't want to take full credit," Richmond said. "It's the people that immediately joined and participated in the conversation that truly made the group chat what it is. I simply created it and shared a link."
It's not just students' social lives that are on a downward curve. A common side effect of prolonged social isolation is the decline of a person's mental health. Motivation, anxiety-related sleep issues and an overall decrease in happiness are affecting many, including information systems junior Garrett Trevino.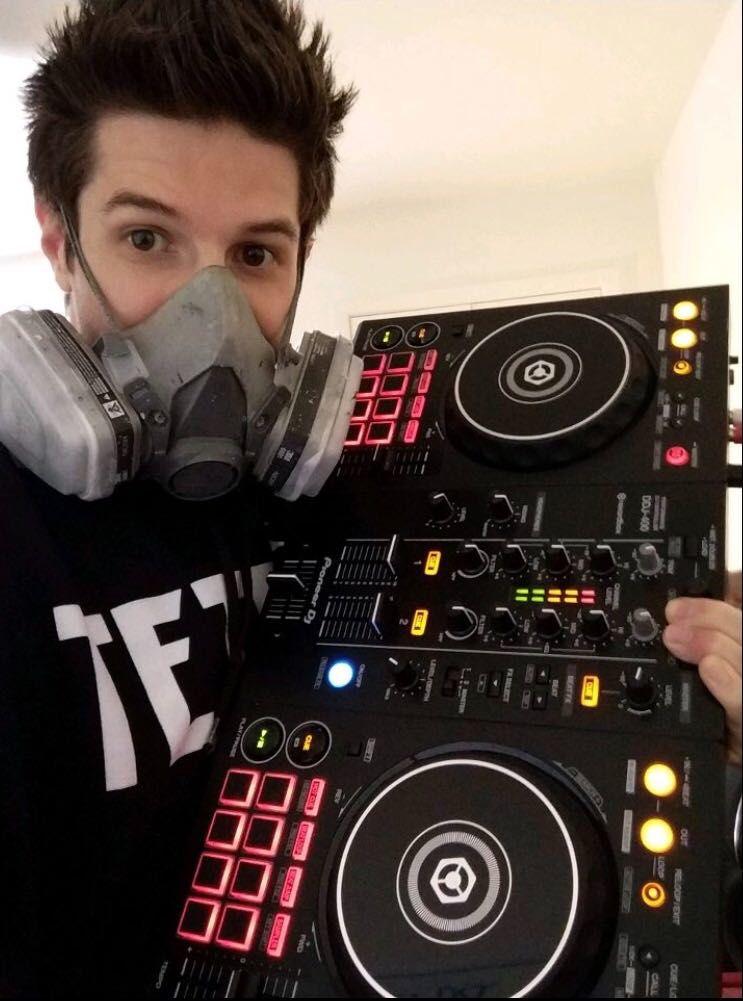 "The first few days it was pretty nice, it felt like a vacation," Trevino said. "But after a little while, it started to get a little depressing."
This was partly why Trevino joined the chat, he said, and it's nice to be around others in the same situation, even through the phone.
"I used to believe that I was more of an introvert, but actually being in isolation so much actually made me realize how social I actually really am," Trevino said. "It's been kind of difficult because today was the first time I've seen anyone like another person, in like four days."
Trevino said that from his perspective the group chat started off as people who were just kind of lonely just looking for someone else to talk to, but now it seems bigger than he expected.
"I do enjoy it, it's really nice seeing people kind of come together," Trevino said. "As anyone should know, lately it's been pretty lonely since everything's closed down."
Trevino used the chat to get a conversation going about DJing, one of his hobbies and side jobs. Through the chat Trevino was able to find another student who mixes, and hopes to meet up once the quarantine is lifted.
Although she's not a DJ, another student using Richmond's group chat as a social substitute is Daisy Estrada, history and psychology senior, who joined the group just one day after it was started March 15.
Estrada said she originally saw the group on Reddit and joined because she was curious, assuming the group would just post memes.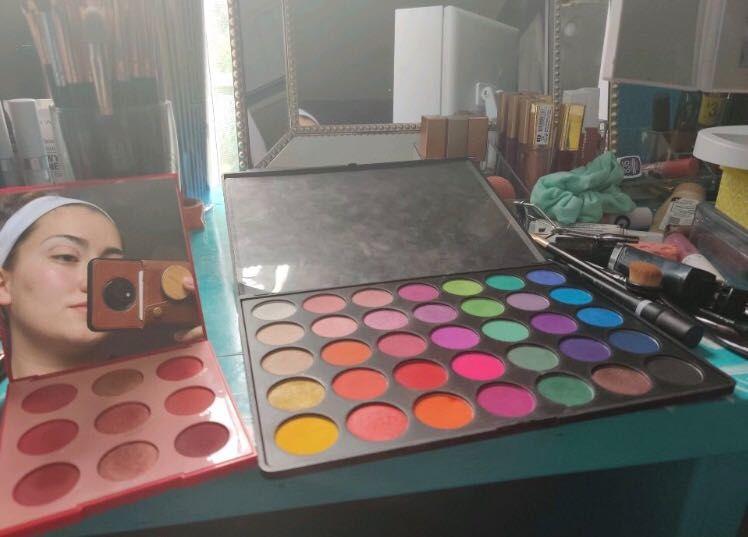 However, Estrada ended up responding to the question "What's everyone up to?" in the chat with a picture of herself in the mirror at her makeup desk, and a side conversation about her interest formed as a result.
"It's more for artistic stuff, I actually don't wear makeup every day," Estrada said. "It's more of something fun for me. It's something more artistic. There's a lot more creativity because there's no set rules."
Estrada said that she doesn't consider herself a particularly social person, but the isolation has left her lonely and looking for positivity where she can.
"[The group chat] makes me relax. It's made me chuckle, and overall it makes me feel good," Estrada said. "People want to connect, and I feel like that's not exclusive to the group chat, that's everywhere."
Estrada said the isolation has also affected her schedule, something she prefers not to change, and especially not quickly and drastically.
"I love my routine. I like having set things to do every day, like the goals, and I can't really achieve that how I used to," Estrada said.
Finally, Estrada said that she misses being able to walk around campus and take in the scenery, an activity she used to enjoy before quarantine.
She was in a place where she really felt good outside, Estrada said, and now she doesn't leave her house.
Aria Green, Counseling and Psychological Services student outreach intern, said what Estrada and other students are experiencing is completely normal, as sudden isolation is a huge adjustment to make over the course of one week and especially with outside stress.
"Self isolation can be a detriment to students' mental health in a variety of ways," said Green in an email. "For some students, their day to day structure has been completely and suddenly uprooted, which can cause anxiety or depression from lack of direction for their motivations."
Green said she would suggest students use any newly freed time to connect with hobbies and things they enjoy to keep their minds occupied. Unproductive minds can sometimes cause stress in trying times.
"For me, I've taken this time to revisit activities I love but don't usually have time for, such as video games, embroidery, and cooking," Green said. "By keeping ourselves mindfully occupied, it can reduce rumination on the situation and as a result, alleviate anxiety."
Green also advised students to remain connected with friends however they can, through voice and video chat, and to use something similar to Google Calendar to keep track of new assignment deadlines.
Richmond said she'll remember this as a scary time in which she spent hours worrying about vulnerable people in her community who can't get food or household essentials. She's also concerned for victims of domestic abuse, who may be more vulnerable in times like these.
"I also worry about the men, women and children around the world currently trapped in their homes with their abuser, the person they fear most, unable to leave," Richmond said.
Richmond's group chat was a small idea that took off, currently hosting around 70 students, and is bringing them a little more happiness in a not-so-happy time, Estrada said.
"We understand that all of us are in pain," Estrada said. "We're all feeling a collective feeling, and we're all trying to address it within each other so we can fix it in ourselves."
If you ever feel overwhelmed, remember that you are not alone. The MAVS Talk Crisis Line is still available at 817-272-TALK (8255) or the Suicide Prevention Lifeline at 1-800-273-TALK (8255).
@Sam_Knowles00