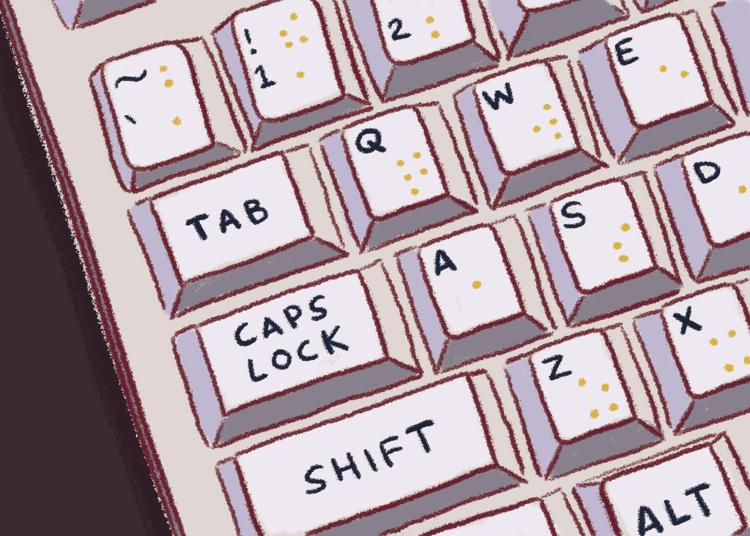 With the switch to solely online classes coming on so fast, many students felt underprepared and worried. But the online instruction is beginning to show its own unique problems for students with disabilities.
When it comes to accessibility in online classes, Sarah Rose, Director of Minor in Disability Studies, said there's a lot of things to consider, especially when operating a class in an emergency environment.
"It's hard enough to do an online class well, and to ask professors to learn both the basics of online teaching and making sure it's accessible, it's a high bar," Rose said. "It's a really important bar, but it's a high bar."
For some students like interdisciplinary studies senior Kenya Loudd, difficulties come from too much screen time, and for deaf or hard-of-hearing students, virtual class meetings are hard without captions. And for the many students who struggle with anxiety and depression, adjustment to online life hasn't come easily, Rose said.
"Just the fact that this all had to be done so fast meant that last week was pretty overwhelming for them," Rose said. "Just being knocked out of all their normal routines and strategies that they use to manage their disability has been really hard."
Loudd is legally blind due to a disorder called Stevens-Johnson syndrome. For Loudd, working on a computer for several hours brings fatigue and stress on her eyes, and lately with class being online, too, Loudd can reach her limits.
"I took the day off Friday, so I did not get on the computer at all," Loudd said. "Just to kind of, give my eyes time to recuperate."
Loudd's computer is set to inverted colors and extra large print so she can see it better, but it isn't the setup she's used to, especially when it comes to taking tests, she said.
Normally she tests at the ARC, or the Adaptive Resource Center because there's technology available there to read the tests to her, magnify pictures, and send them to a TV so Loudd can see better.
But obviously that's not an option for Loudd now when students have been told to work from home.
"Now the ARC is closed; I'm sure that's been problematic for students with disabilities who are used to using the ARC and now can't," Loudd said.
Loudd has arranged for her professor to send her her exams in a Word document as opposed to the typical Canvas version, she said. But, while in quarantine, she and her classmates will have different parameters for the test.
"They have an extended time period; it's not the normal exam that people were taking in class," Loudd said. "They've kind of modified it, and I'm sure they've done so because they knew they were gonna have to modify it for me, to make it fair across the board."
Loudd said her computer is already set to help her get through classes at home, but for students who don't have access to the technology, the program Learning Ally is available through Canvas, which can help students with a variety of disabilities access their classes better, Loudd said.
But not only is Loudd having to navigate working online as a legally blind student, she's an honors scholar, too, and the prospect of presenting her senior project online has been causing her trouble, she said.
"We're having to do a whole other type of presentation style than what we're accustomed to, and, of course, it's a little problematic for me," Loudd said.
Loudd's issue is that while on a Microsoft Teams meeting, where the screen is divided among several people, she can't zoom in the way she needs to in order to read her PowerPoint. This means that in order to present her project, she'll need to know it inside and out, so she can do it without sight.
"I'm basically committing things to memory, more so than actually, you know, having a reference while I'm presenting," Loudd said. "It definitely takes a lot more prep-work, a lot more time."
Accessibility specialist Tiffani Riddick said dealing with sudden online classes is difficult for both students with disabilities and those without one. Students can reach out to her if they have any concerns.
Riddick works with the deaf and hard-of-hearing population, she said, and during the week before starting classes, she helped reach out to every instructor with a deaf or hard-of-hearing student in their class to try to help ease the transition.
"We have had some professors decide that they will still do live lectures during class, as well as having some of the professors that have decided to pre-record their lectures and upload them through Canvas," Riddick said in an email. "This is a big shift for some of our students that work with sign language interpreters, and those that are used to having CART (communication access real-time translation)."
This is why it's important for that line of communication to be open, Riddick said, and for students to know that her office may be working remotely, but they're still available to help out.
"Professors can be more accommodating at this time by asking questions," Riddick said. "Our office is working remotely, but we are available not only for students, but for faculty and staff as well."
Rose said there's no easy solution, but there are ways professors can be more accomodating for everyone in unprecedented times like these.
"Giving students options for doing work in multiple ways and showing their mastery and competency at things in multiple ways, is something that can be borrowed from disability perspectives," Rose said. "And that really will also help students succeed more."
Being understanding and having good communication is key to making it through this semester with an education that works well for everyone, Rose said.
"Everyone's dealing with a lot of anxiety, fatigue, exhaustion, and there's an extra cognitive load," Rose said. "So that being a little easier on students if there's spelling and grammar mistakes, or if they miss a meeting or whatever, that, just, things are not normal, and we're working that in."
Loudd is ending her senior year in a challenging but memorable way and said she's disappointed that there might not be graduation ceremonies in store for the end of her undergraduate journey.
"I have a few feelings about this graduation because there probably won't be one. Well, there won't be, not in the way that we're accustomed to," Loudd said. "So I do have a few feelings with sadness and disappointment. But I am getting ready to go grad school in the fall, so I know that it will come later."
@Sam_Knowles00
features-editor.shorthorn@uta.edu