For the first time in over a month, Texans were allowed to enjoy a meal in their favorite restaurants under restrictions after Gov. Greg Abbott allowed his executive order that closed them to expire.
Abbott announced Monday that he would let retail stores, restaurants, malls and movie theaters reopen Friday, but they must operate at 25% occupancy and practice social distancing.
Only six people can be seated together at a table, and parties have to be at least 6 feet apart from each other under the order.
Some Arlington business owners chose to reopen, while others opted to continue exclusively offering curbside and delivery options.
J. Gilligan's Bar and Grill, an Arlington favorite, opened its doors to the public Friday with the capacity to seat 40 people under Abbott's new guidelines.
Empty tables were placed in between seated tables so social distancing could be practiced. Waiters wore masks and so did those handling food.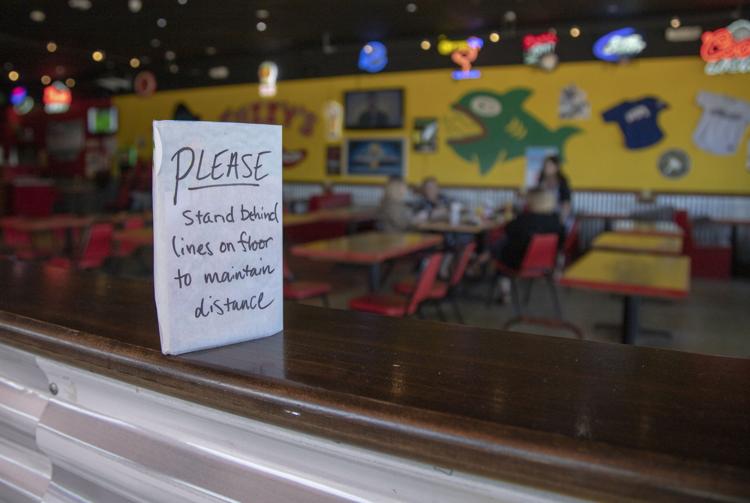 Dallas County resident Tim Breitenwischer, Arlington resident Kathleen Thompson and Wood County resident Claudeane Sublett spoke over a couple of beers and a container of disinfectant wipes.
The trio chose J. Gilligan's as the first restaurant they'd visit because they've been attending it and supporting owner Randy Ford for about 20 years.
Breitenwischer said he's ready to be out while practicing safety precautions and get life back to a version of normalcy.
"I am not scared. I'm not afraid, and I'm just ready to get life back going again," he said.
While Breitenwischer is ready for everyday activities to resume, Thompson said she's still nervous about the situation but came out because she hasn't seen her friends in six weeks.
"I just really wanted some connection here," she said. "But, I do continue to be very concerned."
One of Thompson's concerns is that on Thursday, Texas reported its biggest one-day increase of deaths and new cases from COVID-19.
Sublett is worried about going out because of her older age, but she believes things need to reopen so the economy doesn't suffer any longer.
She believes people will now be more aware of their surroundings and who they interact with, which will make it safer to go out.
On the other side of J. Gilligan's, Fort Worth resident Robbie Clark sat with a friend and said he's been "chomping at the bit to get out."
"If I can go out, I'm going out," Clark said.
Clark said he was seated at a good distance from the next occupied table, so he doesn't understand why people are still saying to stay home when to him it's no different than going to the grocery store.
His friend, Mansfield resident Kirby Allman, said this is the right time to start reopening because he doesn't want society to become accustomed to an isolated lifestyle. Allman said it's bad for the economy and people's morale.
"I'm kinda glad that even if places are able to open even at 25% capacity, it gets people out of the stagnancy," Allman said.
Urban Alchemy Coffee and Wine Bar had a customer waiting to come inside when it opened at 7 a.m., general manager Nick Osburn said. Currently, it can seat 20 customers.
"It was a great feeling," he said.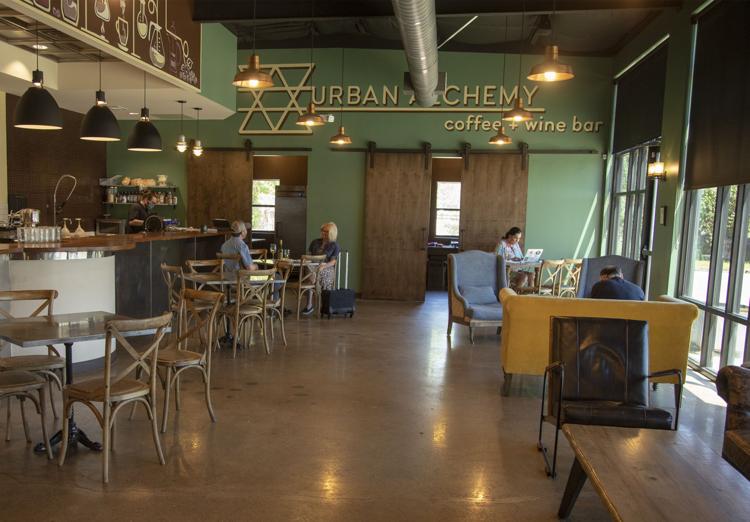 Osburn said the coffee shop delivered coffee beans, wine and offered curbside pickup while the dining area was closed. While this didn't make up for the dip in revenue, the team prides themselves in being there for the community, and they will continue to offer those services.
"It was cool because you take out a coffee to people, and everyone was just so happy to see us," he said.
Although some think allowing sit-down dining is a good idea, others think it might be too soon.
Kevin Meanus, Smokin Bones BBQ owner, said he chose not to open his dining area because he believes it just isn't safe yet.
"It's not safe; 25% or whatever percentage, it's still not safe," Meanus said.
His restaurant's dining space is small, so at 25% capacity he could only have four tables, which wouldn't be worth it, he said. Instead, his restaurant will continue to do only carryout and delivery.
"It's a blessing to be open," he said. "I'd just rather deal with the roughness than take a chance on getting myself sick and other people sick."
Meanus said if he catches the coronavirus he would lose his restaurant because there's no one else that can do what he does.
"I'm being safe for myself and for my customers," he said.
@Brian_L8