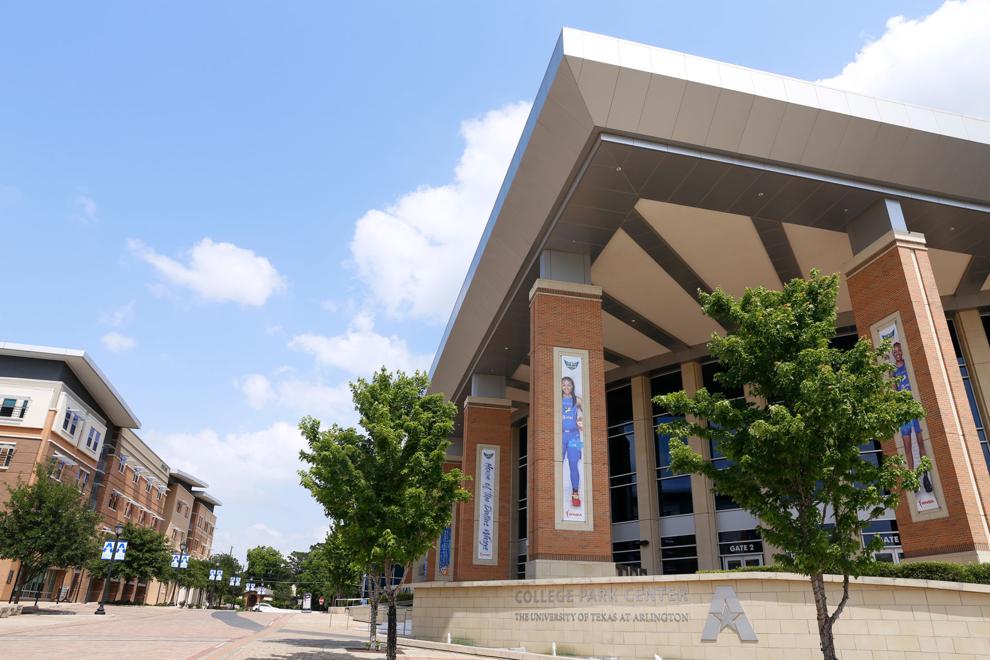 Whether it's cheering on the Mavericks during a game, applauding a loved one walking the stage or welcoming a big-name celebrity to campus, College Park Center is the place to be.
The 7,000-seat facility opened in 2012 and is used for events such as basketball games, volleyball games, graduation ceremonies and the Maverick Speakers Series. Jeff Davis, executive director for UTA Special Event Facilities, said the arena was built out of a need for UTA to have a larger public assembly space on campus.
College Park Center replaced Texas Hall as UTA's home court for athletics, which had served as the Mavericks' stomping grounds since 1965 when it first opened. Davis said the center created a new athletic identity at UTA, and it gave the Mavericks a true home.
Davis said College Park Center is one of the few arenas in the country that hosts four athletic teams.
During the early fall semester, UTA's volleyball team takes the court from the end of August to early November. The UTA men's and women's basketball teams then step up and host home games until mid-March. It also serves as the home court for the WNBA's Dallas Wings, whose season runs from mid-May to early September.
Josh Sours, digital media production assistant for UTA Athletics and voice of the Mavericks, said he remembers when the facility was being built during his time as a student from 2009 to 2013. The construction went from a pit with some beams, to a skeleton, a shell and then the finished facility.
Communication technology senior Katherine Sandoval attends home games for UTA athletics at College Park Center as captain of the UTA Wranglers spirit group. She said they help get the crowd pumped up during games. Sandoval said when students gather at College Park Center for events, it forms unity and a sense of pride that gives the building energy.
"It's amazing and new, and it's beautiful on the inside, and we really need everyone to at least go once just to see it and experience it," she said.
Since March 2012, College Park Center has been used as the venue for some of the high-profile names who come in for UTA's Maverick Speakers Series. Some big names that have taken the stage at College Park Center include politician Jeb Bush, comedian Seth Meyers, news anchor Anderson Cooper, businessman Kevin O'Leary and most recently actor Terry Crews.
"It gives validity when we have those large names come through," Davis said. "We are seen as an actual player in the venue industry."
UTA also uses the facility for the graduation commencements of each college. Davis said commencements used to take place at Texas Hall, but UTA began to outgrow the 2,625-capacity theater.
From late April to early June, the College Park Center serves as a graduation venue for about 18 to 20 high schools in the area, Davis said. The Arlington Independent School District, for example, uses it for six of its senior high schools.
Sandoval said all the events that take place at College Park Center help make it a must-visit venue.
"Because we have so many other campuswide events there, it's so iconic," she said. "Some of the best stuff on campus happens in that building, and that's why it's important."
Sours said it would be phenomenal for College Park Center to become a student hub. He wants to see an energetic atmosphere at every sporting event and have full, excited crowds when a speaker comes.
Just like Rupp Arena of the University of Kentucky and Allen Fieldhouse of the University of Kansas, Sours said Mavericks should identify College Park Center as their own.
"When you start thinking of UTA, you want to think of College Park Center," he said. "I want it to be one of the certain things that you think of when you think of the campus."
@_julio_vega