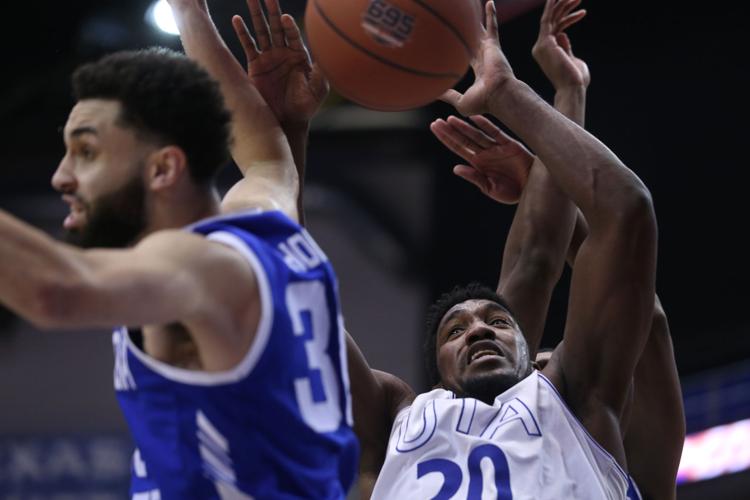 Record-breaking performances and heartbreaking losses highlighted the winter break for the women's and men's basketball teams.
The women's basketball team enjoyed a schedule that kept them close to home to finish out nonconference play.
While the women defended home court, the men's basketball team spent time on the road. The Mavericks' road game destinations included Spokane, Washington; San Luis Obispo, California; and Austin, Texas.
The end of the nonconference matchups set both teams up for Sun Belt Conference play at the start of January.
Women's basketball
The Lady Mavericks set a record over the prolonged break as they picked up eight nonconference wins, the most in a single season in program history.
The team took the positive momentum into its Sun Belt Conference opener after collecting three victories in the last of its nonconference battles. The lone loss came to the University of Southern California, which was ranked No. 25 at the time.
"To have a Pac-12 team here on our court and to be tied with them with two minutes to go, I think, just speaks volumes for where our program is and what our team's trying to do," head coach Krista Gerlich said.
The Lady Mavericks bounced back after the close loss to gain their record-breaking eighth win over Southern Methodist University. The team also picked up its 650th win in program history after defeating Georgia Southern University on the road.
A few players that have stood out for the Lady Mavericks are senior guard Cierra Johnson and freshman guard Katie Ferrell.
Johnson, who returned from an ACL tear she suffered last season against UT-San Antonio, has played a big role in getting victories for the team.
The Bedford, Texas, native made the difference when she faced off against the Roadrunners for the second time in two years.
"We had to dig deep after a big win at Houston and find a way to win that game," Gerlich said. "Cierra came up big for us there late in the game."
The senior guard moved up to 15th on UTA's all-time scoring list. She also seized first place on the all-time steals list on Jan. 12.
Johnson posted a seven-steal performance against Coastal Carolina University. She surpassed alumna Allison Gray's career total of 285 with her performance.
Ferrell has seen increasing minutes as the Lady Mavericks have moved forward in their schedule. She recorded her first career double-double against Appalachian State when she posted a stat line of 21 points, 17 rebounds, six assists and two blocks.
The Plano, Texas, native said she has adjusted to the schedule that comes with being a young student-athlete.
"You can't just go out there and think you're going to win," Ferrell said. "You have to come to every single game focused and play as hard as you can."
The women's basketball team will take the court next against Arkansas State University at 7 p.m. Thursday in Jonesboro, Arkansas.
Men's basketball
The men's basketball team was away from home throughout most of the winter break. The team compiled a 1-2 record over its last three nonconference matchups.
The Mavericks were able to pull off a 75-70 overtime victory against California Polytechnic State University during the final stretch. The victory snapped a seven-game losing streak that started on Nov. 20 against the University of Indiana.
Head coach Chris Ogden returned to his alma mater as the Mavericks faced UT-Austin in their final nonconference matchup. The team fell to the Longhorns by a score of 76-56 before opening its conference slate against Georgia State University at home.
The Mavericks weren't able to come out with wins in their first two Sun Belt matchups, but since then, they have won their last two games against Appalachian State University and Coastal Carolina University.
The two-game win streak is the first for the team since early November when it rattled off victories against UT-Tyler and the University of Northern Iowa.
"We put a lot of work in, and I know it doesn't show with wins and losses," junior guard Edric Dennis said. "We as a team know that we're getting better game by game, and that's all that matters."
The Mavericks have had key contributions from Dennis and junior guard Brian Warren. 
During the break, Warren surpassed the 1,000-point mark while also leading the team in scoring with 13.8 points per game. Dennis is right behind Warren with 13.6 points per game.
Dennis said his role on the team is to give the younger members of the team a role model to look up to.
"As an older guy on the team, I feel like it's my job to lead these guys and try to keep them prepared mentally and keep their head on straight," Dennis said.
The men's basketball team will continue its conference schedule against Arkansas State University at 7 p.m. Thursday at College Park Center. 
@c_amaya7