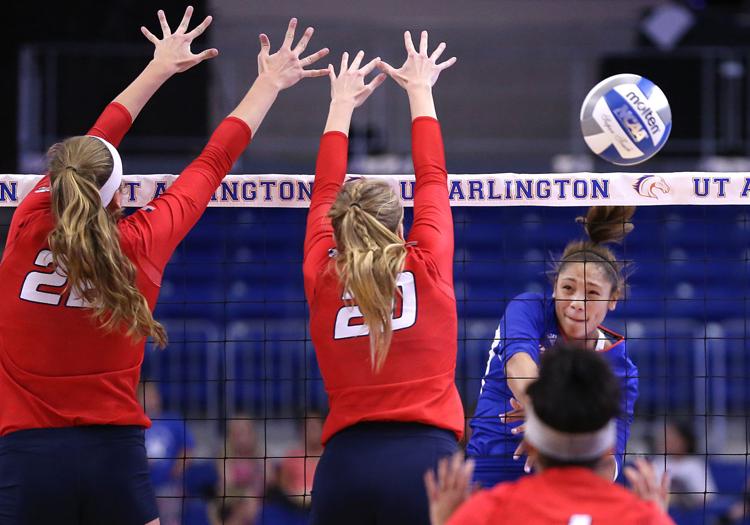 After going 3-0 last weekend, the volleyball team (3-3) returns to the court to face off against the University of the Incarnate Word (0-7) on Friday in San Antonio, Texas.
"They got some really sharp, strong weapons," head coach J.T Wenger said. "I think they're similar to us, they've improved with each week as well, so they'll be ready for us."
In their season-opening weekend, the Mavericks lost three games but bounced back to sweep the Maverick Classic, putting them on a three-game winning streak.
Junior middle blocker Madison Hill was recently named as the Sun Belt Conference Offensive Player of the Week for her team-leading performance at the Maverick Classic. Hill said it feels good to be honored, but it wouldn't be possible without her teammates.
Hill's achievement is a the first for the program under second-year head coach J.T. Wenger. Wenger said Hill's performance over the weekend was quite impressive, with her having an attack percentage more than .500 over a three game stretch.
Heading into the match, freshman middle blocker Bre Walp is second in the Sun Belt Conference and ranks 25th in NCAA Division I with 1.47 blocks per set. 
The teams are meeting for the second time in program history. Their last meeting was back in 2014 where the Mavericks won 3-0.
Walp who grew up near San Antonio, said she's excited to travel with the team and get a chance to play in front all of her family.
The match begins at 6 p.m. Friday at Alice P. McDermott Center in San Antonio Texas.
@sSaint_Dallas