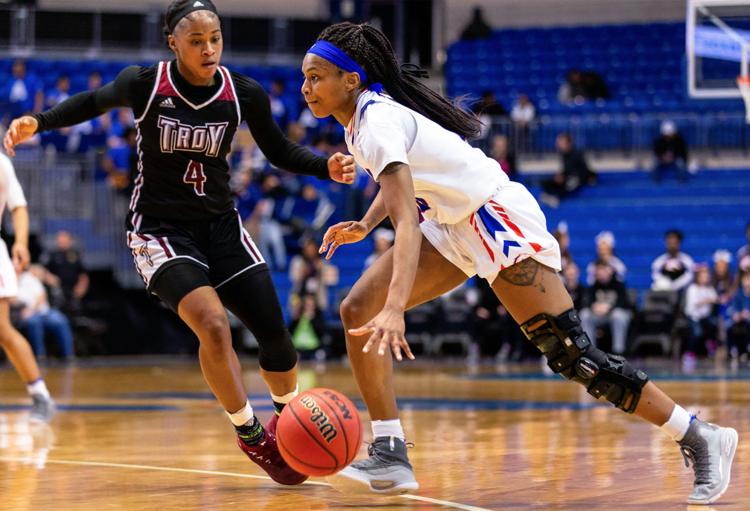 UTA alumna Cierra Johnson signed a professional contract Thursday to play for the Mark Basket Marbo women's basketball team in Sweden.
Krista Gerlich, women's basketball head coach, said Johnson is the type of player that can play professionally overseas. Gerlich oversaw Johnson's growth in her five years at UTA and said her defensive prowess and offensive spark will cause her to stand out.
Located in Kinna, Sweden, in the southwest part of the country, Mark Basket Marbo competes in the Basketligan Dam, Sweden's domestic women's basketball league.
Johnson said her biggest challenge will be being far away from friends and family. But she's up for the challenge and hopes to improve her skills no matter how long it takes.
"I'm always intense. I'm always the loudest one," she said. "I've never lost that no matter what, no matter who I play, no matter where I go. That's not something I'm just going to lose because that's just how I am."
Gerlich said if Johnson keeps growing and makes a name for herself across the pond, she will likely make the move back to American soil and play in the WNBA.
Johnson collected various records and accolades during her career at UTA — a program-high 318 career steals, seventh-highest all-time scorer with 1,396 points and three all-conference team selections.
She also won the 2017 Sun Belt Conference Defensive Player of the Year and 2019 Player of the Year awards, making her the only Lady Maverick to win both.
In her 2018-19 senior year, Johnson helped the team to a regular-season co-conference championship, with a team-leading 15.3 points per game while starting in all of the team's 32 games.
This came a year after a season-ending ACL tear early in the 2017-18 season forced her to medically redshirt her would-be senior year.
Johnson said her journey has been an emotional roller coaster from that point.
"It was really hard and my emotions were up and down," she said. "Some days I was okay and some days after rehab I would get in my car and I would just cry."
Johnson has incredible competitiveness, Gerlich said, that elevates her game no matter the opponent or obstacle.
"Every time I feel like she's reached that milestone, she turns around and does something else that's even greater," Gerlich said. "She's such a fighter, and she's a survivor."
@_julio_vega