Serve. Bump. Set. Kill.
Many rallies in volleyball will look like this — some longer, some shorter. Head coach J.T. Wenger said the goal of every rally is to terminate it, and the secret to getting there is efficiency.
There are multiple ways to terminate in volleyball, and that's where the team's attackers play a big role, Wenger said. A good attacker must be efficient and look to avoid errors.
UTA has notched 296 kills in six matches this season. The Mavericks have a 0.225 hitting percentage, just shy of the 0.250 Wenger is aiming for this season.
To be efficient, players must make several decisions in a matter of split seconds, Wenger said. They must try to look at the ball, assess the opposing court and hit the ball with purpose. Games are won in those instances.
"The decision-making process is the premium," he said.
Senior middle blocker Madison Hill said focusing and adapting to what's happening on the court puts her in the best position to hit and score.
Hill said she uses her positioning to set herself for the kill and uses her wrist to help guide the ball in the direction she needs while providing the power from the swing.
Senior outside hitter Kylie Jedlicka said in order to stand out as an attacker in volleyball you need to adjust on the court. How a player reacts in adversity and is able to score in tough situations makes the difference between good and great players, she said.
Jedlicka said placement is key when hitting, but it can be combined with power to great effect.
"If you're good at placing the ball, and you can put power behind the placement, it's a win-win," she said.
Hill said powerful hitting plays a role in attack and is important, but there's a time and place to use it.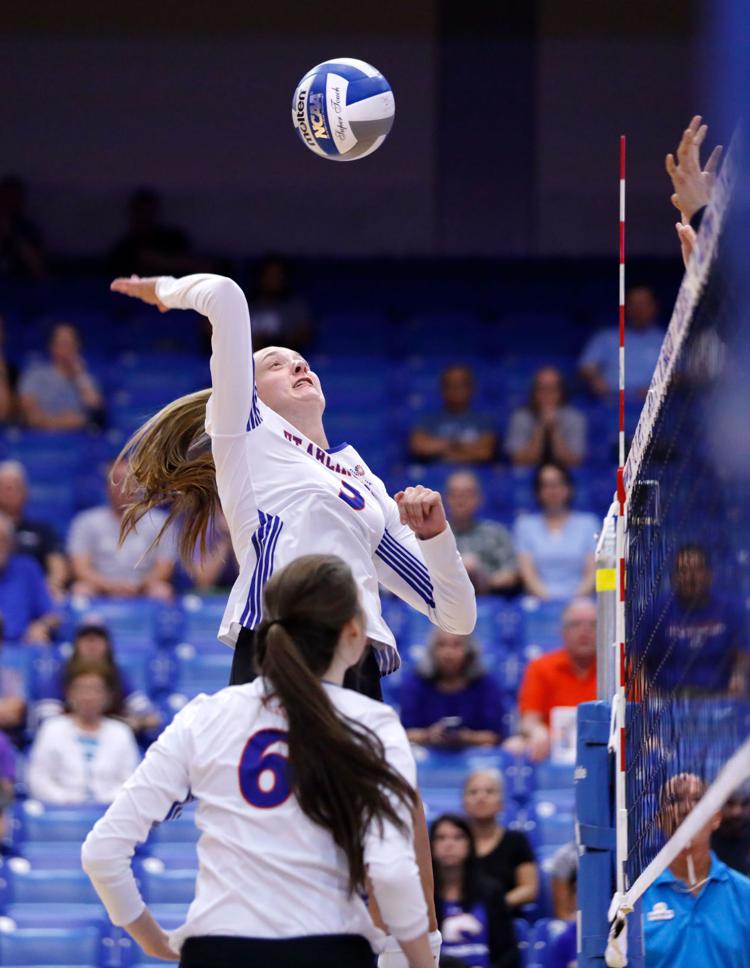 "You have to be able to have control with your power and be smart about it," Hill said.
The team works on hitting the ball high off the hands of a blocker, sophomore outside hitter Brooke Townsend said. When she joined the program last year, she said she was used to hitting the ball at a low angle but adapted to UTA's ways of hitting.
Now, Townsend leads the teams with 86 kills. Every rally won is a small victory earned for Townsend.
"One point is still one point, whether you tip it over the net or if you crush it down the 10-foot line," Townsend said.
Mixing up the attack, such as tipping the ball over the net when the other team is expecting a hard shot, gives her an advantage, she said. It makes the opposing defense adjust its positioning and allows her to find kills where they least expect it.
Establishing a variety of shot types keeps the team from being predictable, she said. Switching between power shots, tipped shots, roll shots and such keep an opponent on edge.
Ultimately, when a kill is made effectively, Jedlicka said the feeling is rewarding.
"You work for how many hours in practice a week just to have this feeling," she said. "It's really nice to have your team back you up on it."
@_julio_vega