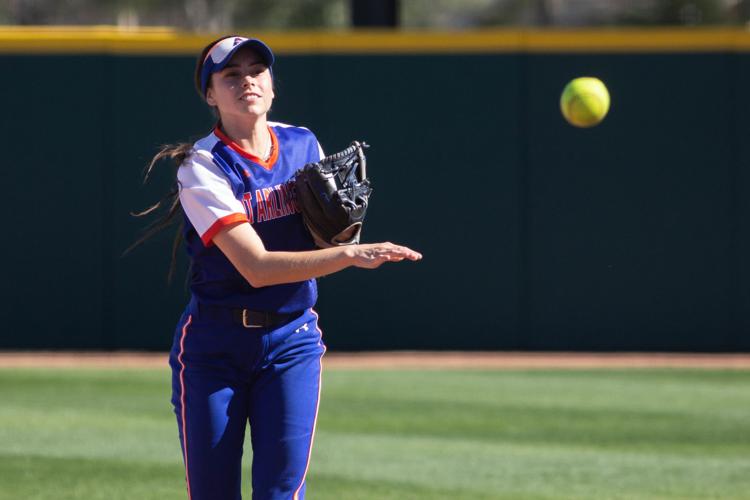 The softball team (13-10, 3-0) finished off a three-game series sweep over the University of South Alabama on Sunday at Allan Saxe Field. 
The Mavericks were carried by the top batters in their line up. Junior infielder Whitney Walton and senior outfielders Krista Rude and Laura Curry scored 6 of 8 runs on the afternoon. 
Rude said she enjoys hitting between Walton and Curry in the batting order.
"I absolutely love it when Whitney gets on base because that gives me plenty of opportunities to do whatever I want," Rude said. "Then, if I'm on base, I know for a fact Laura is going to do her job."
South Alabama junior outfielder Brittani Reid hit a leadoff double to start the game but some good defense behind junior starting pitcher Jojo Valencia left her stranded there.
In the bottom of the first, South Alabama senior starting pitcher Alexis Reid walked junior infielder Aileen Garcia with the bases loaded, resulting in the game's first run.
The Mavericks finished the inning up 3-0 thanks to senior outfielder Bri Burchianti's two RBI single up the middle that scored Curry and Rude.
In the second, Walton slapped a ball that bounced just past Kennedy Cronan, freshman infielder for the Jaguars. before rolling to left field. Two batters later, Walton scored off a Curry single to extend UTA's lead to 4-0.
The Jaguars' lone run of the game came via a solo home run by senior infielder Savanna Mayo to open the third inning, bringing the score to 4-1.
In UTA's past two games, all three runs South Alabama has scored have been the result of solo home runs. Even so, head coach Peejay Brun said her team was not bothered if opponents score more home runs than them.
"In the way that the game is nowadays, home runs are going to happen," Brun said. "The one thing we always emphasize is not to focus on that."
Brun said her team, which is currently second in the Sun Belt Conference in steals, likes to run around on the bases instead.
"It's a little bit more fun if we get to get base hits and go run around the bases," she said. "Home runs are going to be coming against us, but the big thing for us is making sure that we can stay strong after those."
UTA added one run each in the fourth and fifth innings before Curry's 2 RBI single capped off the scoring on the afternoon. 
The Mavericks will head back on the road to face the University of the Incarnate Word at 6 p.m. Wednesday at H-E-B Field.
@MartinParedesJr