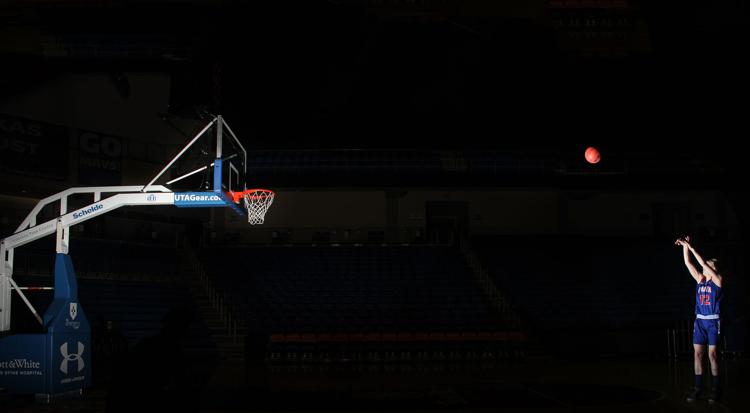 If you give them space behind the arc, there's a good chance the Lady Mavericks will put three on the scoreboard.
The women's basketball team has flourished with shots from deep this season. The Lady Mavericks lead the Sun Belt Conference in 3-point percentage — 38.9 percent — and are ranked No. 6 in the nation across all NCAA Division I schools.
Currently, four guards are averaging above 40 percent in 3-pointers: seniors Cierra Johnson and Lauren Billie, junior Brooke Alexander and freshman Claire Chastain.
"It's nice to have options. It's nice that we don't have just one," head coach Krista Gerlich said. "If one of them is off, we can go to another one."
Billie said the team has adapted its offensive moves to improve mobility to find open players and catch defenses off guard.
"We always work on skip-passing and just make sure to look for that because one of us is probably going to be open in the corner," Billie said.
The team plays a fundamental style of basketball. Players move the ball "inside out" through the paint then back out to an open teammate to generate space for each other. Those spaces create lots of options for the Lady Mavericks, giving them the best chance to score from anywhere on the court.
"This year we have more talented guards than previous years, so [Gerlich has] allowed us to do more on the perimeter," Alexander said.
The offensive balance UTA displays has helped the team reach the top of the Sun Belt standings. The Lady Mavericks have also recorded a 20-win season, Gerlich's second as the head coach of the program.
Gerlich's days as a player still influence the way she coaches her team. She said her former coach, Marsha Sharp, gave her the confidence to shoot 3-pointers. Gerlich is instilling that same confidence in her players.
"If they shoot it early, and it's going down, then we're like, 'Get hot,' " Gerlich said. "If you make a couple, heck yeah, pull the trigger. If you're not, we don't want to shoot our way out of [the game]."
Like in any sport, each player has their own way of doing things. Alexander gets her shot off by pushing her left thumb to change the rotation of the ball. Chastain pushes off cleanly with her guiding right hand, which Alexander described as "perfect," and "flawless."
Chastain said the team tries not to rely heavily on its 3-point shooting, but it has come in clutch for the team. One instance was Billie's long-range shot against Arkansas State University on Feb. 16, which sealed a labored win over the Red Wolves.
Gerlich said with the rapid rise of 3-point shooting, the Lady Mavericks have found ways to use it as a weapon while maintaining a fundamental style of play.
"We want the 3-point shot to be a part of our game," Gerlich said. "We've got the right kids in place now where it can be."
@_julio_vega