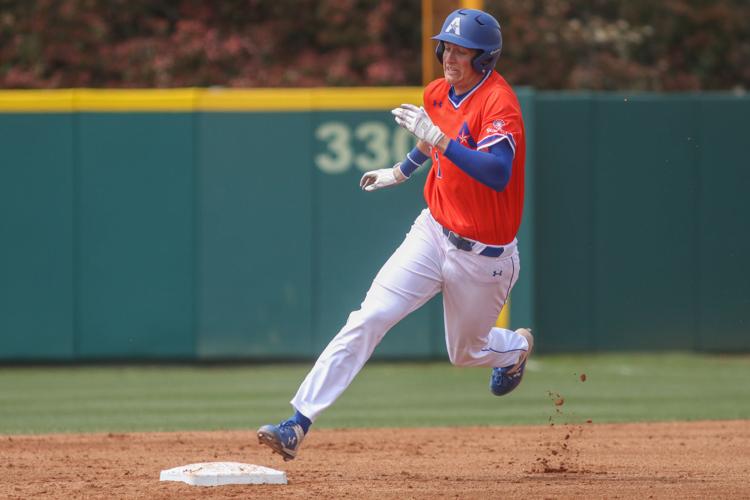 A little over midway through the 2019 season, the UTA baseball team is starting to find its footing.
The team has won 10 of their last 12 Sun Belt Conference games and stands with a 25-13 overall record, already surpassing their 22 overall wins from a disappointing 2018 season.
"You always wanna get ahead first," senior pitcher Ka'ikepono Anderson said of the team's first half. "The next few series, it's time to lock down and bury the other guys. That's how you gotta think of it."
Anderson along with senior catcher Will Olson and junior infielder Josh Minjarez are all critical members of the 2019 squad, both in terms of on-field performance and locker room presence.
The Mavericks' old guard all agree that the team hasn't peaked yet.
"We're playing good ball, but I still think we're not the best that we can be," Olson said. "We're swinging it well, pitching it well, but I still think we're better."
Olson, a redshirted senior, has been with the program for five years. Minjarez, also a redshirt, has been with the program for four. The two of them along with Anderson were three of only 19 returning players on a roster of 37.
"Coming into this year, I was like, 'Dang, I don't know a lot of these guys,'" Minjarez said. "But we just really came together. There's guys in [the locker room] that I never thought I would be that close to that I'm super close with."
The team is coming off nonconference victories against Baylor University and Texas Christian University over the last two weeks. They'll face Texas A&M University and Dallas Baptist University later this season.
With the Mavericks' sweep of Arkansas State University last weekend, they've moved to first place in Sun Belt standings.
But the Mavericks are taking it one game at a time.
"I'm always a day by day guy, I want to just continue to get better every day," Olson said. "The team camaraderie is there, we just gotta keep playing good baseball. All I really care about is winning."
The Mavericks are currently ranked 57th in Division I baseball in RPI, a stark improvement from their finish at 185 in 2018. They'll battle the University of Louisiana at Lafayette this weekend in a three-game Sun Belt series at Clay Gould Ballpark.
According to Anderson, Olson and Minjarez, the team is fired up for the back half of the season.
"We haven't peaked at all, I don't think," Minjarez said. "The good teams get real good in April and May. And I think we're a really good team."
@coylio33