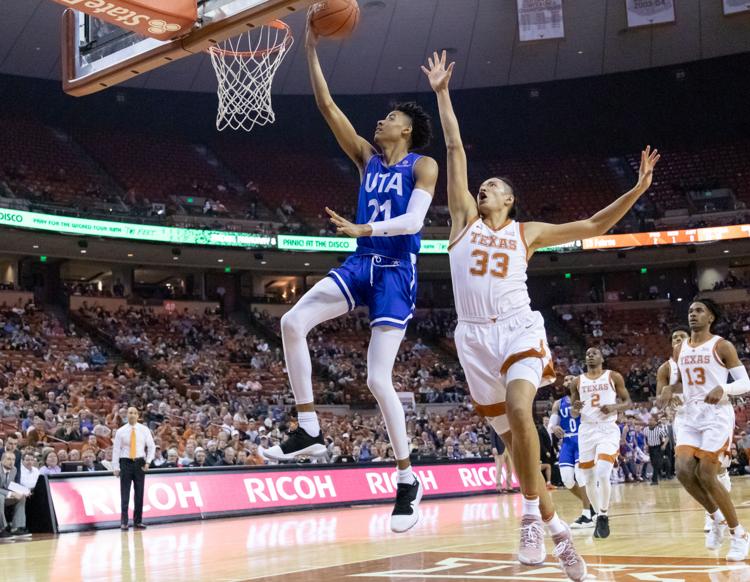 AUSTIN, Texas — Over two years after its historic win against UT-Austin, the men's basketball team (4-9) returned to the Frank Erwin Center on Friday, but this time, the Longhorns emerged victorious.
Back in 2016, UTA defeated UT-Austin 72-61. The next day, headlines across The Shorthorn's weekly print edition read "Hooked on a win." In the rematch, turnovers and foul trouble proved costly for the Mavericks as the Longhorns cruised to a 76-56 victory Friday.
Hey everyone! @reeseoxner and I are booking it to Austin today to see @UTA_MBB face off against @TexasMBB. Last time that happened, we had this pretty cool front page 😉 Stay tuned for updates! pic.twitter.com/121wkMZtTv

— Arianna Vedia (@nanavedia) December 28, 2018
"It's something that's kind of pegged us all year in our losses," head coach Chris Ogden said about the team's turnovers. "We only had 14 tonight, which is way down, but a few of them came at crucial times, and they led to baskets on the other end that separated the game."
Friday night's matchup marked a homecoming for Ogden as he stepped onto the hardwood of his alma mater representing a different shade of orange.
"It's good to be back in Austin seeing a lot of familiar and friendly faces," he said.
UT-Austin nailed seven points right off the bat to take charge and set the tone. UTA battled to keep the game close but trailed by as many as 12 points in the first half. After a quick regrouping, junior guard Edric Dennis made his presence known, knocking down seven of the Mavericks' 13 points over the last six minutes.
Dennis led both teams in scoring with 23 points, connecting on six 3-pointers and snagging eight rebounds. Aside from Dennis, junior guard Brian Warren was the only other Maverick to score in double digits, tallying 12 points in the loss.
Dennis said his shots hadn't been falling the way he planned in previous games, but now, he finally feels good when shooting to the point where he's not thinking about his shots anymore; he's thinking about playing hard and not putting too much pressure on himself.
Entering the break, UTA trailed 33-26. With six turnovers, shooting just 1-7 from beyond the arc, the Mavericks had to step it up on the offensive side of the ball in order to stay close.
A 14-5 run at the start of the second half is what eventually determined the outcome of the game and pushed the deficit into the double digits. The Longhorns went on another big run in the latter half of the second for insurance, putting the Mavericks down by more than 20 points.
During some crucial minutes, the Mavericks saw three players in foul trouble and one with a technical foul tacked on to his box score. Warren picked up his fifth foul with under five minutes to play, forcing him to exit the game.
UTA has three players in foul trouble with five minutes to play. 13 turnovers proving costly compared to Texas' 5 turnovers. pic.twitter.com/Nq8jAR1QW8

— Arianna Vedia (@nanavedia) December 29, 2018
The Mavericks drilled a trio of 3-pointers in the final minutes, but it wasn't enough as they closed out their nonconference schedule with a loss.
According to ESPN's Basketball Power Index, UTA was projected to have the 7th-hardest nonconference schedule in the country.
"There will be some plays where size matters, and there's nothing we can do about it," Odgen said about competing against upper-level schools. "But the majority of the plays, it's about your fight and your effort."
With a schedule like that, he said it taught the team a lot of lessons it can hopefully carry into Sun Belt Conference play.
After a five-game road trip, the Mavericks return home to host Georgia State University in their conference-opener at 7 p.m. Jan 3 at College Park Center, and Ogden said he is looking for a big crowd.
"We need the home crowd. We need the city of Arlington. We need what students are on campus, we need everybody," Ogden said. "It's conference time, and the way you win championships is you win your home games first."
@nanavedia