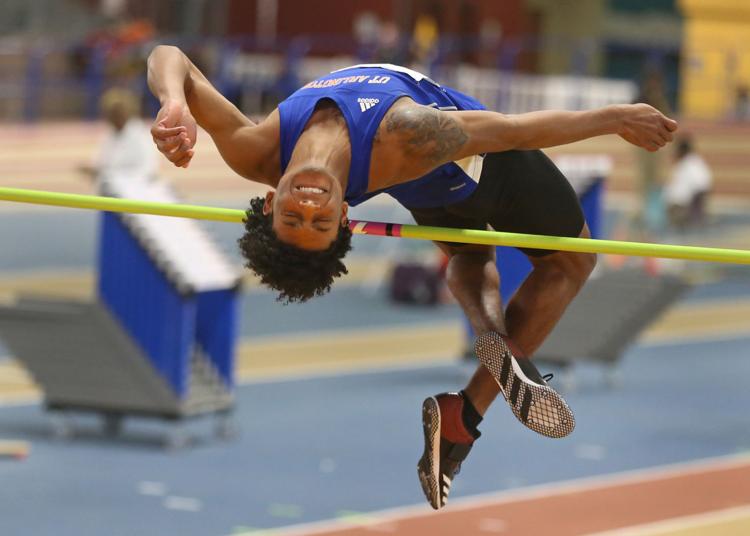 With one meet already in the books, UTA's indoor track and field teams look to avenge last season's shortcomings.
UTA opened its season Saturday at the Ted Nelson Invitational at Texas A&M University. Three Mavericks claimed individual titles: Senior jumper Alexus Henry topped the podium in the high jump, junior distance runner Justin Domangue led the 3000-meter race and senior hurdler Victor Fincher finished on top in the 60-meter hurdles.
Three others had podium finishes: Junior jumper Juleen Lewis placed second in the triple jump, and in distance, sophomore Victor Bocanegra placed third in the 800-meter while junior Cole Klashinsky placed third in the 3000-meter race behind Domangue.
Head coach John Sauerhage said both men's and women's teams excel in running events and are looking to further improve in field events.
"The balance of power on your team, what your strengths and weaknesses are vary from year to year, but essentially we're still the same team we had last year," he said.
Senior sprinter Deontre Haynes said he and other seniors are ready to end their collegiate career on a high note and set a positive example for the next generation of UTA athletes.
"It's like a Netflix series, like, the season finale is always the best. That's kind of how we're looking at the season right now."
The men's cross-country team's conference title set the tone for the year, Haynes added. A conference title will keep the indoor track team on course for a chance at the Triple Crown — a conference title in cross-country, indoor track and field and outdoor track and field in an academic year. The men first won the accolade in the 2013-14 season and again in the 2016-17 season.
Henry said her off-season consisted of base training with strength and conditioning. Last season, she won the individual national championship for women's high jump at the 2018 NCAA Outdoor Track & Field Championships, clearing the bar at 5 feet, 11 1/2 inches (1.82m).
"Being able to find strengths in field events and running will just make us all-around better," she said.
With just five meets between the start of the season and the conference championships, there are limited opportunities for the athletes to improve in a competitive environment, Sauerhage said.
"Every time we compete, they get a little mentally tougher," Sauerhage said. "The sprinters and jumpers and throwers haven't competed since last May and June, so now their world will be totally different."
UTA's indoor track athletes continue their season at the Sooner Invitational on Saturday in Norman, Oklahoma.
@_julio_vega