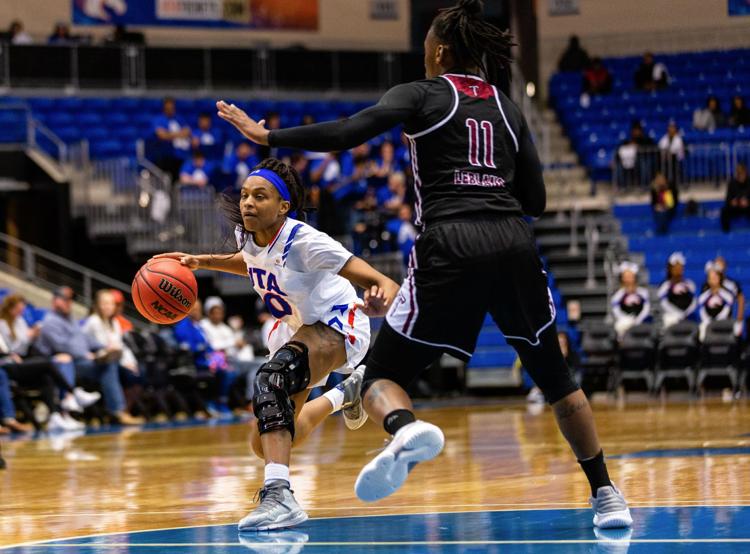 The women's basketball team is in the semifinal round of the 2019 Sun Belt Conference Women's Basketball Championship. Here's what you need to know as the Lady Mavericks try to book their place in the championship game:
1. The Lady Mavericks will face the Jaguars of the University of South Alabama at 2 p.m. today at Lakefront Arena in New Orleans, Louisiana. UTA comes into the tournament as conference co-champions, enough for a No. 2 seed and spot in the tournament semifinals.
2. UTA's opponent, No. 7 South Alabama, comes into the semifinal hot off three straight wins in the conference tournament. The Jaguars defeated No. 10 University of Louisiana at Lafayette in the first round and scored two upset wins in the following rounds. South Alabama beat No. 6 Texas State University in the second round and No. 3 Troy University in the quarterfinals.
3. UTA's season record of 23-6 (15-3 in league play) is the second-best in program history and the best under head coach Krista Gerlich. A win today would tie the record of most wins in a season (24) for UTA.
4. Senior guard Cierra Johnson has been the most commanding player on the court this season for the Lady Mavericks and was named Co-Conference Player of the Year by Sun Belt. She leads the team in field goals and free throws made this season and holds UTA's program record for career steals, which also ranks third in Sun Belt history.
5. One of UTA's strongest attributes this year has been its shooting from the 3-point line. The Lady Mavericks' effective shooting leads the Sun Belt in 3-point percentage this season and ranks in the top 10 across all NCAA Division I schools.
@_julio_vega