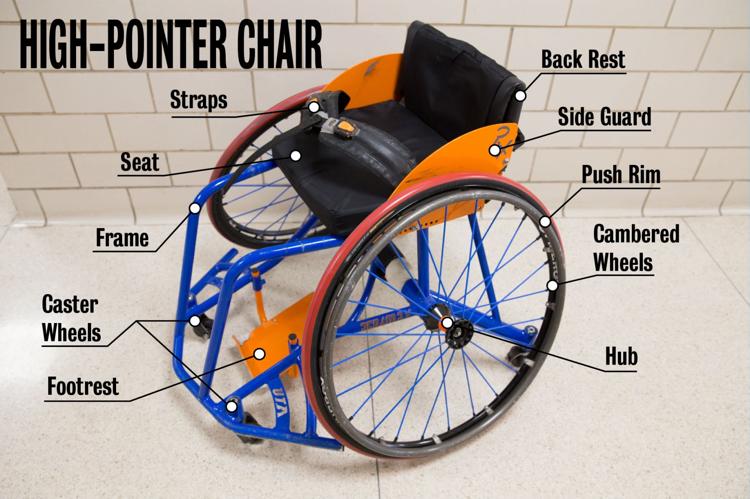 When it comes to wheelchair basketball, no one chair fits the needs of every player.
Ideally, each chair is tailor-made for each athlete, depending on their disability, measurements and dimensions. But there are several factors that determine who uses what type of chair.
The user's physical functionality dictates how the chair is made. Wheelchair basketball utilizes a point system that classifies players from 1.0 to 4.5. A lower classification represents a player's lower functional ability, compared to a higher classification for a player with more functional ability.
So for example, a player with a high spinal cord paralysis and little lower body function will be classified lower than a player who is an amputee.
"Because every disability is different, every chair has to be set up different as well," said Doug Garner, Movin' Mavs head coach.
The chair's cambered wheels are one of its defining features. The wheels are inclined at an inward angle — around 15 to 20 degrees from vertical — to give the chair a wider base. This prevents it from tipping over while allowing the user to turn and maneuver quickly on the court.
Other variations from chair to chair are the seat and back height. The lower the classification of the athlete, the lower the seat. This is because the user has less functionality of their trunk muscles and requires a lower center of gravity for stability and balance.
Lower chairs have what is sometimes called a bucket seat. It's a seat with a steeper dip toward the back, allowing low-pointers to turn by pressing against the backrest or with their arms.
Higher chairs are given to high-pointers, who have more functional ability in their torso and can turn the chairs with their hips.
Caster wheels, the smaller wheels that control maneuverability, are also a vital piece of the chair and were added to give the chair more balance.
Low-pointers use three caster wheels; two in the front, one in the back. High-pointers may have four caster wheels split evenly in the front and back. This allows them to lean far back while reaching for a ball without flipping over.
The framing of the chair is designed for contact and impact resistance while preventing it from getting stuck with other chairs on the court. Small customized details vary in each chair and can give the athletes an edge on the court.
Movin' Mavs junior Clarence McCarthy-Grogan, for example, has custom foot rests on his chair, with his right foot resting higher than his left.
"You want the chair to be part of you," McCarthy-Grogan said. "You and the chair are one person."
Wheelchairs for basketball have evolved since the 1990s, Garner said. Players used to play in their day chairs and personally modify them to improve their performance on the court.
The materials used have changed over the years, making wheelchairs lighter and faster with aluminum alloys, titanium and carbon fiber. Brands like Quickie Wheelchairs helped the innovation of basketball wheelchairs by adding caster wheels in the back to add stability, Garner said.
"Every quarter inch, every one degree is important in these chairs performing efficiently," Garner said.
There are adjustable chairs on the market, making them more versatile for more players. However, Garner said moving parts in adjustable chairs don't make them as strong as custom-built chairs for the high-contact sport.
Jason Nelms, Lady Movin' Mavs head coach, said he knows the ins and outs of how wheelchairs are built to fit the needs of the players. When traveling with the team, he's often approached by other players and wheelchair users for advice.
"[I] help them with what's going on with their chair and being able to fine-tune it, so it feels like a part of them and not just a chair," he said.
However, professionally-made chairs aren't cheap. The PER4MAX Thunder sports chair starts off at $2,849 but rises in price with customizations. A set of nonstandard wheels start at $695, while parts and accessories range from $5 to $895.
The partnership between the Movin' Mavs wheelchair basketball teams and PER4MAX has given players at UTA access to high quality equipment at a discounted price, Garner said. And, if a student athlete really needs a chair, Garner and Nelms will reach out to alumni to see if they can help donate.
Garner said he wants his players to have the best possible tools available, which is why having a good ball chair is essential.
"Basketball is more fun if you have better shoes," Garner said. "Wheelchair basketball and wheelchair sports are more fun if you have better equipment."
@_julio_vega