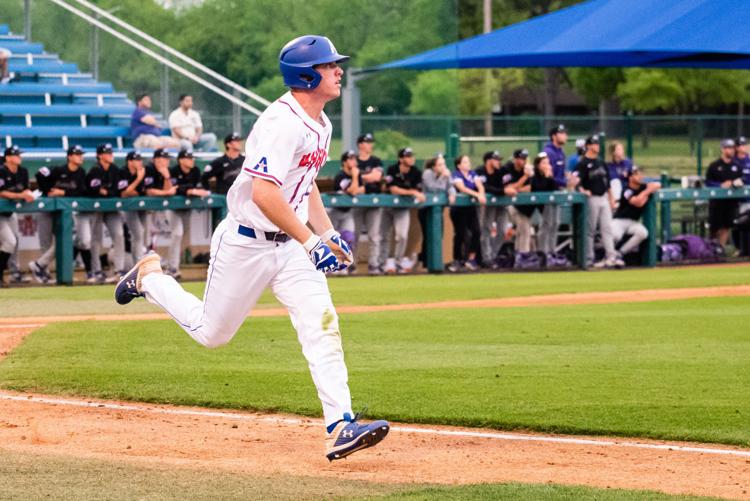 There doesn't appear to be much of a home-field advantage when a team plays host to UTA baseball.
The Mavericks currently own a 15-9 record on the road, tied for the fourth-highest road win total in all of the NCAA.
They're 6-3 in Sun Belt Conference road games.
"Part of it is there's less distractions on the road," head coach Darin Thomas said. "The team, the coaches, we eat, we go to the hotel, we go play, and that's it."
Thomas said the routine helps. He mentioned that before home games, schoolwork and the presence of family and friends can sometimes take the focus off of baseball.
UTA has faced a heavy road schedule in 2019, playing more away games than they have at Clay Gould Ballpark, their home stadium.
But as of April 29, the Mavericks have outscored their opponents 114-109 on the road and are allowing 4.54 runs on the road compared to 5.9 runs allowed at home.
"That doesn't make sense to me because [Clay Gould] is a pitcher's park," Thomas said. "I can't figure it out. But there's something there."
It's apparent in the visitor dugout for UTA road games. In an important win at Dallas Baptist University and then again in a hard-fought loss at Texas Christian University, the dugout had an energetic buzz throughout the entire game. Some of the players say that it's a mentality the team takes on.
"When we get on the road, we always feel like the underdog," senior pitcher Drew Gooch said. "We feel like we always have something to prove."
Gooch starred in that 9-0 Maverick victory against Dallas Baptist, pitching seven shutout innings and logging what was his first win of 2019.
Dallas Baptist and TCU certainly aren't treks across the country, but the team's road games have been spread all over the U.S. in 2019. The Mavericks played on the west coast earlier this season in their three-game sweep of Seattle University and on the east coast last weekend against Appalachian State University.
As student-athletes, it falls on the players to manage their schoolwork and any missed classes caused by out-of-town baseball. According to Thomas, it seems his players are managing their time well.
"We've got good students, that's one of the things I'm most proud about," Thomas said. "We had almost a 3.2 [GPA] in the fall. With 37 guys, that's hard to do."
But the team still has fun, and the winning only adds to that.
Junior infielder Josh Minjarez said that the camaraderie built through long bus rides and hotel rooms on the road is a bonding experience for the entire team.
With two more Sun Belt road series looming to close out the season, the second-place Mavericks will look to continue their out-of-town success on their way to a conference title. Minjarez says that no in-conference games are easy.
"They're gonna play tough. But we have a lot of confidence right now. We're rolling, we're playing well," he said. "That's what it's about. It's about us sticking to it every game."
@coylio33