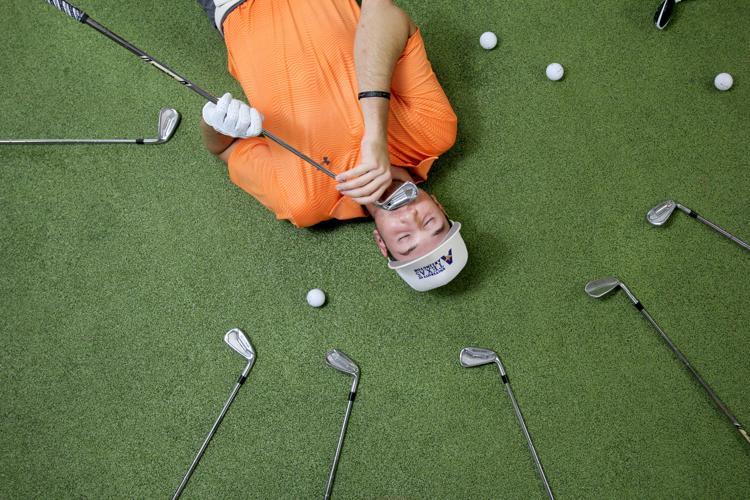 This is the first in a series about the equipment and traditions that UTA's athletic teams embrace. The series will look at a different sport each week, giving students a more intimate look at the relationships athletes have with their gear.
At first sight, golf clubs may not look very different to a casual fan. It may be easier to tell a putter apart from a pitching wedge, but it becomes difficult for somebody to understand the intricacies that every club may have for a player.
Golf director Stuart Deane snagged a first-place finish at the Joyce Crane/Veritex Bank Section Championship on Tuesday in The Colony, Texas.
However, UTA golfers can be very particular about the type of equipment they like to use.
Sophomore Paul Gonzalez prefers to use the TaylorMade brand golf clubs that the program has provided for its athletes.
"It's, you know, well made. There's never going to be any cons about the clubs," Gonzalez said about the clubs he uses. 
Gonzalez started his playing career using many different brands of golf clubs before finding one that fit his game the most.
"In the past I've used, like, Mizuno, Nike, you know, just all the brands that I would buy myself," he said.
Other UTA golfers, like senior Tanner Gore and freshman Janane Tan, started their playing careers using PING brand clubs.
"I think it was a PING Moxie and I had that PING set, just, like, the club set," Gore said. "That was actually the first actual set I had."
The PING brand describes itself as having "grown-up technology for kids" aimed at preparing children from the ages of 7 to 13 for the next level of their golf careers.
"A lot of people use [PING] when they first start out because it's cheaper," Tan said. 
As players' careers advance, so does the technology put into golf clubs. While the shape has remained the same for clubs throughout the sport's lifetime, the shafts and club heads have seen many changes as the time has passed.
As he prepares for his sophomore season, Paul Gonzalez reminisces on what led him to the game of golf.
The shaft on a golf club has transformed from wood to steel or graphite, because of the fragile nature of the wooden shafts.
Golf club heads have also changed in size, growing to a level that is comfortable to players, regardless of skill level.
"Technology has come a long way. There's a different look for sure and there's a different sound to all of the clubs," Gonzalez said.
The sound Gonzalez referred to happens after he swings the club.
"I don't like a real high-pitched sound whenever it comes from the driver," Gonzalez said. "A high pitched sound does not sound good to me. I like a composite bat sound, because I used to play baseball, so that's all I heard."
Sound fits into a list of preferences that golfers may have, but one of the biggest pet peeves for a golfer includes who gets to touch their sets of clubs. Gore said he is not very particular about who gets to touch his clubs; his only requirement is that the person handling the clubs knows what to do with them.
Gonzalez, on the other hand, is much more specific about who can handle his clubs.
"I'm very stingy about letting people hit my clubs," Gonzalez said. "I just, I don't do it."
Tan will trust other golfers with her clubs, but she draws the line when it comes to other people like airport employees.
"I'll trust other golfers with them, but I don't know about the airport," Tan said. "Like, if I went to the airport I probably wouldn't be as trusting, but just, like, with other golfers I think it's in good hands."
From grip to sound, a golf club can make or break a player's game.
"They sound and feel really good and that's a big part for me when I use clubs," Gonzalez said. "If they don't sound right or feel right, I won't use it."
@c_amaya7